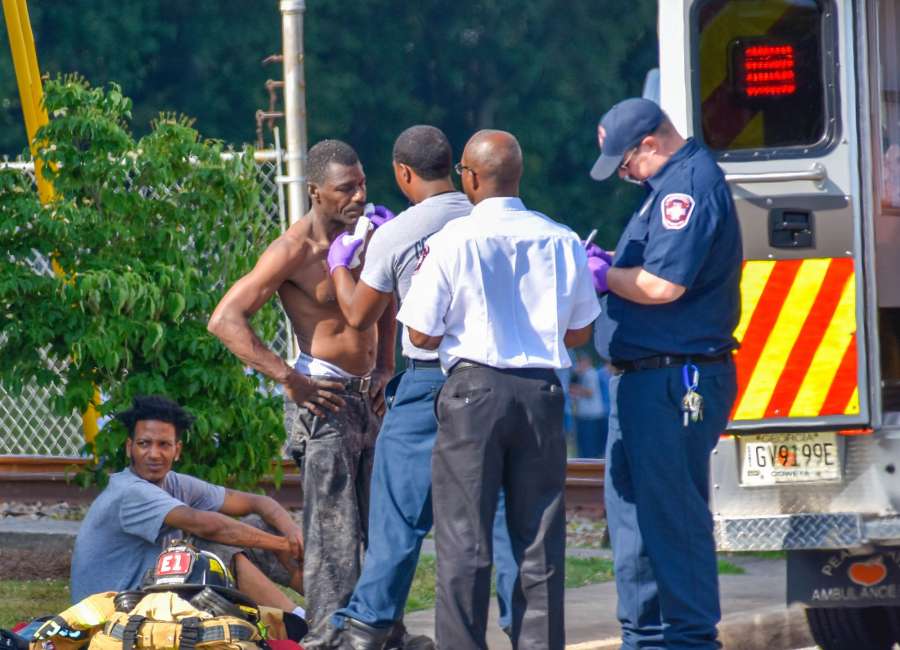 Five workers suffered injuries, some life-threatening, in a factory explosion this morning that blew molten aluminum and concrete at neighboring property and shook buildings miles away.
Witnesses speculated rainwater triggered the massive blast in the Bonnell Aluminum Plant's casting operation.
According to an emergency medical technician at the scene, the seriousness of the injuries from the explosion ranged from immediate life-threatening injuries to walking-wounded injuries.
Immediate life-threatening injuries are ones that require the patients be seen Level I trauma center. Walking wounded patients are ones who can walk out and handle themselves. The EMT was not aware of the complete injuries in terms of burns.
Bonnell Aluminum reported that of the five injured, one was airlifted to Atlanta Medical Center, two were transported to Piedmont Newnan Hospital, and two were treated on site. It declined to release the names of those injured until families gave permission.
A staging area for people trying to connect with family following the explosion has been set up at Newnan Fire Station 3 on Temple Avenue.
Sgt. Chris Robinson of the Newnan Police Department posted information on the Newnan Police Department's Facebook page notifying anyone "wishing to inquire about family members" from the plant that there is "a staging and family meeting area" at the fire station.
The explosion blew bits of concrete and aluminum a half-mile away into Temple Avenue, damaging a building at Sewell Marine and causing a small fire in a boat for sale on the lot which was easily extinguished.
"It's just a big mess – got blown everywhere," said Richard Sewell, owner of the boat dealership. "It knocked me out of my chair."
The blast also shook buildings in downtown Newnan – nearly a mile away.
"At this time, it's too early to speculate on what caused the accident, but we are working closely with local fire officials and others to conduct a thorough investigation," a company statement read. "The safety of our employees is our No. 1 priority, so we have temporarily shut down our operations until we can access the situation."

Bonnell melts raw aluminum in giant smelters to form what the industry calls billets that are 6 inches by 20-30 feet long. Those billets are forced under tremendous pressure through shaped dies in a process called extrusion to create parts for various industries. Often billets are sold directly to other companies that operate their own extrusion manufacturing.
One significant danger is in the remelting of scrap aluminum leftover from extrusion. The risk is that processed aluminum like a soft-drink can winds up in the scrap bin. That's because it melts at a different rate and can trigger a massive explosion, according to former workers.
For that reason, the company enforces a policy prohibiting workers from even bringing a canned soda onto the property that might wind up in a scrap bin.
"As far as safety, they were pretty strict," said Matthew Plotner, a one-time employee in Bonnell's environmental department. "I'm actually fairly surprised by the explosion to be honest."
The metal roof over the smelters requires periodic replacement because of the stress caused by the heat and acid.
The company has been diligent about that and other precautions, according to Sam Harkness, who retired from Bonnell in 2008 after working in every department but smelting.
"I would give them nothing but an A plus for safety," he said. "It was almost impossible to hurt yourself there. You had to get through a locked gate and over guardrails even to get near anything that could harm you. There were always safeguards because of what happened in the 1950s."
An explosion in December, 1956, killed two workers at the same plant.
The plant is closed while the investigation continues.
Bonnell is an aluminum extrusion company, which has been a major Coweta employer for decades. At one time, Bonnell was the county's largest private employer.
Further details will be posted as the story develops.
For updates on this and other stories, follow the link for "Subscriber Services" from the menu at www.times-herald.com and select "sign up for News Alerts."