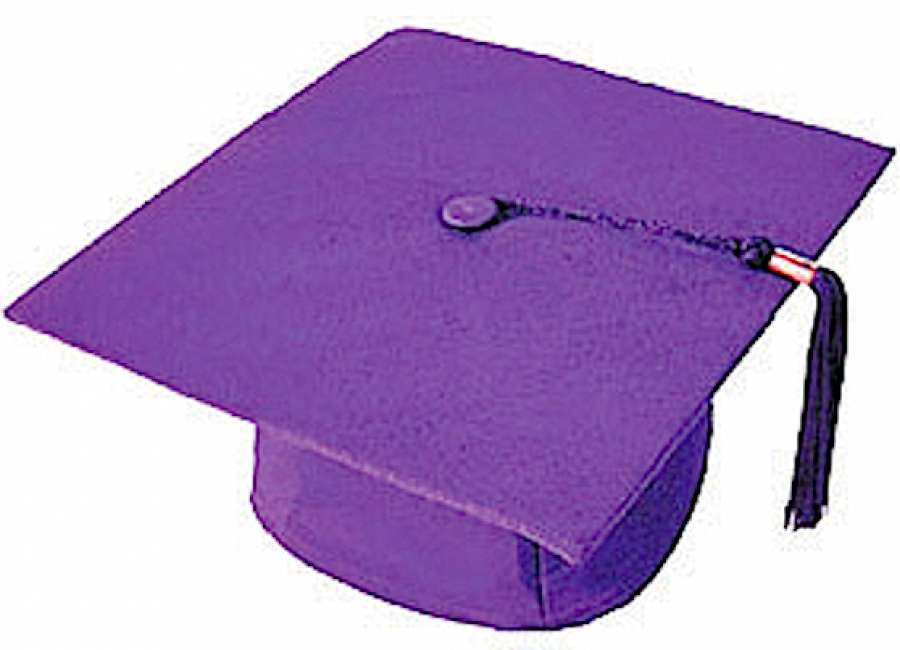 East Coweta High School's annual commencement ceremony is on Saturday at 9 a.m. at Shoemake Stadium.
The 2016 valedictorian for ECHS is Hannah McNair Murray and the salutatorian is Chae Bin Park.

ECHS is encouraging attendees to use off-site parking at Lee Middle School and Poplar Road Elementary School on Saturday morning, beginning around 7:15 a.m. Shuttle buses will be there to transport attendees to and from the ceremonies.
•••
East Coweta High School 2016 graduate list
These 633 graduates will be honored at East Coweta High School's annual Commencement Ceremony on Saturday at 9 a.m. at Shoemake Stadium.
(This list of potential graduates was compiled May 16 and is not final.)
Honors Graduate*
High Honors Graduate**
Chadwin Earl Adams, Angel Gabriel Agosto-Candelaria, Ghe Hoon Ahn**, Kyler James Albanez, Kendall Markez Alford, Noah Christiaan Jamal Alford, Lejoi Charmart Allen, Logan Parker Ammerman, Lily Margarette Ammon**, Shae Elizabeth Andrew, David Alexander Angelo, Hasam Anwar**, Daniela Rullan Apestegui, Alejandro De Jesus Araya, Andrew Noah Arrington**, Brenda Elain Arrowood, Amy Lynn Asbury, Nicole Ann Ruth Asci*, Jonah Cody Asher**, Seoum Tylor Aun*, Noah B. Austin, Ana Lilia Avila, Kristen Nicole Babb, Ji Hyun Bae**,Essence Jakayle Bailey, Brandon Michael Baker**, Timothy Aidan Baker, Carson Christopher Balliew, Mary Louise Banach, Crystal Marie Barbee, Lydia Grae Barbee*, Terrance Deunte Barber, Alexis Shakarah Barnes, John Austin Barnett, Cameron Christopher Barnhill*, Clifford Casper Barr, Amberly Rebekah Barrett**, Solomon Langford Battle, Kayla Brianne Bays, Joshua Alexander Bazzell, Callista Michelle Beaumont**, Autumn Victoria Beckom, Alexis Breanne Bedgood, Haylea Marie Beil**, Benjamin David Belisle**, Alexandria Rose Bennett, Collin Andrew Bennett**, Kirsten Serrell Benning, Casey Marie Black*, Sydney Morgan Blalock**, Karey Dianne Bland, Matthew Tyler Blevins, Thomas Zachary Boggs**, Andrew Lee Bolen**, Jace Barak Bollinger*, Katherine Ann Brady**, Asia Tanae Braswell, Gabrielle Umeka Bridges, Liam Connor Brightwell, John David Brimer, Dominique Kay Brockman*, Quavon Tremell Brooks, Elizabeth Lea Brown, Jaelen Christopher Brown*, Shane Virginia Buchanan*, Kate Elizabeth Bullock**, Morgan Elisabeth Bunn*, Tyler Wade Bunn, Ashtyn Marissa Buquoi, Devaneer Kardidas Burden, Cassandra Alyse Bure**, Julia Grace Burgess, Dontavius Keshawn Burks, Alexander Gregory Bush, Kayla Christine Bush**, Marcus Dakota Brittain Bush*, Demarcus Devante Bussie, Austin Christopher Butler*, Christon Lamar Butts, Gabriel Hunter Cabrera, Kayla Brooke Caldwell, Julia Adele Callahan**, Rodasia Desmeon Cameron, Mitchell Robert Camp, Katlyn Virginia Campbell, Tristan Parker Campbell*, Ronald Wayne Carector, Kendall Marie Carroll**, Nicholas Ross Carson, Autumn Najaee Carter, Iyana De'Kyra Carter, Madison Rebecca Carter*, Corey Scot Carver, D'Ante' Keshael Chambers, Jessica Raychel Chancey**, Chaz McKenna Cherry, James Devon Simuel Childers*, Jung Hwan Choe**, Amber Cheyenne Chunn, Jasmine Zyshae Chunn, Michael Blake Claman*, Nicholas Juwan Clarke, Harlie Madison Clay*, Aniyah Randay Cleveland, Brayden Michael Cohernour*, Cameron Alexander Cole, Daquan Kyrie Coleman, Vilma Guadalupe Colindres Gonzalez, Bilal Quest Collins-Mateen, Jaylan Lequine Combs, Tyler Jackson Combs, Jonathan Daniel Cooper*, Ataja Adrianna Nico Copeland, Gavin Alexander Cordova, Austin Clark Cosby**, Chandler Craig Costley, Jimmy Allen Countryman*, Michael Allen Cox*, MacKenzie Shane Coyle, Alea Morgan Craig, Jonathan Mitchell Craig*, Shannon Marie Crawford, Kinsey Faith Creel, Kattelin Marie Crocker, Blake Allen Crow, Brandon Tyler Crowdis*, Jacob Alexander Crumbley**, Landon Akacia Crumpler, Catherine Rose Crumpton*, Laurence Hunt Cullen**, Kali Cheyenne Daniell, Deairious Mikel Davenport, Tiffany Paige Davenport*, Tristan Bobby Davenport, Hunter Chase Davis, Torris Jamarcus Davison, Matthew Scott Dawson, Natalea Elizabeth Day, Ansley Erin Dees**, Sara Elizabeth Demlow**, Zaira Jannet Diaz*, Bianca Shikina Dickerson, Hank Olin Dobbs, Heather Lee Dobbs, Cameron Layne Doering*, Megan Mackenzie Dohrn**, Charles Gracen Donnelly*, Jonathan Trey Doss, Agustin Duarte Federico*, David Michael Dunlap, Kennedy Fitzgerald Dunn*, Christian Michael Dupaquier, Jocelyn Alexis Durrah, Matthew Joseph Dwyer*, Nicholas Scott Eason, Jason Aaron Edens, Trevion Devante Edwards, Taylor Grace Eidson*, Larry Dylan Embrick**, Zakariah Bell Ennaemba*, Christopher Chavez Estudillo, Amber Hope Ethridge*, Jasmine Noel Eubanks, August Brooks Exner*, Justus Nathan Fagins*, Anaqa Fathima Faizer**, Julia Matilda Farrell, Lena Marie Fathyamin, Domenica Rose Fertal**, Makaila Vell Fischbeck, Jayson Matthew Fletcher, Jordon Michael Fletcher, Rebecca Lynn Floyd**, Matthew Reid Flynt, Bryanna Danielle Foster*, Alexander Chase Fouche, Bridget Bailey Frame*, Christopher Deon Franklin, Caroline Elizabeth Freeman*, Mekhia' Adalis Freeman**, Mya Laquel Freeman*, Chris Alexander Fuentes, Jasmine Rose Galvez, Gabriella Nicole Gamboa, Alexis Leonel Garcia, Johnathan Bryan Gardiner*, Destiny Latrez Garnigan, Austin Wyatt Gartner Buckman, My'shekia Jua'vonne Gates, Zykeria Nakia Gates*, Kylee Ashton Gause*, Robert William Geribon, Jasmine Makaylah Geter*, Rebekah Grace Gilmore*, Caleb Ryan Gill, Alona Monea Glenn, Daniel Alexander Gomez**, Adrian Brian Goncerzewicz**, Morgan Nicole Goree, Jacob Hunter Goss*, Savannah Rose Grant, Quantez Brashad Green, Robert Dale Green, Joshua Logan Greene, Riley Michael Greenleaf, Marissa RaeAnn Greubel*, Ryan Brandon Grindle, Daniela Monique Guerrero*, Kali Evelyn Guimond, Jasmine Elece Guy**, Morgan Elizabeth Haase*, Jeremy Michael Habib, David Ray Hagley, Emily Katherine Hall*, Joseph Anthony Hall, Sydney Breanne Hall, Ivan Ray Haller, McKalin Jacobie Hand, Robert Louis Hannah*, Nicholas Andrew Hanus*, Jerry Robert Marcus Hardegree, Clay Thomas Hardin, Jennings Lee Carter Harrelson, Kathryn Elizabeth Harris, Haley Rebecca Hart, Tenelius Montray Hart, Jordan Michael Hasberger*, Audrey Leanna Hawk**, Alexis Shanelle Mae Haynes*, Destiny Shatill Heard, Kevin James Hedley**, Lyric Marie Henderson, Victor Gabriel Heredia, Anthony Cartavious Hill, Khaylob Shemar Hill, Sarah Ann Hill*, Jessica Dawn Hitchcock, Hunter Chase Holladay, Kendrick Re'Shuan Holmes, Randel Wayne Holmes, Dier Vondra Hopkins, Aja Danyel Horne, Hope Ashelly Horner*, Sydney Rae Hornsby, Grant Mitchell Horton**, Jaret Ansley Houston, Kirsty Joy Houston*, Hunter Eugene Howard, Mekeyia Elizabeth Huey, Kyle Andrew Hunt**, Isaiah Montreal Hunter, Dillon Ba Huynh, Jeonghun Im**, Dominique Delois Ingram, Brooke Dianne Inman, Audrey Brooke Ivester, Iyonna Monique Jackson, Jessenia Mulan James, Elizabeth Jaimes, Matthew Thomas Janes*, Alexandria Elizabeth Jenkins**, Arial Mariah Jenkins*, Caroline Taylor Jerome**, Astrid Dennisse Jimenez**, David Alexander Jimerson*, Jamie Nicole Jinks, Bettina Cephilia Johnson, Herchelle Breanna Johnson, Jack Michael Chalupnik Johnson, Kaitlin Mclaine Johnson, Sophie Marie Johnson**, Brianna Elizabeth Jones, Zachary Dylan Jones, Areli Sarahi Juarez, Perla Yareli Juarez*, Brian Edward Keaton**, Jasmine Minnie Alexandria Keiler**, Anna Michelle Keith, Ashton Owen Keller, Tiffany Marie Keller, Mary Kaitlyn Kemp, William Victor Kemp*, Grant Lawrence Kenion**, Darien Alan Key, Michelle HeeJin Kim**, Joshua Bryan Kimbell*, Malcolm Isaihia King, Matarica Antoinette King*, Nathaniel Bradley Kirby, Melody Faith Kiser**, Mary Evangeline Kleihauer, Laura Ann Kline, Chang Youngtu Ko**, Phoebe Abigail Kohler, Tyler Robert Koster*, Erick Michael Kuehl**, Madison Nicole Kuhne*, Emily Caroline Kupfer*, Ansley Marie Landrum, Madison Carol Langer*, Rickey Lathon, Cameron James Law, Shannel Alexandria Laws, Jeongwoon Lee, James Cado Leist*, Jackson Charles Lemay, Julie Christine Lenderman**, Thomas Michael Leone, Adrian Nathaniel Lee Lewis, Danielle Marie Lewis**, Sabrina Nicole Lewis**, Kyoungmin Lim**, Alyssa Rhea Lineberry, Olivia Marie Lofton**, Fabian Andres Lopera, Gabriel Alejandro Lopez*, Hector Gabriel Lopez*, Antonio Mackenzie Lopez-Cardona, Skyler Janine Lucas, Matthew Joseph Machado, Brandon Keanu Mack, Brittany Leeann Madden, Jordan Everett Thomas Madison*, Hannah Marie Maier**, Ivan Malagon Lopez, DeJohn Terrell Malbrough, Adam Fuad Malik*, Lea Faith Malone**, Darien Courtney Mann, Camila Valeria Manzanares*, Taylor Lauren Marshall, Aniya Niyonna Martin, E'Mijia Simone' Martin, Ansley Nichole Mask, Brandon Christopher Maske, Isabelle Maria Mata*, Yerilin Robles Matias, Hasani Chaya Matthews, Nikolas John Mavridis, Nathaniel Peter Mayhew*, Andre' Sharrod Maynard, Autumn Lynn McCain**, Samuel Aiden McCarty, Madison Kelly McColley, Kyle Richard McCormick*, Trevor Scott McCormick, Reed Tyler Drake McCullough*, Christopher Blake McElroy, Jacob Ryan McGregor, Kiersten Layne McKenzie*, Robert Daryl McKinley, Jacob Ryan McKnight, Shamalla Ashley McPherson, Tristen Blake Mcwright, Jabias Shyquan Meadows, Ann Marie Meeker**, Victor Anthony Mendoza, Juan Ramon Mendoza Garcia, Elissa Deandrea Menefee*, Amanda Robyn Miller**, Bailey Cole Miller, Caroline Grace Miller**, Kaleb Austin Miller*, Anna Elaine Minix, Deira Karnica Minniefield**, Jesus Mario Mireles Aguilar, Brenda Yudissa Molina Garcia, Elisandra Yunilsa Molina Garcia*, Darius Jordon Monroe, Tabius Jevon Ronald Monroe, Jamie Lynn Moody**, Shelby Leann Mooney, Courtney Lynn Moore**, Dylan James Moore, Jacob Hunter Moore, Mikayla Sky Morelli, Natalie Eliana Moreno, Danielle Ann Morgan*, Trace Austin Morrill, Tia Nicora Morris*, William Hart Morris**, Shanee Kiana D. Mortley**, Azeez Mustapha Muhammad, Hannah McNair Murray**, Andre Delane Myrick Jr., Nathaniel Kane Napoli, Elizabeth Loren Neece**, Dustin Wayne Nelson**, Lernilous Rantrez Newson, Victor Phuong Nguyen**, Nicole Marie Nice, Mary Katheryn Nininger, Devin Matthew Norris, Mason Louis Nunes, Joel Nunez Rodriguez, Mary Kathryn O'Neal, Grace Madeline Ogle, Sara Marie Olivas**, Brian Richard Oliver, Byron Anthony Oliver, Elishua Caleb Orr, Nicolelasus Kayleo Ovando*, Emily Shae Overton, Dakota Alexander Owens, Dominique Jordan Nicole Pagan**, Adrian Alexis Pantoja*, Alexa Rebeca Parroquin Vargas, Chae Bin Park**, Chae Eun Park**, Shane Matthew Patrick, Cameron Gage Patterson, Madison Denise Pearcy**, Morgan Leigh Pearcy**, Anthony Isaiah Pearson, Rachel Elizabeth Pearson**, Emma Kathryn Pence, Jannel Tiffany Perez*, McKenna Ann Peters, Kevin Alexander Phillips, Andre' Samuel Pike, Evan Leanne Pike, Hallie Elizabeth Pirozzolo*, Caroline Olivia Pitzer**, Kellen Paul Plunkett*, Tyler Matthew Poague, Maasai Naroshanti Polloi-Thompson, Nathan Joshua Pope, Jacob Kevin Porter*, Jarvis Lomant Porter, Reginald Christopher Porter**, Chelsea Marie Powell, Morgan Tyler Presley, Kayleigh Nicole Price, Kailey Victoria Prince**, Michael Alexzandyr Prosser, Halley Ann Psathas**, Xavier Edgardo Quinones, Matthew Ryan Ragan**, Christopher Ramnarine Ramdial, Jacob Ryan Rattie*, John Logan Ray, Charlotte Lori Reddaway*, Katlyn Michele Reece, Madeline Haley Reece**, Lauren Gracie Reeves*, Ayanna Seirra Reid*, Khadajsha Deundra Render, Gillian Marie Revoir**, Joseluis Angel Reyes, Chelsea Renee Richards, Brianna Michelle Richey, Joliyana Riddick**, Lacie Nicole Rider, Connor Geoffrey Riegel, Ian Allen Robbins, Amber Leigh Roberts**, Carly Megan Roberts**, Haley Nicole Roberts, Ashley Rodriguez*, Mia Kathryn Rogers, Ashton Lee Rohrschneider**, Elip Esmeralda Roman Del Valle, Ian Douglas Ronfeldt*, Kylie Michelle Ross**, Hannah Rachel Rubenstein**, Carmen Sofia Rue, Iridiana Isabel Ruiz, Bailey Marie Rump, Danielle Leonsie Rushin**, Austen Cameron Russell, Bailey Nicole Ruston**, Renee' Nichole Ruttinger*, Alexis Salazar Hernandez*, Macy Lauren Salisbury*, Kaitlyn Michelle Sanford, Lauren Nicole Sapp, Austin Lee Sargent, Jonathan Roy Satterfield, Cameron Scott Scales, William Christian Scanlon*, Kaitlyn Deshon Scarborough*, Lauren Ann Schermerhorn**, Allison Taylor Schmidt, Autumn Lee Schmitt**, Emma Michaela Schwartzer**, Samual Yuki Scott, Teryn Marie Schwind, William Jeffrey Scott, Malika Iyanna Seaborn, Jericho Walton Searcy*, Kelly Nicole Seel*, Eder Manuel Serrano Estrada, Quadeja Artaisa Sessions, Emma Marie Sevriens**, Abbigail Dee Sharp, Sara Brook Shelnutt**, Seth Donavon Shelton, Emily Anne Shepherd, Jakierria Lashanta Sherman, Jake Peyton Shermer, Rebekah Lynn Show*, Matthew Joel Shumake*, Jason Stephen Siciliano-Salazar, Angela Denise Silas*, Andrew Frank Simmons, Andrew Carter Thomas Simms, Nickolaus Donald Simon, Paul Lee Simpson**, Sarah Katelyn Singleton*, Ashleigh Laran Sinkfield, Michael Scott Slaven, Darius Lamar Sloan, Kayla Janine Jeanette Smathers, Cassie Leana Smiley, Devin Eugene Smith, Donshe' De'Vante' Smith, Haleigh Nicole Smith**, Kristen Renee Smith, Peyton Nicole Smith, William Chandler Smith**, Amy Rose Sogbo, Karla Asly Solis*, Sontiago Ormoni Spencer, Mallory Elaine Spicer, Lindsey Reanna Spooner*, Amy Elisabeth Spurgeon**, Marc Kenneth St. Germain, Catherine Ruby Stamps, Chandler Reed Stanley*, Stephanie Lee Steadman**, Levi Edward Stephens, Logan Walter Stephens*, Nicholas Tyrek Stephens, Victoria Cheyenne Still, Nathaniel David Strasburg, Tyler Anthony Stretch*, Adonis Kevon Strickland, Antonia Katrina Strozier, Shawntes Demarcus Strozier*, Jessica Marie Stubbs, Micah Gregory Stuman*, Andrew Jefferson Summers**, Jada Diona-Patricia Summerville**, Zachary Taylor Sushil, Andrew Dylan Swanson*, Judah Joel Sworney**, Demi Elizabeth Taveras**, Leah Marie Taylor, Mackenzie Alissa Taylor*, Matthew Garrett Taylor**, Timothy Christopher Teahan, Danielle Iris Teeters, Madelyn Ida Teribury, Monique O'Cedria Terrell**, Ruby Eleanor Thamert**, Colin William Thomas**, Justin Gauge Thompson, Keeley Lynn Thompson**, Margaret Lee Thompson**, Laura Verghese Thomson*, Kiara Nachel Thornton, Taylor Brooke Tibbits**, Garrett Simpson Tidwell**, Alexis Mariah Timothy, Tievar Devareus Timpson, Carson Scott Tippitt, Kayla Michelle Tolsma, Jeremy Javaughn Tooley, Elias Ramon Torres, Brianna Alexis Trammell*, Kim Nhi Tran*, Kylie Ann Trotter, Prescillia Ta Truong**, Trenten Wayne Turner, Garrett Lamar C Vanzant, Nadiyah Zykia Vaughn, Kayla Danielle Vincent, Jamie Nicole Vitale, Jamiyah Marshae Walker, Mandarious Jerome Walker*, Rontavious Mariquie Walker, Phillip James Wallace, Kobe David Waller**, Carmen Marie Ward, Hailey Marie Ward*, Haley Breanna Ward*, Jazmine Denisha Ward, Zackary David Ward, Damon Mark Ware, Ryan Alexis Ware**, Joshua David Warren, Vivianne Jade Washington, Robert Cole Watson*, Antonio Malik Weaver, Kellsey Elizabeth Weaver*, Austin David Webb, Mason Dale Wells*, Laura Michelle Werner, Heather Leigh Whatley, Abigail Dane Wheeler, Aliyah Whisby*, Andrea Lashawn White, Emily Ann White, Jasmine Aulir White, Paul Emmanuel White, Taylor Brooke White*, Tiffany Amber White*, Cody Dean Whitwood, Sabrina Linh Wight**, Amberlee Kimiko Williams**, Andrea Monique Williams*, Eboni Renee Williams**, Jaquez Sharif Williams, Kezialene Christianna Williams, MacKensie Rae Williams, Teundra Shantrel Williams, Keith James Wilson, Shaye Quincya Rubinique Monea Angelique Wilson, Sydney Elizabeth Winters*, D'Asia Unique Woods*, Caleb Douglas Workman**, Brittany Madison Worth, Alexandria Marielle Wottring, Alyssa Renee Wright, Anthony Jesse Yawn, Ashley Grace Young*, Tyler Isaiah Young, David Michael Youngblood, Hannah Gail Zalewski, Zaine Austin Zambuto, Rolando Emmanuel Zarate Tirado, Abby Gayle Zelczak*, Alex Jeffrey Zimmer.