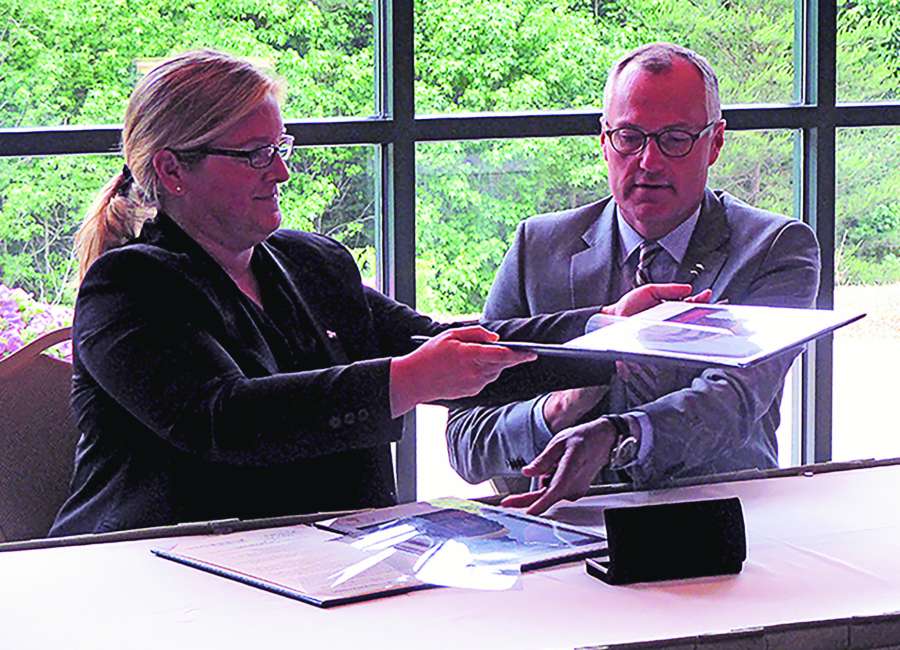 Lt. Gov. Casey Cagle spoke Monday afternoon at ceremonies announcing a new German-style apprenticeship program that will be launched in Coweta County.

Cagle took part in the announcement at the Newnan Centre on Monday afternoon. He signed a memorandum of understanding with Stefanie Jehlitschka, vice president of the German-American Chamber of Commerce of the Southern United States. The apprenticeship – which includes work experience with pay, technical college credit and high school credit – will be the first of its kind in the United States, Jehlitschka said.
Known as the Georgia Consortium of Advanced Technical Training or GA CATT, the program will start with 11 Coweta students. Twenty students have met the criteria to compete for the 11 spots.
Eight local industries are involved along with Central Educational Center, a local charter school that already combines traditional high school curriculum with technical training.
"Today is the culmination of many months of hard work and dedication by numerous stakeholders to ensure our high school students have access to the world-renowned German apprenticeship model right here in Georgia," Cagle said. "Georgia is the first state to secure these kinds of dynamic workforce development opportunities in the nation, and our students will see tremendous benefits from this revolutionary program."
GA CATT will allow students to begin their apprenticeship in 10th grade with a combination of traditional high school classes, technical college manufacturing courses and apprenticeship modules that will pay $8/hour. By the 12th grade, students will spend 80 percent of their day learning at the manufacturing site earning $12/hour.
The corporations taking part in the pilot include Grenzebach, E.G.O. North America, Yamaha, Kason, Yokogawa, Winpak, Chromalloy and Groov-Pin. The companies will work in conjunction with the Coweta County School System to ensure the curriculum is relevant to the employment needs facing each company.
The Coweta County Development Authority, along with Georgia Institute of Technology's Georgia Manufacturing Extension Project and Center for Young Worker Safety and Health, will serve GA CATT in an oversight and advisement role. Those entities also played key roles in bringing the various stakeholders together to make this program a reality.
Cagle said the apprenticeship idea had grown fast and strong. "No one in their wildest dreams really thought we could do something that would be first in the nation," he reflected, remembering early discussions about the project.
The path was not always smooth. "We ran into all kinds of stumbling blocks. A lot of people want to look at education in a very traditional way," Cagle said.
GA CATT, he said, offers a relevance that could lead to students "fighting to get into school versus fighting to get out," he said.
"People begin to find the thing that they were meant to do. They are able to explore and through that exploration are able to find what they want to do," he said.
Cagle said students who are selected for the program will leave high school with a high school diploma, an associate degree and a German apprenticeship certification. While in high school, they will be "earning a salary but also learning skills" that will lead to a job immediately after graduation.
Cagle said students who complete GA CATT are expected to enter the workforce after high school with an average yearly salary of $40,000.
While GA CATT is starting in Coweta County, Cagle wants to see the program spread. GA CATT "is scalable across the state," he said.

"We have 431-plus German companies here in our state," he said. Those companies come from a place where there is a system that trains workers at a high level.
"This is critical. We as a state need to step up to meet the needs of workforce for them," Cagle said.
Mark Whitlock, CEO of CEC, talked about the tradition of cooperation between business and the school system locally. "There is not another community in Georgia at this time that could have pulled this off," he said of the apprenticeship effort.
Senate Bill 2 – passed during the 2015 legislative session – permits local boards of education to award a high school diploma to students who dual enroll while they fulfill specific high school requirements along with specific college requirements. The bill offers "a new way to graduate from high school … primarily by taking technical college curriculum," Whitlock said.
The idea for GA CATT originated with Martin Pleyer, chief operating officer of the Grenzebach plant in Newnan and head of the CEC board. Apprenticeship programs have been part of German culture for centuries, and Pleyer said about four years ago he thought "a real German apprenticeship program" could work in Georgia.
Connections were made with CEC and the German-American Chamber. Jehlitschka said German-style apprenticeship programs are ongoing in areas served by about 40 different German-American chambers – including in Venezuela, Chile and Russia.
Jehlitschka helped the Georgia business-education coalition get materials for the program. "I just had the recipe and the ingredients," Jehlitschka said. "They're going to have to make the meal now."