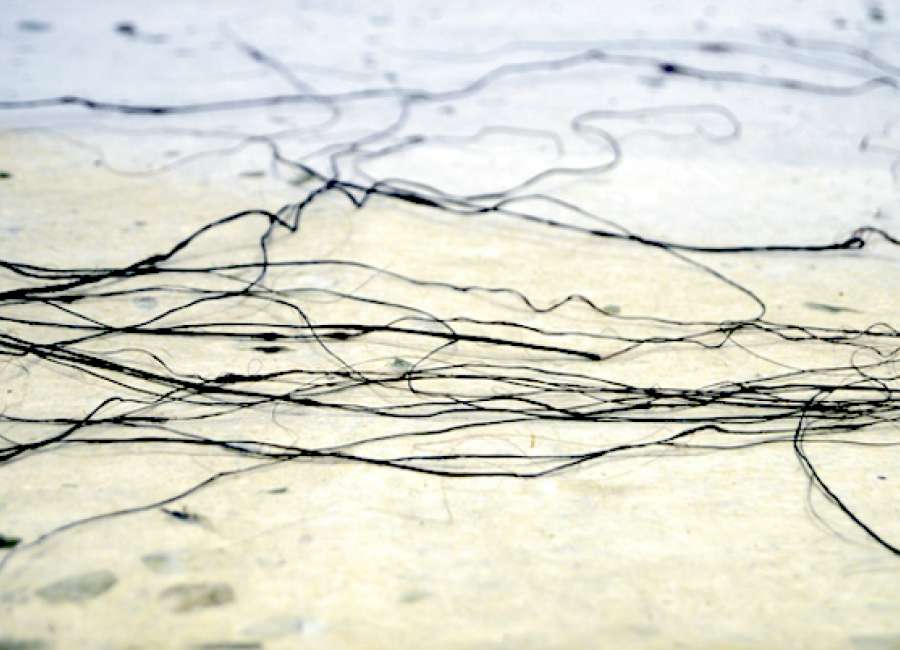 Christine Cassano's collection of work is often thought to be 'outside of the box,' particularly in the use of materials found in nature combined with pieces of technology.

It is the juxtaposition of these two elements - human biology and technology - that most acutely fascinates Cassano. The artist noted a feeling of that juxtaposition taking place inside of her own body after being forced to undergo a hip replacement at age 37, following a severe automobile accident.
The artist's work appears organic from a distance and often includes small objects grouped together in rounded, flowing shapes and designs. Cassano uses items created from a variety of materials such as porcelain, concrete or metal in addition to more natural medium like tree roots - and on a few occasions, the artist's own hair.
'When I went through my illness I lost half of my hair,' Cassano explained. The artist suffers from an autoimmune disorder currently in remission after years of medical intervention. 'I actually never intended to use the hair in my art. But when you are a woman in your thirties and you start to lose your hair, and you don't know if it will stop, its terrifying. So, I began this compulsion of saving my hair.'
Later as Cassano regained her health and began pushing herself to create more daring works, the artist remembered the hair that she had saved.
'I use silicone to dread the hair out, and create a sort of rope or string,' Cassano said. 'And now I am using not just my hands, but parts of my body to create work.'