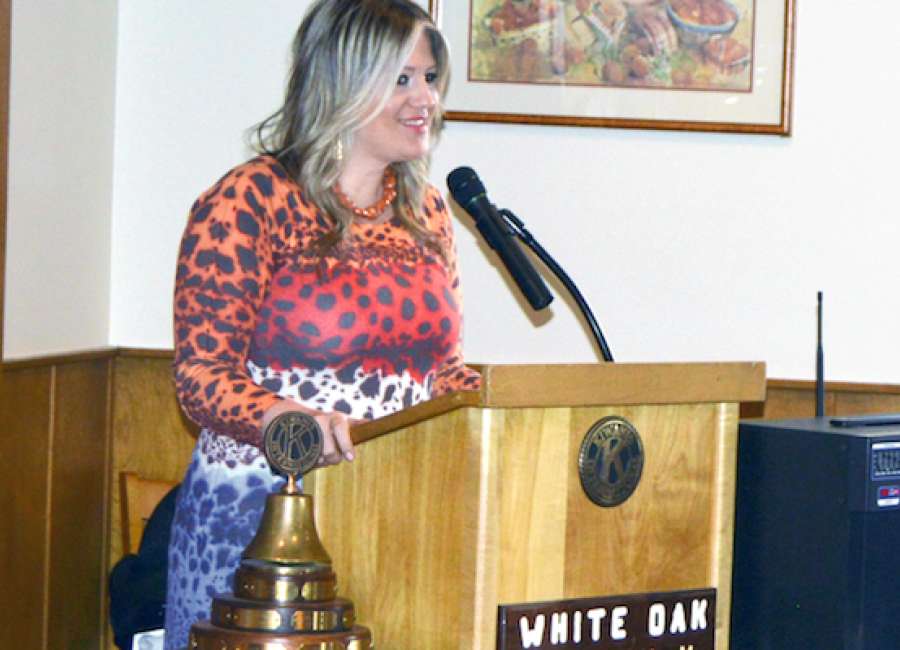 US HealthVest Vice President Larisa Klein appealed to the public to show their support for a proposed behavioral hospital by penning "letters of need," during a presentation before the White Oak Golden K Kiwanis Club Thursday morning.
The behavioral healthcare company representative returned to Newnan to generate support for a new Certificate of Need (CON) to be submitted in early June. The CON will be the second such application proposing constructing the Newnan Behavioral Hospital, which would utilize the Piedmont Newnan Hospital building located on Hospital Road.
The initial CON, filed in August 2013, remains in the Georgia Court of Appeals. HealthVest continues to await a final decision.
"We are not a company that is going to sit on our hands," Klein said. "We recognize the need in the state of Georgia and across the country."
Klein said said the new CON and has several changes to make the application "more favorable."
The new application includes a request for a 75-bed (up from the previous proposal of 60 beds) acute care psychiatric and substance abuse hospital to serve Coweta and an expanded list of nearby counties including Butts, Carroll, Heard, Lamar, Meriwether, Pike, Spalding, Troup, Upson and a portion of Fayette County.
The proposed Newnan Behavioral Hospital will more closely resemble the recent construction of Walton Behavioral Hospital, a 70-bed facility east of Atlanta in Monroe, and will address a number of issues cited in the original CON application.
Klein explained that another addition to the new CON will include the voice of the community.
"I am here to talk with you about the letters of support portion of obtaining a CON," Klein said. "Generally speaking [when applying for a CON] there is campaign to obtain letters of support because the state wants to know that you all, in every one of those counties, want this hospital to serve your county."
Two sample letters were included in an informational packet distributed at the Kiwanis Club meeting, but Klein noted that these were merely examples. The HealthVest representative emphasized that the company is seeking hand-written letters from individuals. Letters should include a personal experience or example that indicates the need for the hospital. Letters should be addressed to Georgia Department of Community Health Executive Director Rachel King, but should not be sent directly to the Atlanta DCH office. Instead, letters should be scanned and emailed (or handed directly) to Klein. HealthVest will submit letters in bulk on the preliminary filing deadline of May 9.
"Ask family members and any professionals you may come into contact with such as physicians you see, anyone you are connected with in your church organizations, anyone in the education field, anyone you know that might be interested in mental healthcare," Klein said. "Knowing the suicide rates are so high and needing a place [in the community] for people to go that are stressed or hurting and need help."
Klein noted that for the previous CON, HealthVest submitted a form letter with signatures. That letter did not hold the same weight a collection of personal appeals from locals might.
"The state kind of slapped us on the hand [for the form letter] and told us not to do that again," Klein said. "So, we need original letters with your testimony that speak to the need for the facility in the area."
Klein did not specify as to how many letters HealthVest might need, but encouraged separate notes from individual members, rather than a single letter from a business leader or nonprofit organization.
"The state has given us the opportunity to submit a preliminary group of letters now," Klein explained, rather than waiting for the final deadline to show the community's need. "The deadline for this group of letters is May 9."
Klein will be in Newnan and the surrounding areas until the final application deadline of June 4 and will continue to accept letters of support until that time. For more information on how to submit a letter, contact Klein at lklein@ushealthvest.com . Letters may also be submitted through Malcolm Jackson, Kiwanis Club director. Visit Kiwanis Club online at www.whiteoakgoldenk.org .