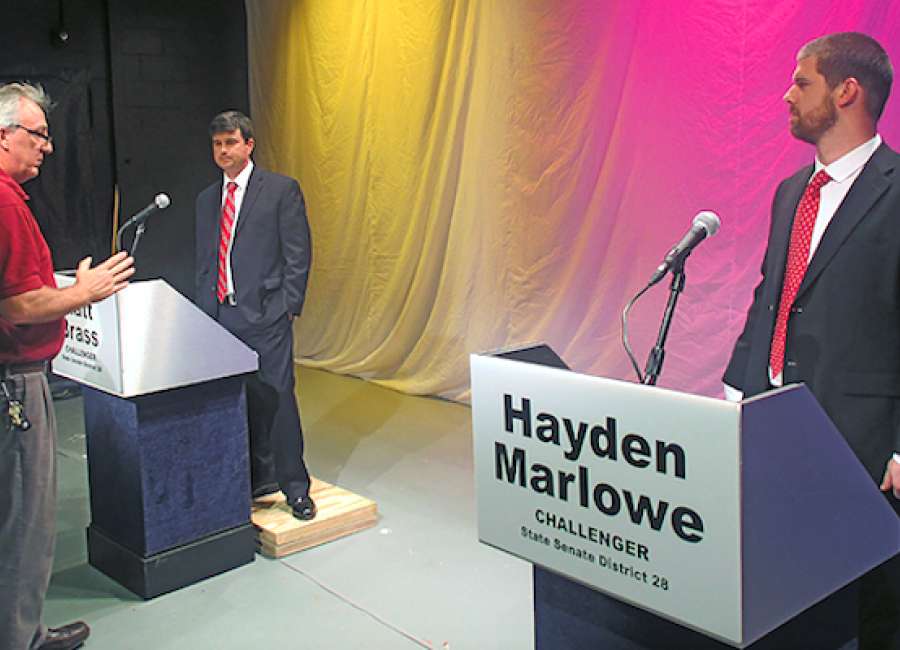 Matt Brass and Hayden Marlowe are running for the State Senate 28 seat, and – if their answers at Tuesday night's forum are any indication – they have similar positions on most issues.

Brass and Marlowe took part in Tuesday's forums at the Central Educational Center studio. There also were forums for the probate court and county commission races. Brass and Marlowe – both young husbands and fathers and both graduates of Coweta high schools – are seeking the post vacated by Mike Crane, who is running for Congress.
Brass, a former golf pro, is the chief of staff for U.S. Rep. Lynn Westmoreland, and Marlowe works at a private label water firm.
Marlowe said it is important to focus on "what government should be involved in" and "maybe back off" of other things.
"Our economy is lackluster at best," Marlowe said. The best way to improve the economy is "to get government out of the way." He pointed to microbreweries not being able to sell directly to customers and Vidalia onion growers in Georgia who are hampered in selling their produce by regulations as examples of why government should not be involved in business.
"The economy obviously is getting getter. Is is moving at the pace we want? The answer to that is 'no'," Brass said. He said addressing the economy requires looking at Georgia's top two industries – agriculture and the film industry.
There are "dairy farms all over this county" and in neighboring Troup and Heard, Brass said.
With regard to the movie business, he said, "Tell me that's not important to this county. … We've got to maintain that."
Marlowe questioned subsidies. "Is it really the government's job to come in and give a private company taxpayer money?" he asked.
Brass defended the policies that apply to entire industries. "It's not picking winners and losers," he said.
Brass said he favors a move from income and property taxes toward a consumption tax. "We have to do it at the right time. It's not always black and white about what to do."
Brass also said some tax policies are only wise if other states are doing the same things. Otherwise, "we're only hurting ourselves," he said.
"There's never really a right time. I think now's a great time – better now than never," Marlowe countered.
"I've always been a big fan of the Fair Tax," Marlowe said. "The income tax is inherently a disincentive to get out and get a job."
Getting rid of the income tax would be an incentive for attracting new businesses and would eliminate the costs businesses now spend on state payroll tax processes, he said.
Consumption taxes give "people an option on when they can be taxed," Marlowe said.
Rather than offering tax incentives, Marlowe said, "You deregulate. You get government out of the way of the private sector. Business makes better decisions themselves than the government does."
Brass spoke about the importance of workplace development, saying CEC, a charter school with vocational college and high school facets, has helped the county "go to the next level" in job training.
"When site selectors are looking for a place to locate the business, that is one of the top things they are looking for," he said.
Moderator Dean Jackson asked a question about how the two would work with other legislators.
"You've got to have principles. That's what you have to stand on," Brass said. He said once a legislator figures out "who's in this for the citizens of Georgia," decisions can be made about what collaborations should be attempted.
"Making sure everybody knows where you stand on the issues" is key, Marlowe said. "When you stand for a small limited government and you threaten power, you're not going to make many friends."
Marlowe advocated school vouchers that would allow parents to use tax dollars to send their children to private schools. "We need to get the federal government out of education. We need to get rid of Common Core."
He questioned additional spending for "these failing public schools." Collecting more taxes and "dumping it back into the public education systems hasn't worked in the past," Marlowe said, and it not likely to have a positive impact in the future.
The local graduation rate is lower than Marlowe would like. "I hope we can change that going forward," he said.
Control of education "needs to return back to the local level," Brass said. "It's not the state's job to tell us how to do education. It's the state's job to provide us with the tools to do it."
Both candidates expressed support for religious liberty and campus carry legislation. Brass said he would like to "see some reform" in the foster care system – saying a lack of foster homes has long ranging consequences.