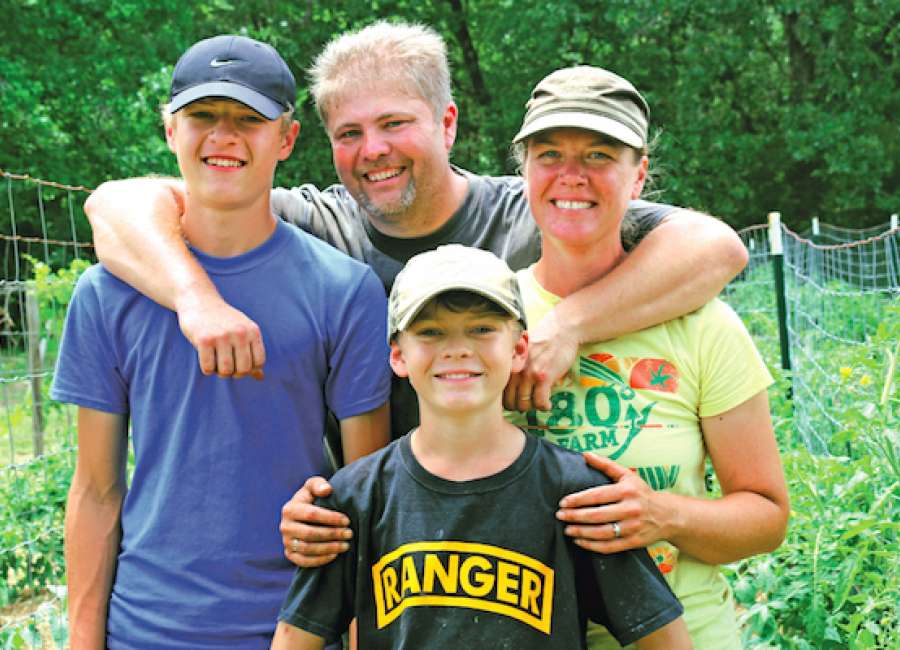 The owners of 180 Degree Farm, which is located in Sharpsburg, decided to turn a tragedy into a triumph and a way to help others.
Scott and Nicole Tyson's four-year-old son Mason was diagnosed with stage four Neuroblastoma, which is a cancer often found in the small glands on top of the kidneys (adrenal glands). It can develop in the belly, chest, neck, pelvis, and bones. Children ages five or younger are most commonly affected according to the American Cancer Society.

When learning of his diagnosis, the Tysons decided to switch to an all organic diet and thus the 180 Degree Farm was established.
"After the initial surgery, he still had cancer in his lymph nodes and the doctor said we could watch and wait on the cancer to see how aggressive it would be," said Scott Tyson. "Me and my wife did a lot of research and discovered a lot of problems with the food system. What we were feeding our son probably caused more damage and contributed to cancer. We went on a strict organic diet to avoid chemicals and boost nutritional level. Organic food did not a cure his cancer, but it gave his body enough nutrition so it could heal. Chemotherapy is detrimental for a child, because it can cause kidney function damage, brain disabilities, problems with reproduction and we felt it was necessary for us to try to get his body geared up for a change."
"We're a nonprofit organization that grows food primarily for cancer patients," said Scott Tyson. "We also work a lot with other people have various other diseases with cancer being the biggest. We grow pretty much all seasonal vegetables; right now we've got turnips, spinach, radishes and meats are coming in. We typically have cabbage and cauliflower, tomatoes, pepper and eggplant in the summer. Everything that is typical for the season. We also do melon, squash and stuff like that. We also have chickens, ducks, and grass fed lamb, as well as chicken and duck eggs."
Tyson said he and wife noticed a change in their son's health about six to eight months after their diet change.
"The cancer was being sealed," said Tyson. "There was no more cancer in his body that could be pointed out. Our doctor told us that he didn't show any signs of cancer, but we couldn't consider him in remission. He was around five and he is now 13; he's been cancer free almost nine years. We started doing heavy juicing initially and having a four year old, it was a difficult task trying to get him to take his juice."
Tyson added that although eating healthier and organic may seem expensive, it will be beneficial in the long run.
"The food costs more than conventionally grown, but you can stretch your dollar by cooking at home and cooking enough that you can freeze and eat later," said Tyson. "It's all about priorities, too. When we try to take the easy way out, usually something suffers because of it."
180 Degree Farm has partnered with the Cancer Treatment Center of America in Newnan to help cancer patients with their nutrition.
"We do a few diff things with CTCA," said Tyson. "We sell food to the kitchen when we have it available and we also serve food locally. We have a market every Tuesday with approximately 300-500 pounds of food to give to patients, caregivers and staff. Once a month we teach a nutrition and wellness class to explain why you should consume a diet that's free of chemicals. It's open to the public and so is the farm on Saturday mornings."
Tyson said he felt obligated to help other cancer patients.
"When we conducted our research, we couldn't just sit on this information," said Tyson. "When you learn this kind of stuff you can't just go back. It was a struggle initially, but we gave over a little or 500 pounds of food to help cancer patients the first year. Last year we almost hit the 30,000 pounds mark and the goal this year is to hit the 30,000 pounds mark and a few years down the road, the 60,000 pounds mark. There are a lot of people in need. It's a whole dynamic and at least we can help with the lifestyle change of food. I've heard testimonies from patients that have been eating a really healthy diet with low meat and how it has really helped them through treatment."
Tyson said his wife Nicole is the backbone of the farm and makes sure everything keeps going as planned.
"We also have a Alternative Breaks Program," said Tyson. "This program brings in universities from all over the country to volunteer at 180 for approximately a week. It's usually around 12-14 students. Local hotels have generously donated rooms so we can accommodate their housing needs. They work at the farm everyday planting, weeding, mulching, moving animals and packing food for patients and caregivers at CTCA. They have a huge community impact. So far this year, we've had Central Michigan University (second year), the University of Florida (fourth year) and Michigan State University (first time). We have many volunteers in the community that help out as well."
The farm will host their Spring Gastronome Indoor Garden Party fundraiser dinner on May 14 from 6 until 9 p.m. at the Senoia Coffee & Cafe. Tickets went on sale Saturday.