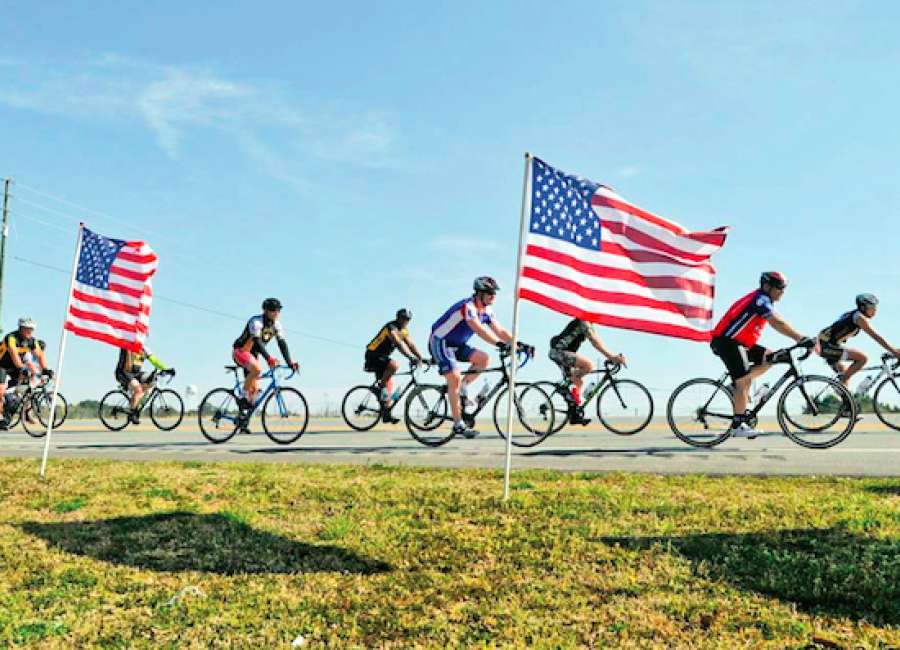 Newnan welcomed more than 200 injured veterans and friends at the VFW and American Legion Sunday.
VFW Post 2667, located at 130 Veterans Club Rd., hosted a rest stop and lunch for cycling group, Ride 2 Recovery. The event was the first stop on the national organization's Gulf Coast Challenge, which began in Atlanta and continued to New Orleans, LA. The group is scheduled to reach New Orleans today.
"I pay tribute to my veteran comrades and to the huge turnout of organizations and individuals who came out to help and to cheer. The buffet lunch was a bounty of barbecue, soups, veggies, fruit and even some great cookies," said Richard Stender, an organizer for the local event, in a Facebook post following the lunch. "As always, I am moved by the serving spirit of our community. It's just the way things are in Newnan."
Ride 2 Recovery, founded in 2008, is a program serving over 10,000 veterans across the United States with cycling and fundraising opportunities. The organization supports physical and psychological rehabili- tation programs from indoor spinning training to long-distance bike rides.
According to a recent press release, the organization offers healing to the country's veterans through the challenge of cycling ling distances using hand cycles, recumbents, tandems and adaptive road bikes.
Sponsored by UnitedHealthcare, the Challenge Series program includes rides which span one day to one full week.
"The UnitedHealthcare Challenge Series is all about restoring hope and purpose by providing mental and physical challenges helping veterans get their life back," said John Wordin, president and founder of Ride 2 Recovery, in a recent press release. "There are veterans who come to these rides not just to help themselves but to help each other."
According to Wordin, the Challenge program allows veterans to set and achieve daily and long-term goals.
"For [veterans], the addition of cycling to their physical and mental rehabilitation becomes life changing."
The Golf Coast Challenge began in Atlanta on March 6 and continued to Columbus with a stop in Newnan for rest and lunch. The public is encouraged to gather at the cyclist's stops in support of the riders.
Though no local veterans are currently participating in the Gulf Coast Challenge, Coweta VFW members and veterans encourage local interest. This marked the second year the rest and lunch was hosted in Newnan.
"I think [the rest stop and lunch] and spreading awareness about Ride 2 Recovery will spark local wounded veterans' involvement," Stender said in an email on the topic. The amount of local volunteers and the assistance they provided to the cyclists and programs representatives was "amazing," and encouraging Stender noted.
Among the cyclists visiting Newnan for the afternoon was Jen Goodbody, a female veteran from California who has completed over 20 challenges with Ride 2 Recovery.
"The first time I was introduced to cycling, I was in a trauma recovery program for women," Goodbody recalled. "[Cycling] became part of my treatment plan. From there I was hooked."
According to Goodbody, riding, and the Challenge program saved her life. Cycling gave her a "purpose," and a way to "get out of the comfort zone and begin to heal." Goodbody is now employed by Ride 2 Recovery and leads the group that once helped her on her journey to healing, Trauma Recovery for Women.
The Gulf Coast Challenge, like other challenge programs in the series, includes several stops along the way, with riders spanning nearly 400 miles in five to seven days. Cyclists stay at nearby hotels each evening, but ride nearly continuously throughout the day. Even in the case of inclement weather.
"Oh we ride. So many people ask 'what happens when it rains,'" Goodbody laughed. "I always answer, 'we get wet.'"
Up to 150 cyclists participate in each challenge, which is planned up to a year in advance to accommodate the large number of riders and volunteers. Veterans ride at no cost, and the rehabilitation ride is sponsored primarily by United Healthcare, and in part by other businesses and public donations.
The general public can join chal- lenges and other Ride 2 Recovery events by fundraising for participation costs.
"One of the great things about what makes this program so special is that because we are all in this group together, we have a similar camaraderie as many of us did when we were in the service," Goodbody explained. "What happens when you get out is that life and your everyday surrounding are just not the same. So, when we are able to get a group of people together that have had similar experiences we are able to share and open up in ways that many of us never really could before."
According to Goodbody, like in the military, groups like those formed in Ride 2 Recovery and in the trauma recovery program she leads for the foundation, connections are often made that can last years, even a lifetime.
"The bike is sort of this tool that gets you there," Goodbody said. "It is the literal vehicle that brings you to that point where you can connect again with the world and with others."
Following lunch, the group of cyclists, supporters and volunteers gathered for conversation and a bit of rest before continuing on to the evening's final destination, Columbus.
"Welcome to Newnan," said Wordin to the group of nearly 200.
The founder, along with the group of participating cyclists presented a signed jersey to hang on the wall of the local VFW post.
"You have to have something for veterans to do," said Thomas Schwerin, Jr., a Project HERO program manager in Columbus. "Physical activity is one of the best forms of therapy."
Schwerin is part of Ride 2 Recovery's Project HERO program, which provides training and support for community programs.
Project HERO is rehabilitation riding at the base, or community level and gathers local veterans and cyclists for short rides in veterans' respective communities.
For more information on Ride 2 Recovery's Project HERO program, contact Barb Springer at barbs@ride2recovery.com, or Thomas Schwerin, Jr. at project.hero.columbusga@gmail.com .
For information about the Ride 2 Recovery foundation and the programs offered throughout the U.S., visit www.ride2recovery.com or find them on Facebook at www.facebook.com/ride-2-recovery .