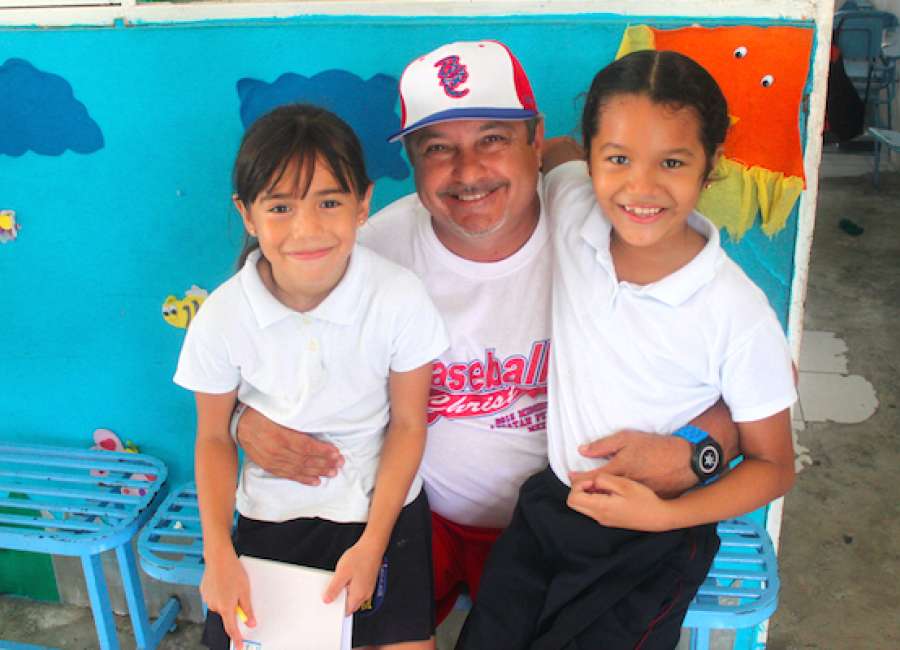 When some people see Brian Morgan sitting near the Newnan dugout at a baseball game, helping out with the wrestling team, or walking along the sidelines during a football game, they may not be exactly sure what his role is with the teams.

In reality, Morgan is a jack-of-all-trades, but his main job is to serve as a team chaplain, motivator, and sounding board for local high school coaches and players.
It's a job he doesn't take lightly.
Morgan has found a way to balance his love of sports and his deep-rooted Christian faith to give back to the local high school sports community.
These days, his busy schedule also includes serving as a youth minister at Unity Baptist Church and as part of the Fellowship of Christian Athletes staff where he works with all the schools in Coweta County.
One of his biggest passions has been his involvement with Baseball4Christ, the annual mission trip that he helped start with one of his best friends, Mike Winslett.
Later this summer, Baseball4Christ will go on its sixth trip to Mexico.
The trip gives carefully selected local high school players the chance to play baseball games and give back to some of the most poverty-stricken communities in the Yucatan Peninsula.
"I have had the chance to work with my best friend and share something that is a passion for both of us," he said. "To see how Baseball4Christ has changed kids, and changed families is amazing."
Former Newnan baseball coach Kenny Morris, who still serves as the offensive coordinator for the Cougar football team, gave Morgan his first job as team chaplain at Newnan.
"He doesn't meet a stranger," Morris said. "He has had such a great impact on this community. He is one of my very good friends. He leads a Bible study with the coaches at Newnan. I had the chance to go on the first Baseball4Christ trip and it changes lives. It is a powerful trip."
His time with the baseball team led Morgan to start working with the Cougar football team and former head coach Robert Herring.
"Coaching Herring was trying to get me into the system," Morgan said. "He said if I came to practice, he would tell me what I should do and what I shouldn't do."
Herring had an interesting way of communicating with his assistants, and that included Morgan.
"He gives me these old hand-me-down shirts. I go out to practice, and I've got my shirt on, trying to make a good first impression. He calls me over and he asks me, 'What is different between you and them?' I told him they were football guys and I am just a pastor. He said, 'No, they have their shirts tucked in, and if you want to work with this team, you will do the same thing.' From then on, I knew how that game was played," Morgan said.
Morgan grew up in West Virginia, the only child of a stay-at-home mom and a steelworker dad.
From the beginning, he lived and breathed sports, often going to Pittsburgh Pirates baseball games and Steelers football contests with his sports-loving father.
"I saw some of the really greats of their era play," he said.
Even though he called himself an average high school baseball player, he excelled in wrestling, a sport he discovered after getting cut from his middle school basketball team.
After high school, he earned a wrestling scholarship to Fairmont State, helped by the fact that he only lost twice his senior year.
However, after one year, the school was forced to drop the sport- the victim of Title IX- in order for the college to add more women's sports.
Morgan began his working life in retail, serving as a district manager for a toy store and moving around the country as he climbed the company ladder.
"Things happened in my life that brought me back to my faith," he said. I got serious about my faith. I got plugged into a church in Orlando that was sports-minded," Morgan said. "I was coaching a little bit of wrestling, but nothing major. The pastor came up to me and asked me if I had ever thought about getting involved with students.
"That was the beginning of me being called into the ministry. I gave up my job and took a full-time job in the ministry, working at a church just outside of Gainesville, Florida."
He also had a chance to expand his ministry by working as a chaplain for the local high school's baseball and football teams.
During his time at the Florida church, he led a sports program for more than 400 kids.
"I got called to Georgia, and that's when I saw the opportunity to use my ministry for sports," he said. "It was like the perfect marriage, because the desires of my heart were athletics. God clearly started showing me his plan for me was in sports. Two years ago, when First Baptist and I parted ways, I knew I had jumped before, and I could jump again."
This time, he was called to FCA, and now he divides his time with that organization and his work as a youth pastor.
"For me, it's been living at the baseball diamond or in the gym," he said. "I am a three-sport guy at the high school. I am living a dream."
Morgan is the first to admit he loves everything about Newnan athletics, but in his role with FCA, he has established solid relationships with all the schools.
"We place chaplains at all the schools," he said. "I have a great relationship with the baseball coaches at East Coweta, and the baseball and wrestling coaches at Northgate. We place chaplains on the different campuses. I mentor them and place them. I speak at all the high schools and find speakers."
He works closely with another FCA member, Rob Bass, to help serve the spiritual needs of athletes and coaches in Coweta County.
"My role is to be available to players and coaches, and just to be their pastor," he said. "I have been able to minister to coaches, many have become my friends. It's almost a brotherhood, and I am honored to be part of it. They are my support system as much as I am their support system."
His role as a community coach and pastor has come full circle.
"I am honored to start marrying athletes that I have pastored," he said.
Morris said both of his kids are very close to Morgan.
"Brian has stayed in the lives of so many of the kids he has helped pastor over the years," he said. "That says so much about the type of person he is."
Morgan is working on a degree from Liberty University, in Christian Counseling and Sports Psychology.
He is also blessed with a terrific family.
His daughter Brianna and son Levi gravitate more to the arts than athletics.
Brianna has just published her first novel, and is working on her second. Son Levi is a model and actor.
He has several roles on the stage in both Georgia and Florida, and recently signed with an agency in Atlanta.
He and his wife Cheryl have been married for 30 years.
"She is my rock," he said.