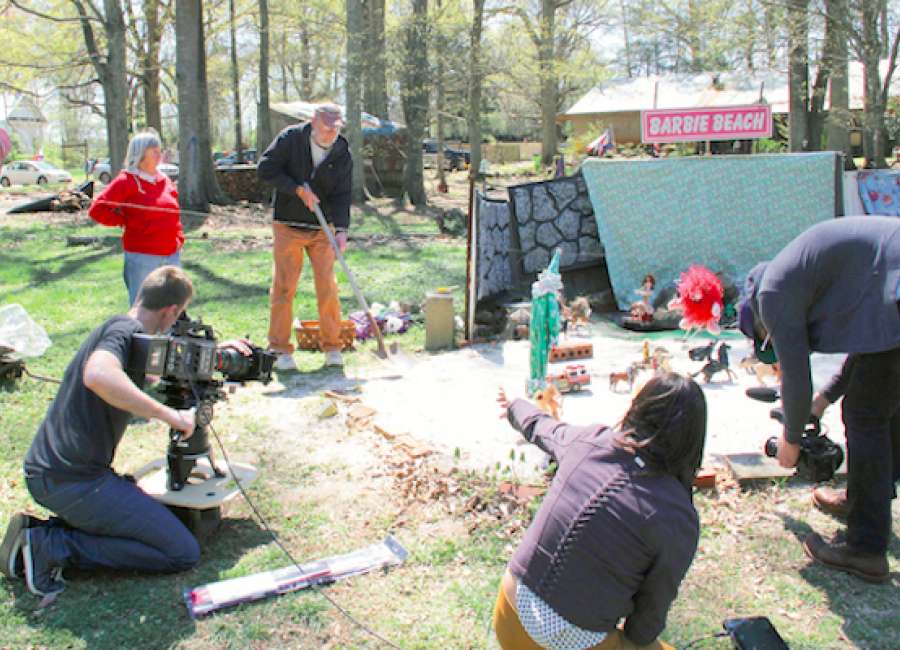 Turin's Barbie Beach fascinates and puzzles locals and tourists alike. And now, it's set to fascinate visitors at the Cannes Film Festival.

"Barbie Beach," a nine-minute documentary about the long-standing naked Barbie doll installation along Ga. Hwy. 16 and its creators, Steve and Lynda Quick, has been accepted into the "short film corner" at the venerable film festival in Cannes, France.
Ten movies from the short film corner will be chosen for the competition, said Courtney Dixon, the movie's creator. It's rare for a documentary short to be chosen for the competition, she said.
She plans on submitting the movie to many festivals, through Oscar season.
Cannes, which takes place May 11 through 22, was the first festival that the film has been submitted to.
Dixon, a video producer, grew up in Coweta and attended East Coweta High School. Her grandfather still lives in the area, and she's driven past Barbie Beach many times.
"I was always like – these people are crazy. Why? Like, why?"
One day, she was going to her grandfather's for dinner and decided "I need to know this story." So she pulled in, and asked Steve and Lynda if they could talk.
"After meeting them, seeing the good that comes out of it, the love that they have for each other … it doesn't matter what your art is. If it's inspiring you and inspiring others in some way, it's aspirational to me."
"They are so funny … they are themselves. They're not going to hide anything. If you don't like them, you don't like them. And they don't care. I love that about them. They are so open."
The tag line for the film is: "if you can't be yourself – then who the hell are you?"
She decided to do the documentary, but wanted a different kind of documentary. She interviewed the Quicks on audio, and took a lot of video, but you won't see the Quicks being interviewed in the movie.
Dixon also wanted the Barbies to give an interview. So "I built a little model in my living room of two Barbie dolls sitting on a couch, watching TV."
After graduating ECHS in 2002, Dixon moved to New York City. She hated it, so she tried Los Angeles, instead. She went to film school and did some short films. She got into some festivals and won a few contests. She fell in love with documentaries.
Folks at WebMD saw one and they were interested. When she came home for vacation, she met with folks at WebMD in Atlanta, and was hired as their senior video producer. She was there for two years and recently started working with a boutique production company in Atlanta.
With the film, Dixon wants to "show people that there's a story in everyone. And if you take the time to get to know that story and understand it, then you just might like it."
There are so many people who have unique talents and gifts. "Sometimes we're either too busy or too afraid. We're not willing to go outside of our box," Dixon said.
So "seeing people who are so far outside of their box can inspire you to venture out a little."
You can view the trailer for "Barbie Beach" online at times-herald.com in the video section, or visit the film's website, www.barbiebeachmovie.com.
Dixon plans a public premier in June at the Terrace on Ponce in Atlanta.