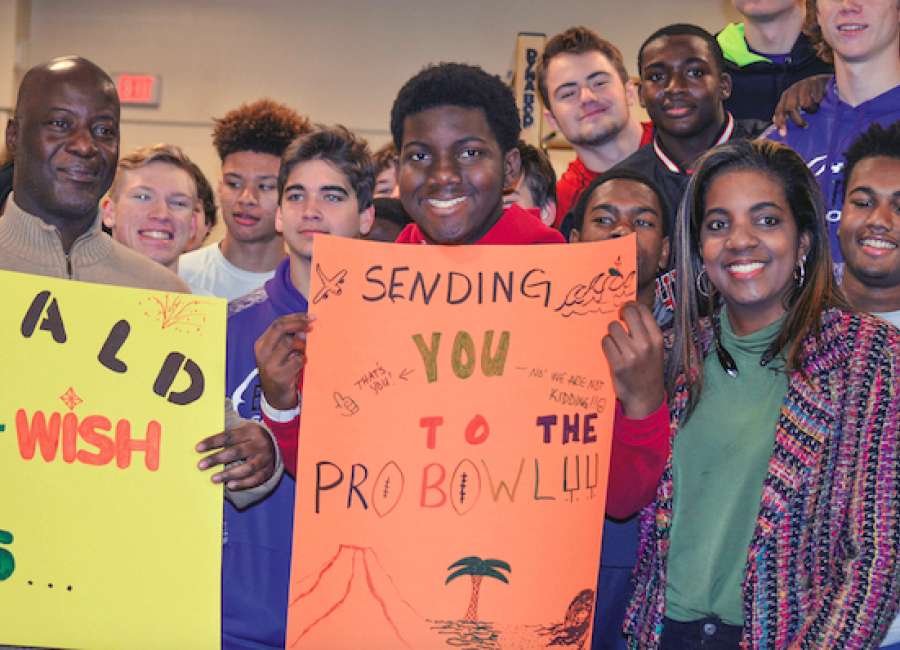 The wish of an East Coweta High School football player came true on Thursday as he was presented with a trip to the 2016 NFL Pro Bowl in Hawaii by Make-A-Wish Georgia.
Sixteen-year-old Ronald Baker, III was diagnosed with leukemia when he was 13. Currently, he is a sophomore at ECHS.

"He found out the day he was supposed to start at tight end," said his mother, Paula Baker, Coweta's ELA/social studies content specialist.
Even though he couldn't play football when he was 13, it was still a big part of Baker's life and his recovery.
"This was the turnaround for him," said Paula. "When he was in the ICU, the football players came to see him. He always had football fever."
Even though Baker couldn't play, he still worked out with the players. Once his health improved, he was allowed to play football when he had an EvoShield – a piece of protective gear.
Baker is undergoing chemotherapy to treat his leukemia, but he still plays football. He will have treatment one day and then be at practice the next. His work has paid off, as he earned his varsity letter this past year.
Baker likes college and professional football, too. His wish of going to the Pro Bowl was because he wanted to meet the players, he said.
"It's football, and I figured it would be the best place to meet them," he said.
The 2016 Pro Bowl is on Jan. 31 at Aloha Stadium in Honolulu, Hawaii, and includes the best players from all teams in the NFL. He and his family will be going to the game.
He is a Pittsburgh Steelers fan, but Baker said the player he hopes the most to meet is Julio Jones of the Atlanta Falcons.
The entire ECHS football team was there on Thursday when Make-A-Wish Georgia granted Baker's wish.
"To me, he's a true inspiration to overcome what he did," said Jamie Glover, a football coach at ECHS, to the players.
Glover told players when they face a situation like Baker's, they can choose to cry about it or overcome it. He encouraged them to use Baker's example when they face any difficulty.
"Other than him playing his first game, this is the biggest thing that's happened to him," said his dad, Ronald Baker, II. "He's been through so much."