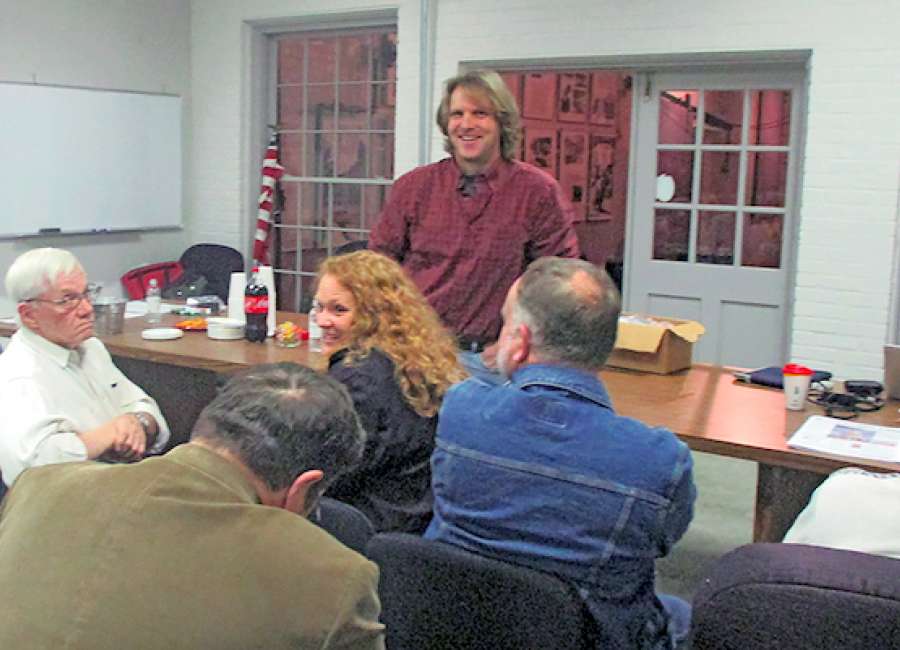 A meeting regarding a folk art school in Coweta County filled the Moreland Town Hall on Thursday night.

Nearly 40 people attended the meeting. Most were artisans, though there also were representatives from the Moreland Cultural Arts Alliance, which is working with Michael Sebacher on the project. Moreland Mayor Dick Ford also attended the meeting and commented on the great turnout.
The crowd included people with skills in blacksmithing, weaving, painting, sculpture, woodturning, stained glass and jewelry making. Writers and musicians were also in the group.
Sebacher, a local blacksmith, launched the idea of a local folk art school late last year. He connected with Carol Chancey, who handles day-to-day activities for the Moreland Arts Alliance. The two began talking about combining their efforts – using the Moreland Mill as a site for some classes and sponsoring programs that highlight all aspects of the cultural arts.
Sponsoring studio-based lessons or classes with artists is also a possibility.
"If you're 104 and you want to learn to weave, where do you go?" Sebacher asked. Most people with such an interest do not have a loom or knowledge of what materials they need or where to get supplies or good information on how to get started.
Sebacher said the folk art school idea ties into several societal trends – the buy local movement, the maker movement and the movement to live more simply.
Several people noted the maker movement often involves crafting items whose utility is similar to something that can be purchased cheaply. An example would be knitting socks.
Beverly Williams said she likes most any project "involving fabric and fiber." She joked that if something could be purchased readymade at Walmart, "I can buy the materials and make that for $96."
Landscape architect Scott Colomb said there is a demand for handmade materials in projects. Though expense may be issue, sometimes the problem is a lack of availability.
"I can't put it in the project if I don't have one," Colomb said.
Some of the people were interested primarily in finding a broader audience for their art. Others wanted to learn a particular skill, and some had interests in both areas.
There also was a brief discussion about what separates an artist from someone who works at a craft. "I'm a craftsman," said Dan Tull, who has been blacksmithing 28 years. "Don't call me an artist, but I do put art into my work."
Sebacher marvelled at "the resources you have in the room." He also talked about starting an organization – tentatively called the Georgia Artisans Foundation – to bring interested people together and work with MCAA.
He said the talent is there. Finding space, expertise and equipment and promoting collaboration, Sebacher said, is what is needed. "We need a digital presence, then we'll get a geographical presence."
He mused about "what kind of wonderful work could come out of co-locating talented people." Sebacher said he sees the folk art school as being non-profit – but also self-supporting within about 18 months.
He cited fundraising tuition for classes and space rental as funding sources and said ideally he would like to see a historic building of some kind as the school's home.
The building should have 1,500-2,500-square-feet. "With growth, a larger space will be necessary," Sebacher said, though he added the school could share space with another group or a business.
He mentioned the alliance with MCAA, which already promotes a wide range of arts and culture and has its 501C3 non-profit status. The folk art effort is getting started "under their umbrella, hanging onto their coattails," Sebacher said.
Chancey said MCAA wants "to facilitate and foster" the kinds of projects Sebacher is envisioning. She said the group's vision "transcends the one-mile limits of the town."
A couple of years ago, MCAA did a Music at the Mill "coffeehouse" program. "We're going to reinvigorate that," Chancey said. There are plans for something the third Saturday of each month from April-October. Each one would include music and a focus on on some facet of arts such a photography or sculpture.
Chancey said MCAA's projects so far have primarily centered on literature and history. "We want to extend this to the other disciplines," she said.
People interested in connecting with the project may contact Sebacher at 678-876-1654 or mjsebacher@bellsouth.net or Chancey at 678-492-3161 or info@morelandadventure.com .