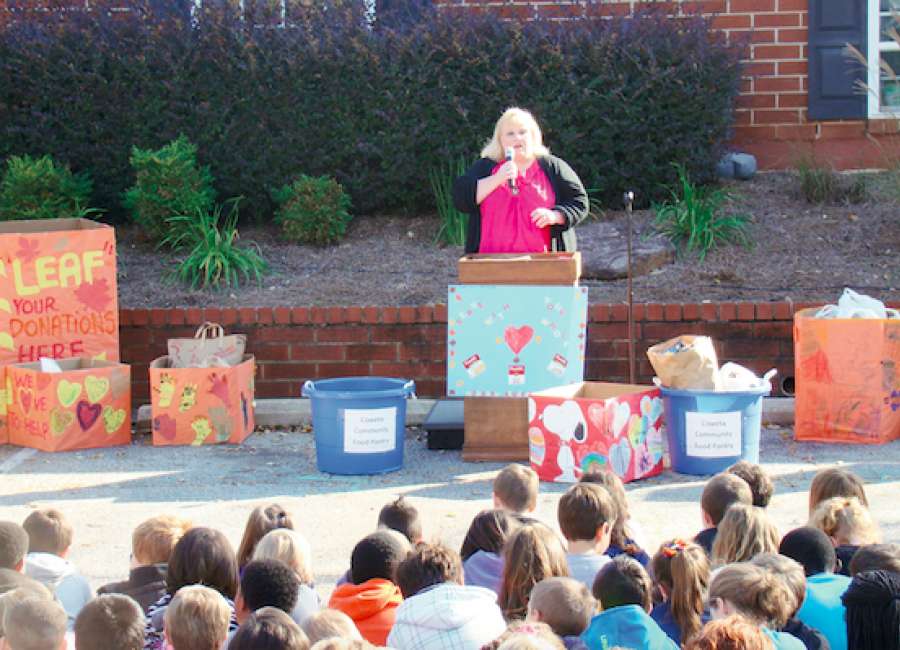 Odyssey Charter School collected almost 3,000 items through its recent food drive Odyssey Charter School CARES (Creating a Rewarding Experience in Service) which benefited the Coweta Community Food Pantry.

"We were learning about scarcity in my class," said Michelle Wood, a second grade teacher at Odyssey. "A student in my class, Cayden Cochran, went home and was thinking about it. He was upset that there were people who didn't have food to eat. He wanted to write a letter to each person at Odyssey Charter School and ask them to bring in a can. We decided to have a can drive instead using his basic ideas."
"We felt if it was that important to a seven year old, then it was definitely worth doing," she added. "Plus, we wanted to help others in our community who had needs. We at Odyssey are so blessed, and we wanted to share those blessings."
According to Odyssey parent Jennifer Petrino, Wood and Cochran then went to Odyssey Charter School Principal Scot Hooper about organizing the drive and Hooper had just been contacted by the CCFP asking for help. They went from there and organized it.
CCFP was founded in 1984, and its purpose is to feed people who are unable to feed themselves. It is located in Coweta County and collects non-perishable food items for distribution.
Wood said the initial goal was at least 500 cans.
"All of the classes got on board and teachers used the food drive as part of their lessons, using it for letter writing practice, social studies lessons, charting and graphing, and so much more," said Petrino.
Another Odyssey student really embraced the challenge.
Fourth grader Taylor Lyon really wanted to help others through this food drive. According to Petrino, Lyon had been saving up for Nook because she like to read.
"When she heard about the people in need, she didn't even have to think about it," said Petrino. "She knew what she wanted to do. She wanted to take her money and buy food instead. Her mother told her that didn't have to give up all her money. She would match how much Taylor put in. So, Taylor took half her money and her mother matched it and they went and bought between 130 to 150 things and brought them in."
"Her kindness and example really moved other students in her class and the school, so others started bringing in 100s of cans each," she added. "Even students who couldn't bring that many cans in reached deep and sent something in. Every child wanted to help."
When the food drive was finished, Odyssey exceeded its goal and collected a total of 2,861 cans of food.
According to Hooper, this amount of food will last just two to four weeks at CCFP.
"How very special that we were able to exceed our goal by so much more than we hoped for, so that it can help as much as possible," he said.
"The best part for me was to see how the teachers, students, (and) families came together to help others," said Wood. "I, also, was thrilled to see how our students gave of themselves and bought things with their own money. It showed they wanted to help and give from what they have not just have mom or dad do it."
Hooper also enjoyed seeing everyone work together, as well as the dedication and passion to help the less fortunate and having it spearheaded by a second grader and his teacher.
"We hope to stay in touch with the food pantry and Red Roof to be made aware of any specific needs we could possibly help with," he added. "We are hoping to have another can drive in March when the food pantry says they start running out of the major donations they get this time of year."
Odyssey Charter School has also done fundraisers for Heifer International and leukemia research, as well as working with Salvation Army, Special Olympics, 4-H, and the Wounded Warrior Project.