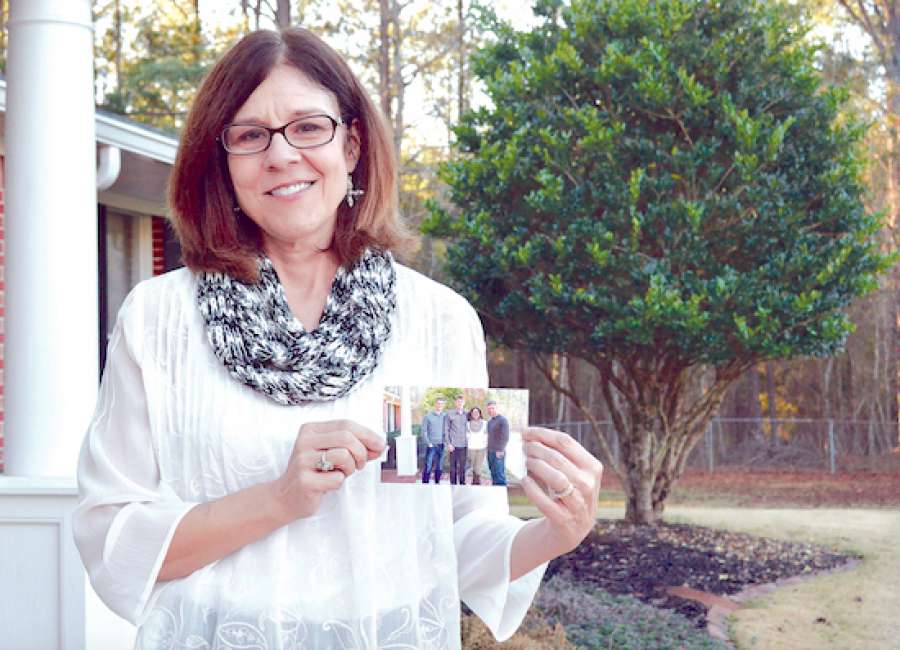 Matthew Kendall struggled with his drug addiction for 20 years.

There were times that he would get clean – once, for three years. But he always, eventually, returned to using drugs.
And on Nov. 27, Kendall's drug addiction ended his life. He was dead, at age 35, of a heroin overdose.
The day before, Thanksgiving, had been a wonderful day for Matthew and his family. His mother, Christine, will always remember it.
In October, Matthew had gone into a rehab in Griffin. He was able to come home on Thanksgiving, for the day. That evening, "he got ready to leave. He said 'I'm leaving folks.' Everybody stood up in line, and told him they loved him," Christine said. "We thought he was going back to rehab. We had no clue that he would do drugs that night."
At 3:44 Friday morning, Christine's phone rang. Matthew was in the hospital, and they needed to hurry. "That's the awful call you hope you never get. Like they say, nothing good ever comes in the middle of the night."
When they arrived, Matthew was on a respirator, and a few hours later, he passed away.
Typically, when a young person passes away, those reading the obituary are left to wonder what took a life so young. But Christine wanted everyone to know.
At first, when working on the obit, she didn't put that information in. But then her mother told her about a Facebook post she'd seen. A woman wrote about her daughter and "decided to say she had died of an overdose. I thought: I should do that, say why Matthew died – because there is an epidemic," Christine said. "I wanted people to know there are people out there who are dying."
"I thought: I'm just going to tell it like it is," she said. "I feel like there was a reason for Matthew's passing and that reason is to show other people out there that have drug addiction problems, or families that suffer, that they can't ignore it. They need to get help, they can't just hide behind it. They've got to do something and get their loved one in rehab or get some kind of help."
Heroin use, and overdose deaths, have been on the rise for the past few years. The CDC reported last week that overdose deaths, from all drugs, surpassed 47,000 last year – the highest number since at least 1970. Rates of overdose deaths were up significantly in 14 states last year, including Georgia.
Kendall's obituary stated, in part: "Matthew fell into the clutches of drug addiction, a fate from which he was unable to escape. It finally took his life on November 27, 2015 … Matt had a generous spirit and a good heart. His smile was disarming and he made friends wherever he went. His passion was working out at the gym. He had a poetic streak that will bring comfort, and some sadness, to his loved ones. He was very private about sharing his musings.
"We hope and pray that Matt's family and friends will eventually understand that Matthew the person was nothing like Matthew the addict."
Matthew's grandmother, Brenda Frangoudakis, said they wanted to separate Matthew the person from Matthew the addict. They wanted people to see "the good points of Matthew," too.
When Matthew was using, he never wanted to come around his family for family events. "I would ask him why when he was sober. He said 'Mom, I was so ashamed of myself," Christine said.
Matthew had wanted to be cremated, but his mother decided on an open-casket funeral.
"I just thought, you know, hell – all these kids keep dying from drug abuse and nobody seems to get it and they pretend it's not happening; and my son is lying in a coffin. I hope that all the people who go see him are going to be touched and think drugs really do kill," Christine said a few days before the funeral.
His family thought that Matthew was getting better at rehab. They found out later he had slipped out of the facility a few times.
Since his death, "I've had so many people come out of the woodwork to tell me things about my son. Old friends and classmates, they have just reached out to me and told me what a great guy he was. He had a caring heart, and a loving heart. That is helping me through my grief."
"I have felt true peace since he passed away. I just feel like, he's in heaven, his struggles are over. He struggled for probably 20 years with drug addiction and we struggled along with him," Christine said.
Matthew had plans of things he would do after rehab. He was going to go to church, and try Celebrate Recovery. He had a good friend he wanted to sponsor. And he and his brother were excited to see the new "Star Wars" movie.
"He had plans, but the addiction still came back and haunted him," his mother said.
Matthew had gone through drug court in Fayette County and was off drugs for three years. "It was a great program, it really did the job," Christine said about drug court. "I would highly recommend that for anybody."
But after a few years, he relapsed. He lived at home with his mom and dad, but after about five months, "we kicked him out. It just gets so bad that you can't have them there anymore."
So he stayed with his grandparents for about two weeks. "He kept saying he was going to go to rehab, but he wouldn't do it," Brenda said. "The hardest thing I've ever done was to say: you can't stay here."
So Matthew left, but a week later, he was back. "He said 'Granny, I'm done.' He just handed me his car keys. He detoxed here with me and my husband." He had an appointment to go into rehab, and he did.
After someone has detoxed off of heroin and been off it for a while, the body no longer has the same tolerance for a dose.
On Thanksgiving morning, when he arrived at his grandmother's, "he said 'mom, if I relapse, I won't survive the day. The longest I will live is probably two weeks," Christine said. "I did not ask him any questions why he said that. I think he had already relapsed. I think he was trying to prepare me for the possibility."
Christine said that, if she had asked him point blank if he had relapsed, "I think that he probably would have said no. That is the thing with drug addiction. They are ashamed. They go in and out. It's a shame thing and I think doing the drugs helps them again, to make them feel better for just a little while. Then they do it again to feel high again."
She's so glad that he had some time off drugs before he died. Before he went to rehab, things had gotten so bad. "I would get so furious at Matthew that I didn't even like him," Christine said. "The family kind of turned their back on him."
But when he was in rehab and on Thanksgiving, "my sons were enthusiastic about seeing him. We lovingly wrapped our arms around him and told him we were proud of him. I'm just proud he was sober for that month."
Matthew's addiction began with alcohol, in high school. It took its toll and "he said the reason he did drugs was he couldn't do alcohol anymore," Brenda said.
"I took him to AA meetings and tried to get him sober. Finally he did. He took one last drink and it made him so sick he gave up drinking," Christine said. "I remembered bragging to people, not knowing that he had switched his drugs." He started taking Roxicet, popularly known as "roxie," and OxyContin, opioid pain pills. "And the end it was meth and heroin."
Christine has been praying, for years, for God to help her son. "I feel like it took God four years. It was on his timetable. Matthew is healed. As much as I miss him, he was suffering."
For those struggling with drug addiction, there are several Narcotics Anonymous meetings locally. For information about local meetings, visit www.NA.org or call the NA South Atlanta helpline at 404-447-8445 from 6 a.m. to 6 p.m. or 404-457-4957 from 6 p.m. to 6 a.m.
Nar-Anon is a 12-step group for family members and loved ones of addicts. Meetings are held on Mondays at 6 p.m. at Newnan Presbyterian Church, 38 Greenville Street, Newnan, and on Wednesdays at 7:30 at Community Christian Church, 1717 Sharpsburg McCollum Road, Sharpsburg. For more information on Nar-Anon, visit www.Nar-Anon.org .