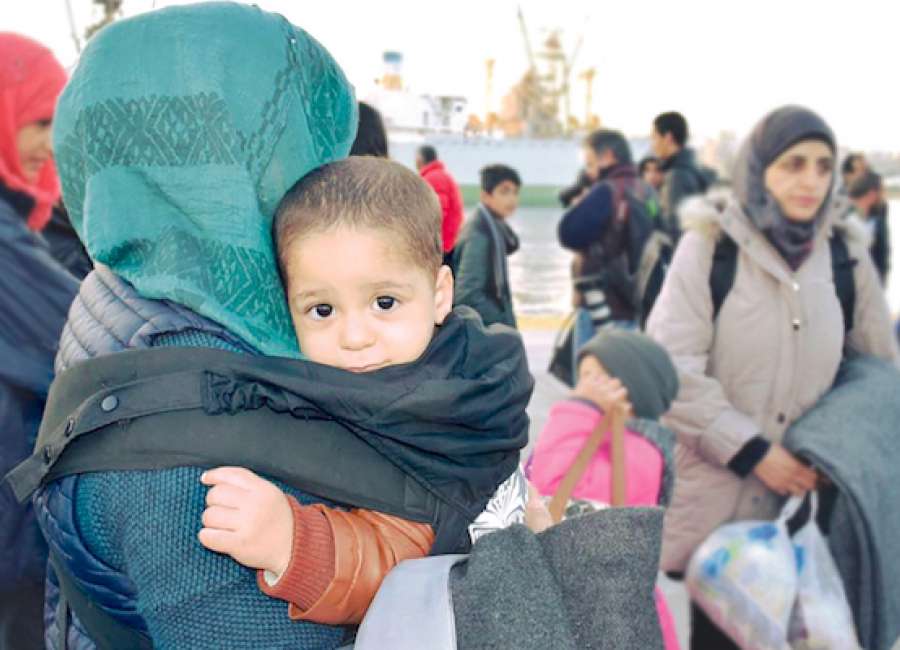 It's estimated that around half the refugees fleeing conflict in Syria are children. Many of those are babies or toddlers.

Many parents who are traveling with small children tote them in their arms, or toddlers and other small children have to walk long distances.
Carry the Future hopes to help these families by giving them carriers for their babies and toddlers. The organization was formed a few months ago and has so far distributed 2,500 carriers to refugee families in Greece – and taught the parents how to use the carriers.
Local mother Jennifer Harmeling is collecting carriers for Carry The Future. She will have a donation box set up at Cornerstone United Methodist Church, and hopes to have more local donation points. Or, you can contact her directly in order to donate a carrier.
Carry the Future is seeking "soft structured carriers," such as ErgoBaby, Baby Bjorn, Beco, and Tula, as well as "mei tai" carriers. "It's basically anything with buckles or straps," Harmeling said.
Slings and pouches aren't accepted because they are much more complicated to use correctly, and Carry the Future volunteers only have a few minutes to show parents how to use the carriers. Backpack carriers with frames can't be accepted because they take up too much space.
Harmeling heard about the organization on "The Today Show." "It's something I was personally drawn to," she said.
"I wear my kids all the time." Her son and daughter are just 15 months apart, and she said she doesn't know how she would have done it without being able to use a baby carrier.
When parents "wear" their children, their hands are kept free, while the child is safe, secure, and cradled against its mom or dad.
Harmeling said Carry the Future began in September when a woman decided to collect baby carriers from her friends. She was going on a trip to Greece to see family, and wanted to take the carriers to hand out to refugee families. The idea caught on. The organization has applied for non-profit status.
"The whole purpose is to help these families who are fleeing war, who are carrying their children for thousands of miles on boats, planes and trains. The purpose is to lighten their load a little bit," Harmeling said.
"I know that baby wearing was such a lifesaver for me," she said. "I just can't even imagine traveling long distances and not knowing where I'm going, and having my kids."
Harmeling has wanted to do something to help Syrian refugees ever since she saw an interview with a Syrian woman in a refugee camp in Beirut, Lebanon in the spring. The family was in a small apartment-type structure. "There were several of them in this little tiny space. They talked about how awful it was in the refugee camps. They're legally not allowed to work, they can't make any money of their own, but yet they are stuck there."
"It really spoke to me. That was when I started thinking about what we could do." She thought about perhaps sponsoring a family. And then there was the news coverage of a young refugee boy, drowned, washed up on a beach. "And everybody finally woke up and said, 'Oh my God, this is a real crisis.'" Since then, many grassroots organizations have sprung up to help.
Harmeling has been a stay-at-home mom for the past few years, but wants to go back to work. "In the summer, I told my husband: either I'm going to get a job or I'm going to do this. I said if I don't get a job, I'm going to know it's God's way of telling me jump full force into this, and so I have."
Harmeling's husband, Craig, who was deployed in Iraq for 18 months with the U.S. Army, developed an appreciation of Islamic culture when he was in Iraq. When he returned to the United States and to college, he petitioned his college to create an Arabic and Middle Eastern studies program, and was the first student to graduate with a minor in the program. So he was supportive of her plan to volunteer with Carry the Future.
Harmeling said she's gotten a bit jaded by huge charities. "I love an organization like this. I don't have to give money. I can give my time and give those tangible items and know that I'm helping a person."
She's been reaching out to various people in Coweta and Fayette counties, looking for donations and places to set up donation boxes. She's also talked to people selling used carriers to see if they are willing to donate or at least reduce the price.
"My personal goal is to collect 50 carriers," Harmeling said. She hopes to complete the collection by Jan. 8.
If you'd like to donate a carrier and the carrier has pockets, Carry the Future is encouraging donors to put useful things in the pockets – "maybe baby mittens or a protein bar, even like a little note that says good luck." "Emergency blankets," which fold up to about the size of a credit card and can be found with camping supplies, are also a great thing to put in the carrier.
Or even "a tiny stuffed animal, if you just wanted to raise their spirits," she said.
Harmeling said she read a quote that really spoke to her: A child may not know what direction he is going, but when he is attached to you, he doesn't feel lost."
Even though the Syrian refugee crisis is a divisive issue in the U.S. right now, "I feel this doesn't have to be. It can just be mothers helping mothers, people helping people. It doesn't matter where their final destination could be. It just matters that they need help. And let's help."
To contact Harmeling to donate, for more information, or to host a donation site, e-mail CarrytheFutureCowetaFayette@gmail.com. For more information about Carry the Future, visit www.CarryTheFuture.org.