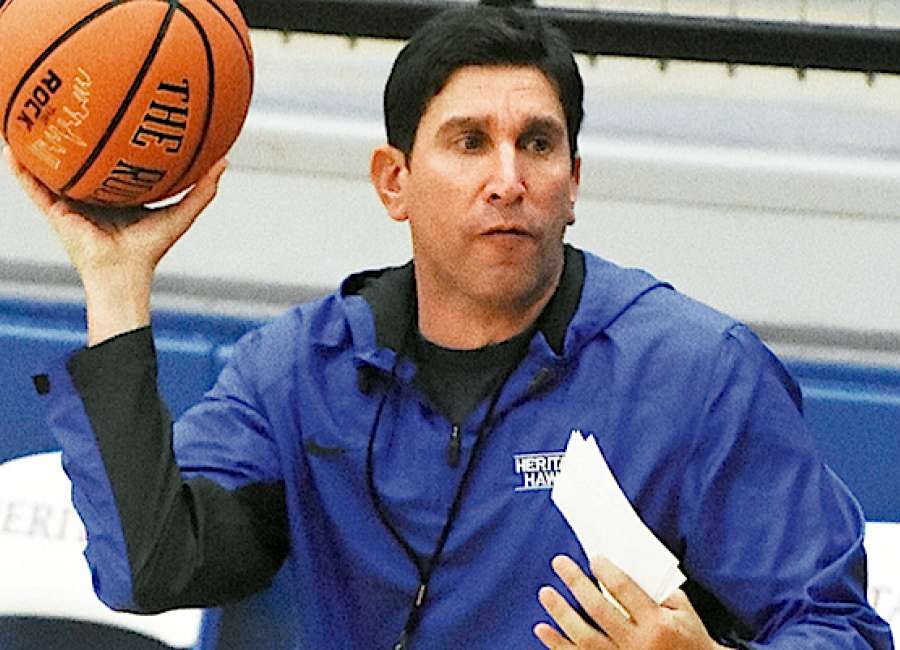 – BY DONNELL SUGGS
The Heritage School has a new boys head basketball coach and athletic director, and if you didn't know any better you would think he had been there all along.

There is something about the way his players respond to his directions that leaves you feeling Mark Lieberman and his Hawks are already on the same page.
Heritage is currently 2-1 following the Hawks' loss to Holy Spirit Prep on Friday. Lieberman's pressure defensive and high-octane offensive systems call to mind the presses and fast-paced play of current Louisville and former Kentucky coach Rick Pitino. That's not by mistake.
There are few coincidences in sports. For the most part, success is created through hard work and determination.
The same can be said for relationships like the one Lieberman formed with Pitino while the later coached at Monsignor Edward Pace High School in Miami.
Pitino was in town recruiting one of Lieberman's players and the two coaches hit it off.
Lieberman had been in the midst of a successful run, having won four Florida High School Association State Championships while also garnering Florida High School Coach of the Year awards during that span. Life was good for the man, but it got even better.
The player never made it to Louisville, but Lieberman did.
Lieberman joined Pitino's Cardinal staff as an assistant coach in 2010, just in time to be a part of a Final Four team in 2012.
'Coach Pitino always said he'd hire me one day and he did just that,' Lieberman said. 'It changed my life.'
Lieberman met his wife, Paige, a native of the Bluegrass state, while at Louisville and thought he was going to be in Louisville for a long time until he got another offer from another Pitino.
Fellow Cardinal assistant coach and son of Rick Pitino, Richard Pitino, had been offered a head coaching job at Florida International University in Miami and needed both a top-notch copilot and recruiter. Once again, Lieberman answered the Pitino call and moved back to his old stomping grounds.
The next call he received wouldn't be from either of the Pitinos; it came from his wife and it was about his infant son Maxwell.
The sudden passing of Maxwell in January 2013 is a chapter in the Lieberman family book that doesn't need to be told over again. What should be highlighted and retold is the compassion and love the Liebermans say they received from family, friends and people in the basketball business in the aftermath.
There was another offer to join [Richard] Pitino's staff at Minnesota later that year but Lieberman felt he needed a change, and another major Division 1 assistant coaching job was not it. So for the first time in four years, he turned down an offer from a basketball coach named Pitino and went in a different direction.
'I was looking for a different lifestyle, and when the opportunity to coach here at Heritage was available, I came to interview and the people here were great to me,' Lieberman said.
The college coaching schedule often kept Lieberman away from his family for months at a time, but returning to high school coaching allows him to spend more time with his family.
Also, Maxwell's memory will live on, as there will be a mid-season tournament held at Heritage in his honor.
'I couldn't ask for better people and kids to work with,' Lieberman said.