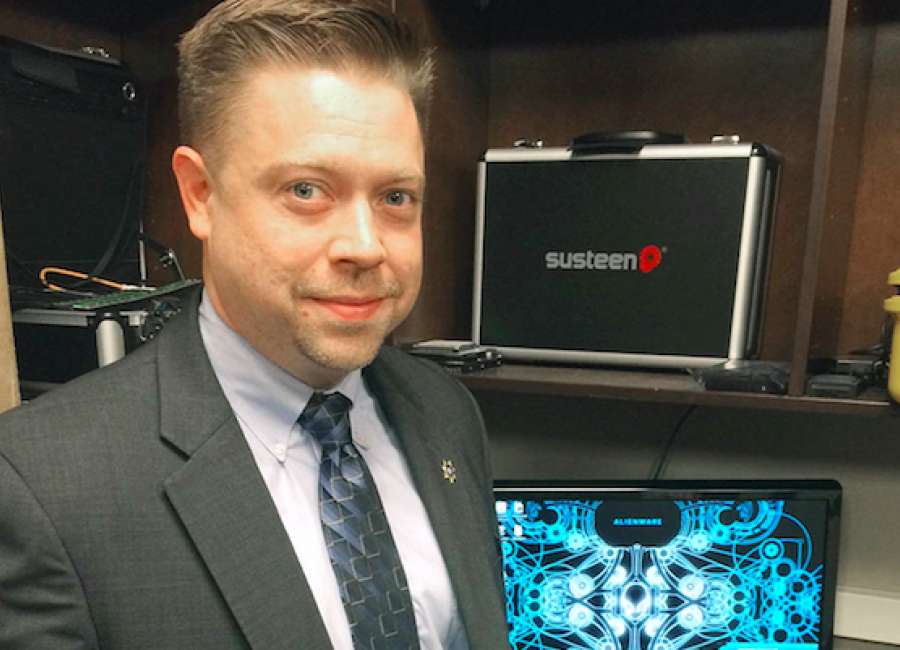 In his work as an investigator with the Coweta County Sheriff's Office, Sgt. Jason Fetner has witnessed the devastating impact of sexual crimes against children.

Creating the perfect trap to snare sexual predators is all part of his job as an investigator. Despite the heartbreaking scenarios that make up the bulk of his daily work, Fetner's persistence toward bringing criminals to justice is unwavering.
Last week, Fetner was recognized during a quarterly meeting of the Georgia Bureau of Investigation's Internet Crimes Against Children (ICAC) Task Force.
For his ongoing contributions to the Georgia ICAC Task Force, Fetner was presented a plaque for his contributions as an interviewer for "Operation MayDay" – a multi-agency sting coordinated by the GBI's Child Exploitation and Computer Crimes Unit (CEACC), the ICAC Task Force and the Richmond County Sheriff's Office.
In May, Fetner worked alongside investigators from 16 other law enforcement agencies and prosecutors' offices to arrest 22 people who traveled across the country with the intent of meeting a child for sex in the city of Augusta, which includes all of Richmond County.
Some of their occupations included actor, funeral home director, tire salesman, electrician, software programmer, correctional officer, pharmacy tech, student, and deputy jailer.
However, Fetner is quick to point out that the award recognizes the agency – not the individuals – which helps make stings like Operation MayDay such a success.
"Collectively at the Coweta County Sheriff's Office, we have a very good agency with an extremely high solvability rate," Fetner said. "It's not just me who is working these cases. Our entire division works whatever is assigned."
Fetner's work at the sheriff's office often involves smoking out local sex offenders who might think they're smarter than the law.
Through their haunts of chatrooms and websites, many perpetrators unwittingly find their way into the waiting arms of law enforcement who foil their expected encounter with a child victim.
One of the most recent offenders that Fetner helped bring to justice was Donnie Carl Rowe – a 61-year-old Newnan resident who was sentenced to serve 19 years for aggravated child molestation.
When Fetner was assigned the Rowe case, he ran a criminal history check, which caught the attention of a federal agent who was investigating Rowe for downloading child pornography, according to Fetner.
Through a joint effort, Fetner said that agents were able to seize an external hard drive that contained a backup of Rowe's personal laptop data that included multiple images of child pornography.
Fetner believed that the cooperation with the FBI helped bring Rowe to justice where he pled guilty in both Federal and Superior courts to charges of child pornography and child molestation, respectively.
With stings like Operation MayDay, Fetner sees offenders traveling from across the country, even the globe, for an encounter with a minor.
"For these guys, there's the inherent danger of molesting a child next door," Fetner said. "These people honestly prefer to travel, which adds to their perceived level of anonymity."
Leigh Brooks, assistant special agent in charge of child exploitation and computer crimes at the GBI, heralded Fetner's enthusiasm for his craft. Recently asked to present one of his cases during a quarterly meeting, Fetner went "above and beyond" the bureau's expectations, according to Brooks.
"He presented his case with enthusiasm – receiving several compliments from other affiliates afterward," Brooks said. "Sgt. Fetner is considered an asset to the GBI Task Force."
Regardless of the accolades, Fetner contends that his focus is squarely on continuing to hunt down those who would do harm to the helpless.
"What I like about this award is that it doesn't have my name on it," Fetner said. "At the end of the day, that's what matters. It's about our manpower."