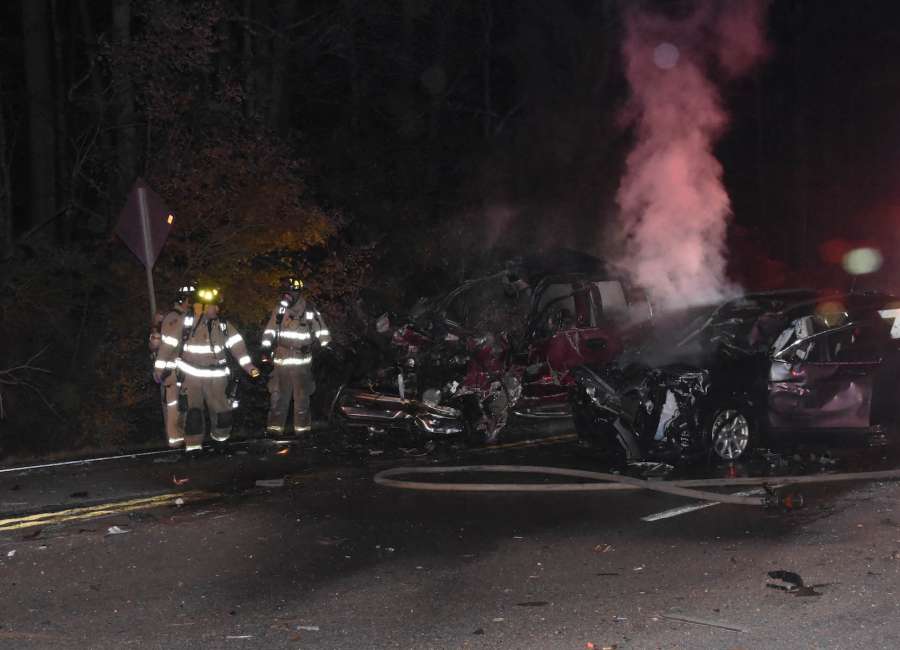 Two people were killed after a three-car accident closed West Hwy. 16 for several hours Thursday evening.

Just after 7 p.m., an F-150 pickup truck was heading westbound on Hwy 16 near Hamilton Dr. when the driver of the truck failed to maintain his lane and struck an eastbound Mercedes C240 head on, according to Trooper Justin Hogan of the Georgia State Patrol.
The Mercedes was then knocked into a ditch on the side of the road while the F-150 continued to travel west in the eastbound lane of Hwy 16.
The pickup then struck the front left corner of a Jeep Cherokee traveling in the eastbound lane and spun the Jeep into the middle of the highway before both vehicles erupted in flames.
One bystander was able to remove the driver of the Jeep from the vehicle and transport her to a safe location before authorities arrived.
The driver of the F-150 and the Mercedes were pronounced dead at the scene.
The driver of the truck was identified as Nathan Allen Baisden, a 26-year-old male from Temple.
The driver of the Mercedes was identified as Roger Blake Payne, a 19-year-old male from Newnan.
The driver of the Jeep, Kirsten Taylor Smith, was transported by air to Atlanta Medical Center.
Smith suffered a large laceration to her head, three fractured vertebrae, and is expected to undergo surgery on her foot on Friday, according to family members.
She is currently listed in fair condition.
Mitch Camp, a 21-year-old from Newnan, said he was traveling on Carrollton Hwy when he saw a ball of flame erupt in front of him.
He immediately pulled over and ran to the burning vehicles.
After failing to find a pulse on Baisden, he ran towards the Jeep and, with the help of another bystander, extricated Smith from the burning Jeep.
"We were able to carry her to a safe area until the fire department arrived," Camp said. "She was responsive, but out of it. We're just really glad we were able to help."
The highway was shut down for a little over three hours while authorities investigated the accident.
At this time, toxicology results for all three drivers are pending and the investigation is ongoing, according to Hogan.