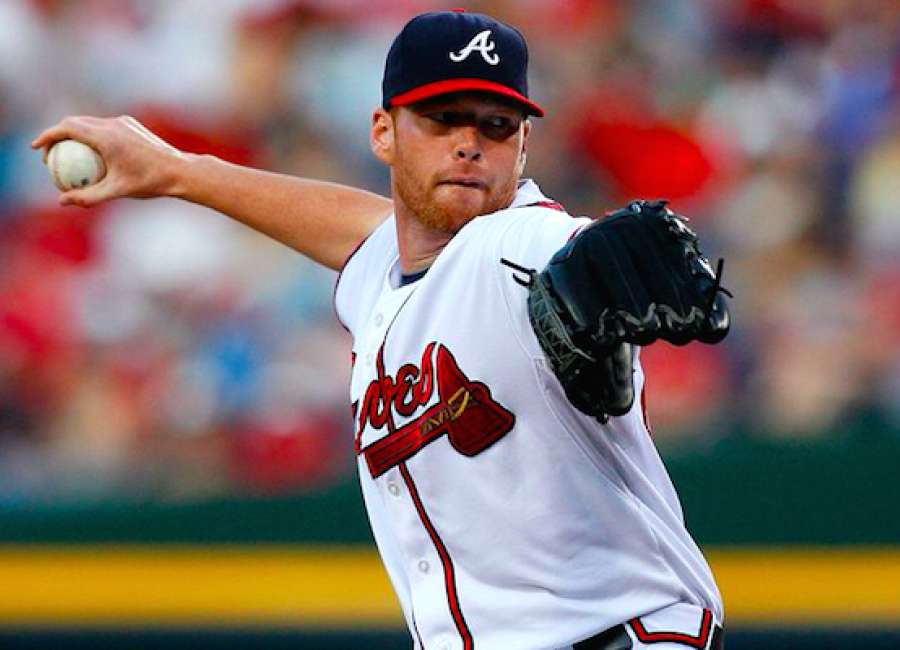 Former Braves pitcher Tommy Hanson's death has been listed as a possible overdose, according to an initial incident report from the Coweta County Sheriff's Office.

According to WSB-TV and the Atlanta Journal Constitution, the GBI crime lab was conducting an autopsy on Tuesday, though toxicology results could take several weeks.
Coweta County coroner Richard Hawk told the Associated Press that an autopsy began Tuesday, following Hanson's death at Piedmont Hospital on Monday night.
Hawk says Hanson was found "unconscious and unresponsive" in Coweta County on Sunday and was initially taken to a hospital in Newnan before being transferred to Piedmont.
Hawk said Tuesday night "the cause and manor of death are still under investigation."
A copy of the initial police report lists "overdose" under "crime incident(s)" but does not include any additional details on a cause.
Reports say that Hanson, 29, was at a house at the 300 block on Potts Road in Newnan on Sunday when a 911 call indicated he was not breathing. He was initially taken to Piedmont Newnan Hospital and later transferred to Piedmont's main facility in Atlanta.
The AJC reported that Brandon Bond, a tattoo artist in Atlanta, made the call to 911. Bond has done tattoos for both former and current Braves, including Julio Teheran, Peter Moylan and Jordan Schafer.
"There's no indication at this point that brings any suspicion of foul play," Coweta County Sheriff Mike Yeager told a reporter from WSB-TV on Tuesday. "Our guys are awaiting toxicology. We're waiting for an initial result from an autopsy."
Late Monday, WSB-TV sports director Zach Klein reported news of Hanson being in a coma quoting "catastrophic organ failure."
Klein reported Hanson's death through social media before 1 a.m.. on Tuesday, about two hours after Schafer posted "This breaks my heart. RIP TH." on his own Twitter page.
The Atlanta Braves, who drafted the California native out of Riverside (Calif.) Community College in the 22nd round in 2005, released a statement Tuesday through Team President John Schuerholz that read: "We are incredibly saddened to learn of Tommy's tragic passing. He was a favorite in the clubhouse and with our staff and he will truly be missed by everyone in Braves Country. Our thoughts and prayers are with his wife, family, former teammates and friends."
The 6-foot-6 right-hander pitched five seasons in the major leagues, the first four with the Braves. He was third in National League Rookie of the Year balloting in 2009. He opened the 2011 season with a 10-4 record before injury problems limited him to just one win for the rest of the season.
He then went 13-10 with a 4.48 ERA before being traded to the Los Angeles Angels in 2013 for reliever Jordan Walden.
After being traded, Hanson posted a 5.42 ERA at the major league level. During his time with the Angels, he left the team twice in order to cope with the sudden death of his stepbrother.
Upon being released, he attempted a comeback with the Texas Rangers prior to the 2014 season but was released again. He pitched at the Triple-A level during parts of the last two seasons while with the Chicago White Sox and the San Francisco Giants organizations.
Former Braves teammates described Hanson as a great teammate and friend. Kris Medlen, who pitched with Hanson in the minor leagues as the two came up in the Braves' organization, told AJC Braves beat writer David O'Brien in a tweet: "He was the kindest, most loyal person I've ever met. He loved his family more than anything in the world, and his friends felt like family when around them. He was not 'like' a brother to me, he was my brother and I'm going to miss him so much."
On his Macon area radio show Tuesday afternoon, broadcast locally on 1400AM in Newnan, host Bill Shanks' voice broke several times when talking about Hanson.
"I remember going to Chattanooga to watch Tommy pitch in Double-A," Shanks wrote in a column on Scout.com. "That was the worst start of his minor league career, on a Sunday afternoon in May of 2008. He gave up eight runs in 2.2 innings that day. But after the game Tommy did the interview and was as professional as someone who had been in the big leagues for years. … This was a fine young man. For a while, Tommy was a hell of a pitcher. And it was a pleasure to know him. It was a pleasure for us to watch him, just as it was a pleasure for him to pitch for us. Those of us who knew him are completely sick this happened. When all of us got the call or the text letting us know what happened, our hearts broke with the news."