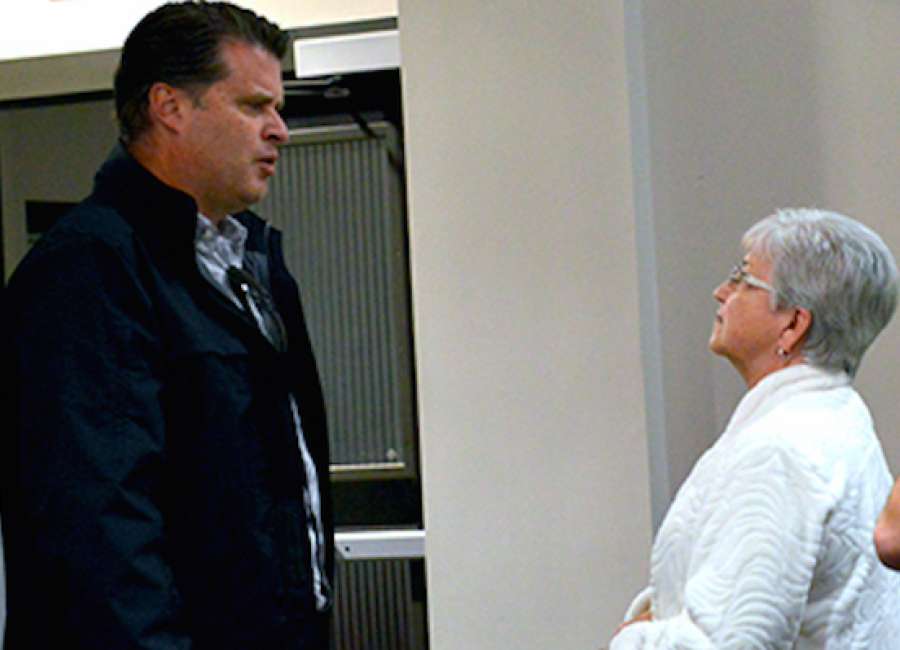 Downtown Senoia will be home to the walled neighborhood of "Alexandria" for at least another year.

On Monday, the Senoia City Council voted unanimously to extend the filming permit for the site until Nov. 30, 2016.
The Gin Property residential development has been walled off to create Alexandria for filming of "The Walking Dead." Roads going into the development have been gated since late August 2014.
Stalwart Films had originally requested the filming permit for September to November of 2014. In August of last year, Location Manager Mike Riley had asked for the permit and road closures to extend through the end of 2016, with the option of going through 2019.
But City Attorney Drew Whalen told the council last year that, because of city elections in 2015, the council couldn't approve anything past the end of 2015. Now that elections are over – and there are no changes to the makeup of the council – a vote was allowed on Monday to extend the permit.
Senoia residents Jennifer Robinson, Doris Chappell and Don Rehman expressed concerns about the extension. Chappell and Rehman recently ran against Councilman Bobby Graham. Graham easily won reelection.
Robinson had previously talked to the council about issues with traffic on Gin Street and other issues with "walker stalkers" – fans who travel to Senoia to see filming and try to catch glimpses of stars. The stalkers sometimes block traffic and disrupt residents.
Robinson said she was previously told that Stalwart would take care of the traffic issues. "I would think it would be up to the city," she said. Police need to make sure people don't stop in the road. She had previously asked for signs to be posted prohibiting stopping, standing, or parking.
"None of this has been dealt with at all," Robinson said. Closing Gin Street "would be awesome in a way," but it would also lead to traffic issues with people detouring.
"People are just parking all over our street. Nothing's been done," Robinson said. "You'll bring it up, but nothing happens."
Mayor Larry Owens said that City Manager Richard Ferry has talked to Stalwart about those issues. "There will be a plan worked out where everyone is going to work by the same rules … I think you will see that in the near future."
Chappell said that there wasn't much public notice that the request would be taken up at Monday's meeting. The film crews are not courteous, Chappell said. "If they ever see us about to get close to the set we are looked at hard. This is our town," she said.
Chappell said she knows the filming brings in tourists, but "this is my town." And it's not good that the city isn't getting any direct compensation for the filming, she added.
Following the unanimous vote, Scott Tigchelaar, president of Raleigh Studios Atlanta and developer of the Gin Property, addressed the council.
Tigchelaar talked about the financial impact of the filming industry in Georgia. Production companies spent $1.7 billion in Georgia in fiscal year 2015, and there was a total economic impact of $6 billion.
Tigchelaar said that when he came to Senoia, "downtown was economically dead" – an allegation that some residents take issue with. Tigchelaar and Senoia Enterprises/Historic Development Ventures have built two new buildings on Main Street, restored existing buildings, built parking lots, and begun the Gin Property development. Property values are up, and downtown is thriving with 100 percent occupancy.
"We are the envy of every town around us and probably every town in the Southeast," Tigchelaar said.