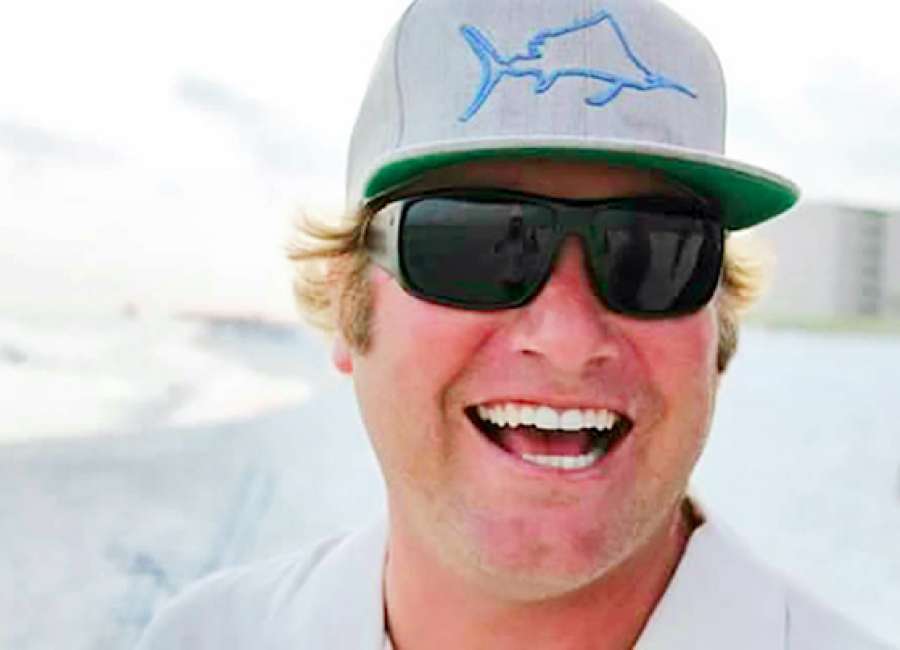 When Mary Ann Sherman called 911 on Nov. 20 because her son Chase, 32, was having a psychotic breakdown while traveling on Interstate 85 as they headed home to Destin, Fla., she was wanting emergency personnel to help him.

The family didn't expect that their son would die that night, after being tased multiple times by Coweta County sheriff's deputies who were trying to subdue him.
The Georgia Bureau of Investigation is handling the investigation.
Chase had been lying in the backseat of the rented Jeep Patriot, an SUV similar to a Jeep Cherokee. He had his head on his father's lap.
"He was seat-belted in; he couldn't get out. And they couldn't just let him be and let him calm down," said Chase's father, Kevin Sherman. "They treated my son like a piece of meat."
"Those officers just went nuts. My wife told him 'we just need some assistance. Help us,'" he said.
"We're just super, super angry, besides being heartbroken," Mary Ann Sherman added.
The Shermans and Chase Sherman's fiancée, Patti Galloway, had just returned from a family vacation to the Dominican Republic. They had a two-and-a-half hour layover at Hartsfield-Jackson before they were supposed to catch a plane home to Destin, where the family owns and operates a parasailing company and a snorkel and dolphin/sunset cruise tour business. Chase Sherman was a boat captain.
Chase started acting strangely, according to his parents, while they were still at the airport waiting on their flight. He had gotten through customs just fine, but then he started hallucinating. Galloway told Chase's parents that he may have smoked "Spice" before they'd gone on the five-day trip.
Spice is one of many names for a lab-created drug also known as "synthetic marijuana." It was made illegal in Georgia a few years ago after a Fayette County teen died after smoking it, but that didn't get rid of the drug. Manufacturers frequently tweak the chemical makeup to avoid state regulations.
Chase "got nervous … about planes crashing, and he just didn't feel comfortable on a plane. And we didn't want to get on an airplane and have a scene, so we decided to rent a car" and drive home, Kevin Sherman said.
"As we were going through the baggage claim, we were having problems with Chase. He thought nobody recognized him. I said, 'Chase, we're fine. We're going to get a car and drive home.' He didn't know where he was at."
They located airport security and asked for assistance. Two Atlanta Police officers came and talked to Chase, and accompanied the family as Kevin Sherman went to pick up the rental Jeep.
"Chase was hallucinating to them, but it was no big deal to them," Kevin Sherman said. While he was getting the vehicle, Chase "got into one of the police officer's face or knocked one of his ear buds off. The police officer actually put him to the ground. Why they didn't help us then, I don't know."
"We got him in the car and we took off on I-85. Chase's fiancée was driving and Chase was lying in the back with me. He had his head on my lap. He acted like he didn't know where we were going. And then he jumped up and started a disturbance in the car."
They pulled over and Mary Ann dialed 911. "And I told her to hang up, that I think we were fine," Kevin Sherman said. Galloway started driving again but a few minutes later "he got more violent" and Mary Ann Sherman again called 911.
"We were fighting, screaming, trying to calm him down. It was pretty horrendous in the car," Kevin Sherman said. "His fiancée jumped back to try to calm him down and she actually got bit. My wife told me just to hit him or something to try to get her arm loose. He let loose of the arm and the officers showed up."
Chase had been trying to "jump out of the car and go across traffic. We just wanted him to be restrained so we could get some help."
When the three deputies arrived, "they reached across me trying to get the handcuffs on him. I got out of the car and they told me to go back by the ambulance." He says he witnessed one deputy shoot Chase with a taser.
Mary Ann Sherman was still in the vehicle. She says she heard one deputy tell Chase, "We're going to shoot you."
"She said, 'Don't shoot him, don't shoot him,'" Kevin Sherman added. "The deputy told her, 'I have to protect myself.'"
By this time, Kevin said he'd already seen the deputies tase Chase twice.
The Shermans maintain that the deputies were never in any danger. Their son didn't have any weapons. If officers had felt threatened they could have simply stepped away from the vehicle and shut the door.
Deputies told Mary Ann and Galloway to get out of the vehicle. Mary Ann Sherman said that by the time she got out of the vehicle, deputies already had handcuffs on Chase.
"More officers kept coming and we think they kept tasing him," Kevin Sherman said. "They were treating him like a rabid dog." An ambulance had arrived at the same time the deputies did. "The EMTs just stood there, about a car length back," he said.
When emergency medical responders arrive at a scene that is deemed to be unsafe, "we are taught to step back until law enforcement can render the scene safe," said Assistant Chief Jeff Denney of the Coweta County Fire Department.
As they watched, the Shermans and Galloway saw the deputies "grab his two front arms and they dragged him out of the car like a dead dog. His head hit the ground. He was done. There was no movement, no nothing. We were screaming, 'They killed him.'"
"I think they knew he was done," Kevin Sherman said. "They wouldn't let us up there."
The family wanted to go to the hospital but "they kept us there for over an hour," Kevin Sherman said. They were told they needed to be interviewed. The Shermans and Galloway sat in one of the patrol cars.
It was not an hour, according to Sheriff Mike Yeager, though it might have seemed that long to the Shermans. The deputies had to get a statement from every person, then the Shermans were allowed to leave. It's important to get statements just as an incident unfolds, he said.
Deputies then took the family to Piedmont Newnan Hospital. When they told the person at the front desk who they were there to see, a security guard came out and led them to a room.
"He said, 'I'm sorry for your loss,'" Kevin Sherman said.
Mary Ann Sherman said one deputy asked her some questions. "I can't remember what I asked him. All he answered was: We had to protect ourselves."
Deputies have to make split-second decisions, Yeager said. In the 911 call, "this woman is yelling 'he's going to kill us, hit him in the head, hit him in the stomach.' What are we supposed to do?"
Because the incident happened on the interstate amid traffic, officers had to worry whether Chase Sherman would get out and possibly run into traffic – causing accidents that could injure others.
"There's a lot going on here that officers have to make decisions on. The number one decision was to try to keep him contained inside that vehicle … they had to do all they could to ensure not only the other families' safety but also the EMTs and officers' safety in keeping that guy contained and not where he could get out and cause more mayhem," the sheriff said.
"You can play 'What if?' 100 different times," Yeager said. The GBI will be conducting== a thorough investigation and "we've got to wait until we get it back."
"We would love to tell our story but unfortunately we can't," Yeager said. "I'm sorry the family had to go through this. It is something the police didn't start … these officers did everything they could do to get this person subdued, to get this individual to the hospital to get him the help that he possibly needed."
People don't realize the number of calls the sheriff's office gets that involve mental health issues, Yeager said. "It's daily. Nobody hears about those where we can successfully talk somebody down." In most cases, the public is satisfied with the assistance the CCSO is able to provide, Yeager said.
"I've lost all faith in this judicial system," Kevin Sherman said. "I can't believe he'll never come back to us. This kid was loved by everybody. He was no threat. He wasn't a druggie. He was a clean-cut kid."
Representatives from the GBI interviewed the family at the hospital. "They were very nice people," Kevin Sherman said. "I really don't know what is going to take place," he said, but "they need to be brought to justice. You don't treat people like that."
"You don't repeatedly tase somebody," Mary Ann Sherman said.
Yeager said that, from what he understands, Sherman was tased once and then grabbed the taser and shot it, almost striking a deputy. Sherman was also "dry tased." A taser shoots its prongs only once before it has to be loaded with a new cartridge but can "dry tase" when it is touched against someone.
Yeager said that he is still reviewing the footage from the body cameras that each deputy wears.
Chase "was a very strong kid, but laying down in the seat belt ... come on," his father said. "With three guys on you? Come on. And to keep pushing the taser in you? Come on."
About three years ago, Chase had experienced a strange episode of paranoia, according to his parents. "But nothing like this. He never tried to hurt anybody. He was not combative," his mother said. And it went away.
On the trip, "he had a few problems on and off … he thought he saw the same people in different locations," Kevin Sherman said. At the time, they chalked it up to the islanders looking similar and wearing similar clothes.
It was only about 15 minutes before time to board the plane home that Chase started acting strange, according to his parents.
"I told my husband I just think he'd be better if we didn't get him on a plane. He'd be better if we just drove him home. Maybe he would feel safer," Mary Ann Sherman said.
Kevin Sherman said if he'd known then what would happen, "we would have put him on the plane and taken our chances."