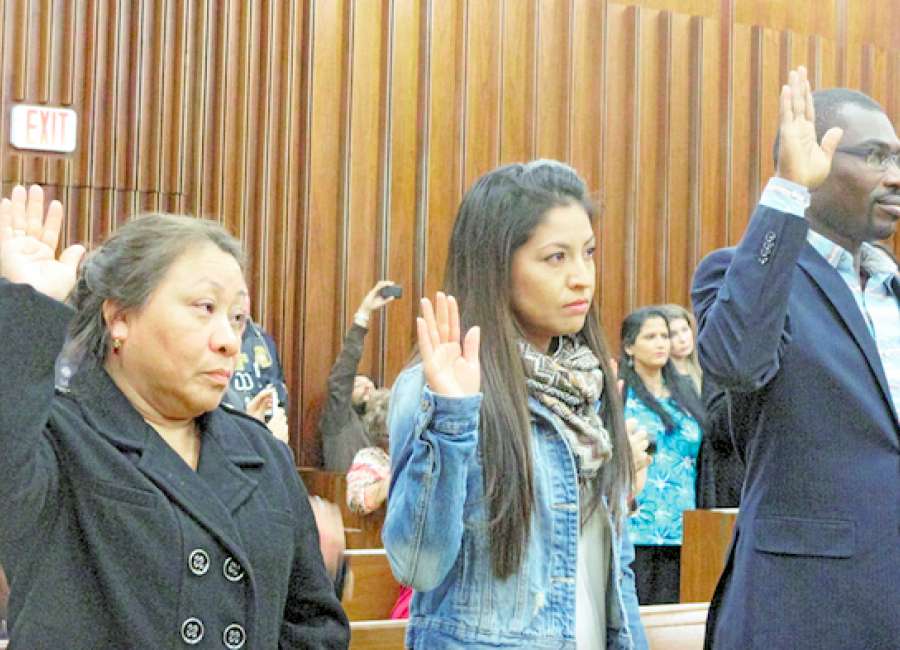 People from all over the world – 46 of them – made their way to Newnan and went home as United States citizens.

The naturalization ceremony – in Judge Timothy Batten's courtroom in the Lewis R. Morgan Federal Building in downtown Newnan – saw immigrants from 30 different nations. They had studied the U.S. Constitution and demonstrated fluency in English.
Then – in the courtroom – one by one they made their way to a table where papers were checked, stamped, sealed and signed. In many cases, the citizens also got a new name – sometimes one that sounds more American, sometimes not. Seung Ku Youn, for example, became Johnny Yoon, and Byung Ho Ahn chose a new first name, Bruce.
Assistant U.S. Attorney Angela Munson called the roll, with each new citizen standing to share his or her name and country of origin. Deputy Clerk Suzy Edwards administered the oath.
Then there was a program with cadets from East Coweta High School's JROTC program presenting the colors and Jenny Cheeves singing "The Star-Spangled Banner" and "God Bless America." Batten led the pledge to the flag and welcomed the new citizens.
"Welcome to the greatest country in the history of the Earth," the judge said. "We're glad to have all of you."
The entire morning had a celebratory feeling. Family members had accompanied the new citizens, often snapping picture with cell phones. At one point, the toddler son of Tamara Aljabar, new citizen from Jordan, found his way to his mother's lap.
Halim Kaleshi, an ethnic Albanian who came to America to escape unrest in his native Kosova, was the speaker for the day. Kaleshi is now director and chef of the Woodward Academy dining operation.
Before coming to America, Kaleshi and his family went through many difficulties. "We had to move from one place to another to save our lives," Kaleshi said.
When he decided to leave Kosovo, he took his wife, his 18-year-old brother, 17-year-old nephew and three of his own children – ages 8, 4 and 6 months.
His thinking was – "coming from a large family, maybe somebody would survive," he related. When they left Kosovo, they went to Macedonia where they connected with his sister and her family.
After a couple of months in a refugee camp, Kaleshi and his family came to Ft. Dix, N.J. and then to Atlanta. Although he spoke almost no English, Kaleshi wanted to work. "I never lived on other people's money," he said.
The Kaleshis connected with another refugee family in which someone worked at Woodward Academy, an elite private school in College Park. Kaleshi and his wife went to work there in 1999.
"It's hard to start a new life," Kaleshi said. In 2002, Kaleshi bought a home in Peachtree City, and he has since moved to a nicer home in Tyrone. For 13 years, he worked both at Woodward and at the Wyndham Conference Center in Peachtree City.
"I want to support my family, and I don't want my kids to work two jobs," Kaleshi said. He and his wife both still work at Woodward. One daughter has finished college and another is a junior at Woodward. His son is in college now.
In 2006, Kaleshi took a trip to Europe. Because Kosovo was a Communist country, that was not possible for him earlier in his life. Coming to America offers "freedom, opportunity and a future for your family and kids," he said.
"If I had to do it again, I would chose again to stay in the United States," Kaleshi said. "Life is good."
The Daughters of the American Revolution provided a reception after the ceremonies on Friday, and members of the League of Women Voters helped the new citizens register to vote.