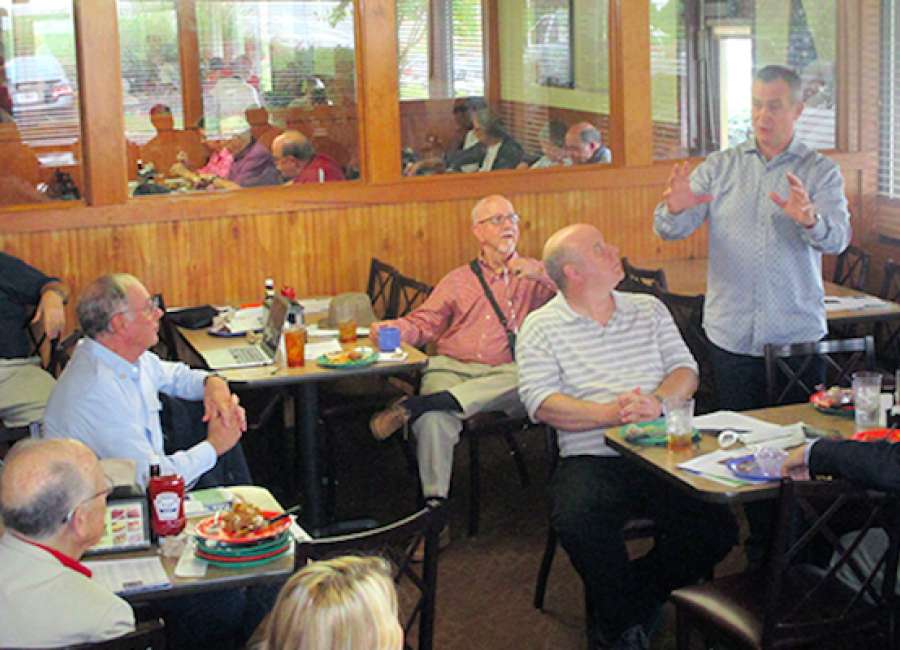 Rick Gage grew up in an evangelist's home, but he set out as adult to live for himself.

A reluctant visit to a Sunday evening worship service transformed his life. Gage himself became an evangelist, and he is working with a local group who would like to have him preach at a crusade in Coweta County.
That crusade is tentatively set for October 2016.
Gage shared his story at a Nov. 4 meeting at Golden Corral. About 35 pastors and community leaders were at the meeting – the first public gathering to discuss the possibility of a 2016 crusade in Newnan.
Right out of college in 1981, Rick Gage had started his coaching career as West Texas State University. Three years later, Gage – then 25 – had moved to Texas Tech.
"My heart and my life were a million miles away from God," he said. Gage frankly recalled he was "living a lifestyle of sin."
His father, Freddie Gage, has emerged from a gang background to become a dynamic preacher and then a crusade evangelist. "He could see I was on a path of self destruction," Gage said.
Rick Gage got a telephone call from his father, who urged him to go to hear a family friend, evangelist James Robison, who was preaching at a Lubbock church.
Rick Gage slept late that Sunday – "like I normally did during those days." Later in the day, he decided to go to the evening service.
There he heard "a powerful, penetrating sermon on the subject of repentance," he remembered. Gage had walked the aisle and been baptized at 8-years-old.
That night in Lubbock, "I realized I didn't have the real thing," Gage said. "The Holy Spirit of God arrested my soul that night."
He went to the front of the church – sobbing and crying out to God.
"I was like a thief who had gotten caught robbing a bank," he reflected. "That night God saved me. My life's never been the same since."
Gage called his parents and his brothers that night. He retrieved his dusty Bible from a shelf. "I fell in love with the author of the book, and his name is Jesus," he said.
He began to tell his co-workers at Texas Tech what had happened to him. One of them, Mike Mock, was a dedicated Christian. He invited Gage to a men's Bible study that met every Wednesday – at 3 a.m.
"I can't being to explain what those early morning Bible studies did," he said. Soon after, Gage took part in a street crusade and led a young man – who was waiting at a bus stop – to faith in Christ.
"That set my soul on fire," Gage said.
He quit his football job and went to work for his father's organization. Rick Gage would speak to youth Sunday school classes, Fellowship of Christian Athletes chapters and football teams. "I began to understand what he had been doing all those many years as an evangelist," he said.
After returning to coaching for two years at Liberty University, he left coaching for good and went to seminary.
Now, Gage heads Go Tell Ministries in Duluth. "We've seen tens of thousands come to Christ," he said.
Daniel Ausbun, pastor of First Baptist Church of Moreland, is general chairman for the crusade. Anyone wanting information or wanting to volunteer may contact Ausbun at dgausbun@yahoo.com or 770-253-3535.