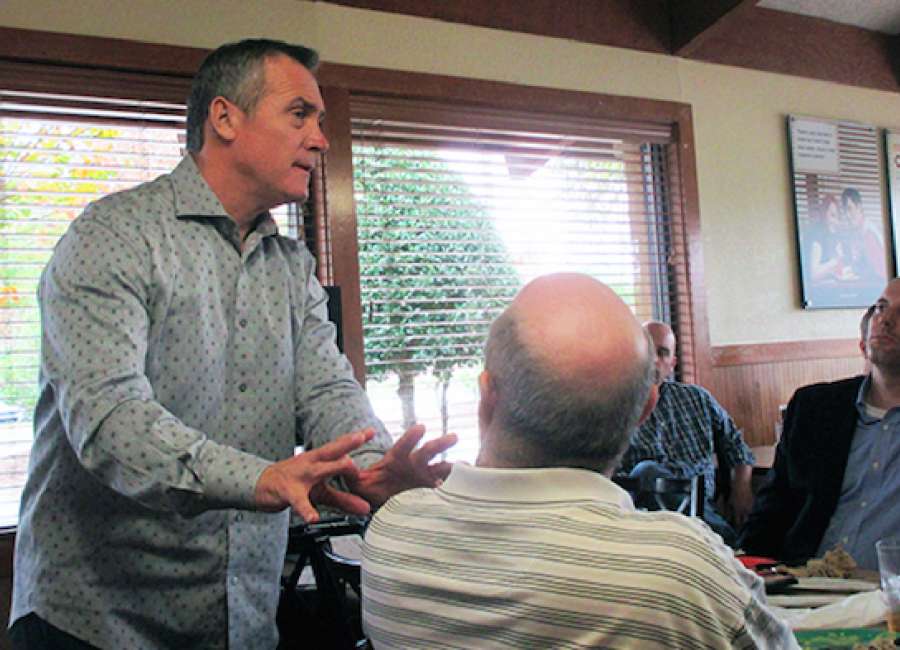 Duluth-based evangelist Rick Gage is talking with local church and community leaders about leading a crusade in Coweta County next year.

First Baptist Church of Moreland invited area pastors and community leaders to a meal and program at Golden Corral on Wednesday. Gage, who heads Go Tell Ministries, outlined the process necessary to hold a crusade.
Organizers are looking at an October 2016 timeframe for the evangelistic meetings.
Gage told the group of about 35 – which included pastors, Sheriff Mike Yeager, Newnan Police Chief Douglas "Buster" Meadows and Assistant Chief Rodney Riggs – that it takes 9-10 months to plan a successful crusade.
"It doesn't just happen overnight," Gage said. "Leadership and preparation are the keys to successful evangelistic outreach."
Gage came to Newnan at the invitation of Daniel Ausbun, the pastor at First Baptist Moreland. Ausbun told him he would like to see "all the Bible-believing churches in this part of the world come together" for an evangelistic outreach, Gage said.
He shared reports from several recent crusades – including one in October in Columbus County, Tennessee. Approximately 10,000 people attended those meetings, and there were 900 commitments for Christ.
"We spoke to nearly 4,000 students in the schools," Gage said. "We had an incredible move of God there."
The numbers were similar in Pampas, Texas, where "we had 20-plus churches involved," Gage said. About 30 churches were involved in a Toccoa, Ga., crusade "this past spring."
Go Tell follows a similar template to the Billy Graham organization, except geared toward less populated areas. People in smaller towns need Jesus "just as much as people in big towns," Gage said.
Go Tell has taken seriously "the calling and the niche that we've been given," he added – with the organization working at "scaling down" the Graham program "to fit a county like this county."
Like Graham's organization, Go Tell uses teams to address various facets of each crusade – planning, prayer, youth, publicity, follow-up. Both also try to place speakers in schools presenting a non-sectarian message about drugs, alcohol or other issues.
Both also involve a series of preparatory meetings. A kickoff banquet three months prior to the crusade is a vehicle to seek donations for the crusade and an opportunity to enlist volunteers for various teams.
"God has anointed and has blessed these campaigns we've been doing for more than 30 years," Gage said.
Wayne Jenkins, associational missionary for Western Baptist Association, said Coweta County's population is about 136,000 – with about 36,000 attending church. "The need to reach people has never been greater, and the opportunity to do campaigns like this has never been greater," Gage said.
Retired Methodist minister Dan McFarland said Gage's coming to Newnan is "part of an answer to prayer."
Baptist pastor Buddy Waldron spoke of the crusade as "this wonderful idea." He added, "I don't know how much time I've got to live, but I want to be a part of something."
Ausbun was named general chairman for the crusade. Anyone wanting to volunteer or needing information can contact Ausbun at dgausbun@yahoo.com or 770-253-3535.
"I think all the churches will get on board and get behind this," Ausbun said. "This could change our county."
"We stand ready to lock arms with you, to pray with you, to fast and to labor – to do whatever we can do to reach this county for Christ," Gage said.