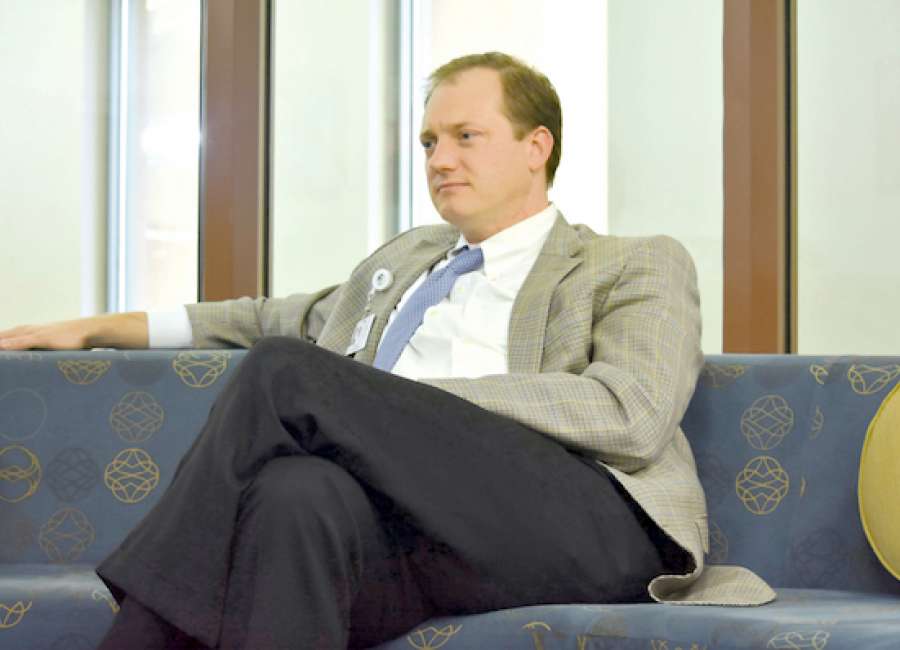 Buzz about the controversy surrounding Newnan's Cancer Treatment Centers of America (CTCA) facility is difficult to ignore these days, particularly in light of a decision made Thursday by Department of Community Health Commissioner Clyde Reese to table the hospital's most recent proposal to reclassify as an acute care facility. Many residents remain uncertain as to what all the wrangling is about.

The story begins with the development of the CTCA facility in Newnan in early 2012. The cost of commercial property in Coweta County was at a rate capable of attracting large businesses, and given the city's access to major interstates leading to Atlanta's Hartsfield-Jackson Airport, the county was considered ideal for commercial growth.
The decision to invest in Coweta was more fortuitous from the standpoint of growth than even CTCA Chief Operating Officer David Kent had expected, though it is unlikely Kent could have foreseen the battle the facility would face in its choice of locating in Coweta.
"The growth is happening faster than even our most enthusiastic projection," Kent said. "We projected nearly 500 jobs within the first five years, and instead the facility has created over 1,100 in three years."
According to Kent, 15 patients were expected to be treated in the cancer center within one month of opening. Instead, 52 received care, "and then it just kept coming."
"My job is to make sure that if people want access here, they will get access here," Kent said. "We have to have the buildings, the space, the talent, and the capability."
Now, board members at the CTCA fear the hospital will be forced to quell its growth and suppress the seemingly obvious demand for services in Georgia and beyond.
"We cannot add more beds, more services or more talented physicians," Kent said, noting that all these things benefit cancer patients. "The Certificate of Need (CON) laws in this state prevent that."
Kent acknowledged that the state's CON laws and the controversy surrounding the hospital has brought more interest and more patients, but the COO does not relish the bad press. "I hate being in the newspaper for anything other than taking great care of cancer patients," Kent said.
CON regulations in the state of Georgia are meant to govern the construction and expansion of health care facilities. Hospitals are required to obtain CON licenses for construction projects and service expansions. Upon choosing Newnan in 2012, the hospital agreed to a regulation of accepting no more than 35 percent of patients from Georgia.
Regulations are said to be aimed primarily at controlling health care costs, though many argue that the laws limit competition instead – at no real benefit to the cost of care. Many states have repealed such CON laws.
The hospital remains classified as a health care destination facility, and has abided by the regulations originally agreed upon. However, CTCA has attempted to change those stipulations by proposing a reclassification of the hospital.
The hospital dropped its legislative bid for reclassification earlier this year when the attempt was met with overwhelming negativity. The hospital then appealed directly to the Georgia Department of Community Health (GDH) with the proposal and won an initial approval. On Thursday, the proposal was dismissed by the commissioner, who cited the controversy as the primary reason for rejection.
Many members of the general public remain puzzled by the contention. The question as to why hospital officials are adamantly opposed to the presence and expansion of CTCA in Newnan remains unclear in many circles.
According to Kent, CON regulations can be difficult to understand. The COO explained the hospital's overall goal, and attempted to dispel possible misconceptions related to the reclassification.
"The classification is an important distinction," Kent said. "We don't have any intentions of treating anyone except cancer patients. It is what we do."
Kent reasoned that CTCA will not be competing directly with Newnan's already-established comprehensive care services. Though the classification of "acute-care" is broad, and is the same as other health care facilities in the area, the hospital will continue to offer only cancer prevention, disease management, treatment and other cancer-related diagnostics and services.
"Really what we are trying to do with the destination change is to have the same rules apply to us," Kent said. "An acute-care hospital doesn't have the 65/35 percent ratio and isn't limited to 50 beds."
Kent noted that Georgia Hospital Association (GHA) President Earl Rogers, in an interview earlier in 2015, suggested that CTCA did not truly want to change the cancer center's classification, but instead wanted only to expand in the county.
"I thought, 'you are absolutely right, Earl,'" Kent said. "We are only [seeking reclassification] because we are limited and our patients are limited."
According to the COO, the hospital's approach to the market isn't going to change. CTCA does not plan to treat less out-of-state patients, or to treat patients afflicted with other illness. The hospital simply hopes to "prevent [CTCA] from being in this awkward market where each month we have to have a certain number of Georgia patients and an adequate ratio of out-of-state patients."
Another public fear seems to be in regards to the hospital's willingness to treat patients who are uninsured or under-insured. A little over a month ago, Rogers made a claim that CTCA has a reputation of "cherry-picking" patients with the best insurance coverage.
Kent argued that ostensibly the goal for every health care provider whether publicly or privately funded is "to build a sustainable business."
"The challenge is attracting good-paying patients in order to cover your overhead (the investment of a health care facility)," Kent said. "That is, unfortunately, the financial reality of health care."
According to the COO, all health care facilities compete for good-paying patients, and all have a similar goal in mind: To treat every patient while continuing to "build services and products so that all patients want to access you."
"Will we see non-paying patients," Kent asked. "Yes, we will and we do. [CTCA] has given away $45 million in free care … we are digging into the local community."
Kent explained that the number of low-income patients treated by the hospital may never equal that of Newnan's other, nonprofit health care facilities, though.
"We are limited to taking care of cancer patients," Kent said. "There are only so many cancer patients... most of the charity that happens in nonprofit situations happens in the emergency room."
In its three years in Coweta, CTCA has made large contributions to communities in the county. Recently, the hospital has agreed to provide colonoscopy screenings to 100 percent of patients referred by the Coweta Samaritan Clinic. The hospital will also provide mammograms to patients from the clinic, as needed.
"We are committed to looking in this community — actively looking — for patients to serve here, regardless of their ability to pay," Kent said.
According to Kent, the patient's right to choose may be the greatest loss in the battle to allow CTCA to reclassify, or otherwise be relieved of CON regulations.
"If you go back to the patient, back to the consumer... their fundamental right to choose should win every time," Kent said. "We think we have something to offer patients, but we don't force them to choose. We have to compete to earn [the patient's] trust, respect and business. If the choice is taken away, well, who wins in that scenario?"