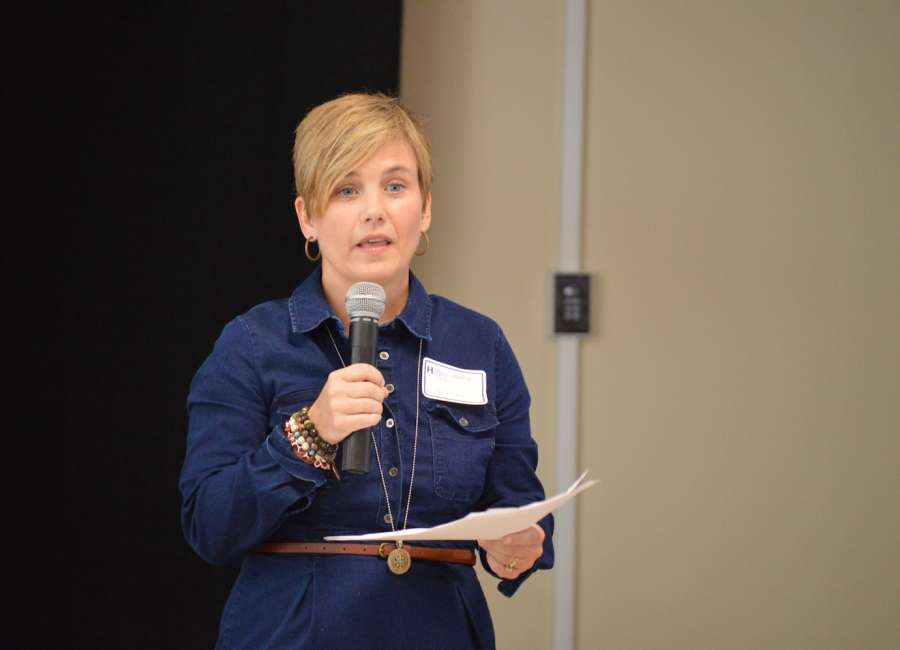 As part of National Teen Driver Safety week, a Newnan mother and accident victim is sharing her family's story to encourage teenagers to pay attention while driving.
Natalie Bacho and her family were involved in a fatal car accident on Dec. 22, 2012, when 18 -year-old Taylor Long was driving south on Newnan Crossing Bypass and ran a red light at the intersection of Lower Fayetteville Road. He hit the Bacho's vehicle.
In her presentation on Friday to students at The Heritage School, Bacho said when they were hit, the minivan spun around 360 degrees.
"Our world has not stopped spinning since," she said.
After the accident, Bacho's husband was air-flighted to Atlanta and put in a medically induced coma for four weeks. Their 9- year-old daughter, Abigail, was critically injured and three days later - on Christmas Day - passed away from her injuries. Bacho's two other daughters were also injured.
"His choice to not drive safely shattered our family," she said
Bacho told the students that since the accident, she still experiences flashbacks and cannot wipe the image from her mind of the paramedics doing chest compressions on Abigail.
Throughout her presentation, Bacho urged Heritage students to listen to what she was saying about her experience, to talk to each other about driving without distractions and to be aware of their responsibility as drivers.
"The vehicle that you are driving, is so much more than something that can take you to meet up with your friends," she said. "It truly is a weapon on the road … If you choose to drive carelessly and with disregard of your own life or others on the road – your life and future and all the plans you have laid out for yourself can and will change in as much time as it takes to look down at the text, change your song selection, answer your phone, or type a quick LOL."
"Be the voice for your friends that may make a dangerous choice," she added. "Don't be afraid to speak up. Don't live with the regret of not doing everything you can to try and change a friend's behavior while driving … If they were truly your friend, they would never put you in harm's way."
According to the Centers for Disease Control and Prevention, teen drivers ages 16 to 19 are nearly three times more likely, per mile driven, to be in a fatal car crash than those drivers aged 20 and older. Motor vehicle crashes are also the leading cause of death in U.S. teens.
Newnan and Coweta County are part of these statistics as they have experienced a number of fatal accidents involving teen drivers in the last several years. Teen drivers from those accidents include: Javier Calvillo, Tyler Henson, Joseph Shelnutt, and Cody Landry. Victims include: Zachary Harrison, Austin Pope, and Parker Madliak.
To help combat this problem, Bacho's nonprofit organization, Abby's Angels, founded in honor of her daughter, is working to educate teen drivers about safe and responsible driving.
"Abby was not just a number," said Bacho in her presentation. "None of these lives lost were. They were just like you. They had lives to live … You can be our voice. You can help make changes in how teens think about driving. You can help save lives."
After Bacho finished, Lori Pendergrast, head of Heritage's upper school echoed what Bacho had said.
"You matter," she said to the students. "You matter to so many people in your life. The decisions you make affect them … Celebrate each other and life today because life is a gift and you matter.
Earlier this year, students at the middle school at Heritage sold Abby's Angels bracelets. That money as well as some additional money from the foundation will be given to the Tyler Henson Scholarship Fund.
Tyler Henson was a 17 year old Heritage student who killed in a single vehicle accident in 2013. He was a junior at the school and a multi-sport athlete.
In addition to Heritage, Bacho wants to bring her message and story to three public high schools in Coweta County – East Coweta High School (ECHS), Newnan High School (NHS), and Northgate High School (NGHS).
Currently, NHS is showing a Motor Vehicle Network (MVN) ad on campus. This ad is also running in the Georgia Department of Driver Services office in Newnan. Bacho said some teachers at NHS have shared Abby's Angels PSA with their classes.
In addition, Abby's Angels provided The Heritage School, NHS, and ECHS posters to hang at their campuses focused on teens and their driving habits.
"We are hoping to have an opportunity to speak to the Driver's Ed classes at some point this year at EC and NHS," she added. "We'll keep trying to get this message across with the public schools."
Abby's Angels has also sponsored Fear This 4 Life in the Newnan and Coweta area three times. Fear This 4 Life is a teen driving accident avoidance course.
They are sponsoring a fourth course in December and have plans for a fifth one later.