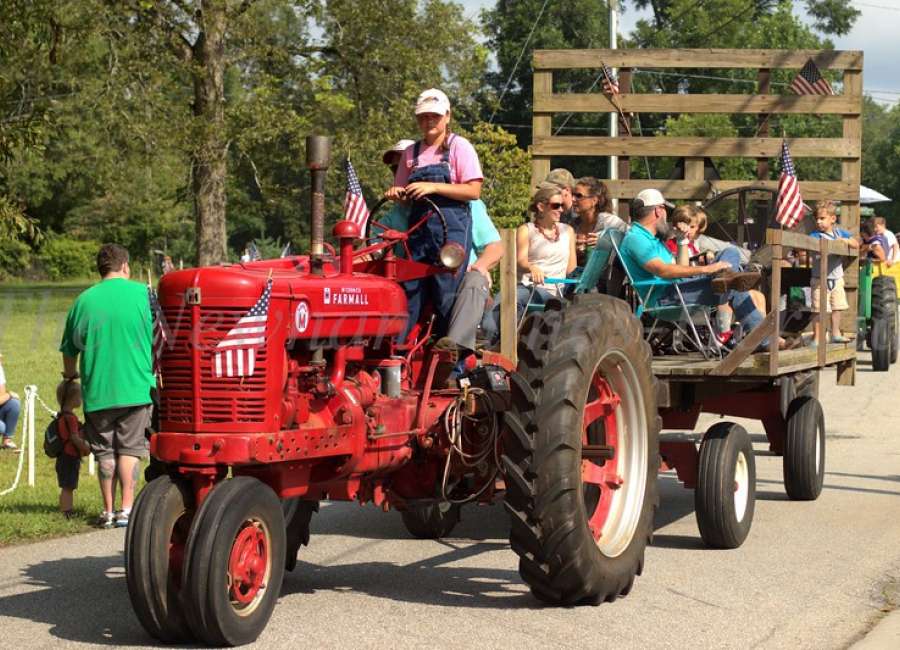 Every summer since 1995, antique tractors have paraded through tiny Turin on their way to the pulling grounds, where tractors of all sizes and descriptions compete in the tractor pull. 
This year's show, the 25th annual, is Saturday. 
The parade starts at 10 a.m. Tractors head out from the area of Banks Lake Road west to South Hunter Street into downtown Turin, where the parade turns right at the post office and heads down Turin Street to the pulling grounds on Will Banks Road. 
Jim McKnight emcees the parade and announces each tractor and its driver as they pass the community center. 
At the pulling grounds, there will be show tractors on display, as well as plenty of things to eat, including barbecue and hamburgers, the Turin United Methodist Church's bake sale and Boy Scout popcorn. 
There will also be face painting, sand art and balloon animals for children. There are shaded areas for spectators. 
Categories in the tractor pull range from stock and antique to modified. There is also a pedal race for the kids.
The event is put on each year by the Turin Antique Tractor Association. It's "just unbelievable" that the parade and pull has been going on for 25 years, said Bill Banks, one of the event's founders. 
"It is great to have it last that long," he said. "I hope it will continue."
About 27 years ago, he and several other Turin residents became aware of the West Georgia Two Cylinder Club, an antique tractor club in Carrollton. 
The group included Banks, William Odom, Billy Christopher, Banks' son Billy and Milton Gibbs, and a few others, Banks said. They started going to the meetings. The Carrollton group put on a similar event, and the Turin folks participated. 
"They said, 'Why don't y'all have a show in Turin?'" Banks said. "So we did."
After a few years, the Turin Antique Tractor Association was formed to run the event. After originally being held along Hwy. 16, the pull moved to its current site, on land owned by the Banks family. 
At first, they used a huge tent to cover the area. One year it got pretty windy and the group decided to build the current roof over the pulling grounds.
Banks said he feels the event gives Turin an identity – and a lot of people are entertained that day. "It's something that you don't get to see every day," he said. 
He's proud that the organization gives a $2,000 scholarship each year to an East Coweta High School student.  
But the thing Banks likes most about the event is how it brings people together. "You hear over and over during the day – 'I haven't seen you in a month of Sundays' or 'I haven't seen your in years,'" Banks said. 
"It gives a platform for people to gather and have a good time, and it's family-oriented," he said.
For more information, visit www.turintractorpull.com or call 678-300-4923.