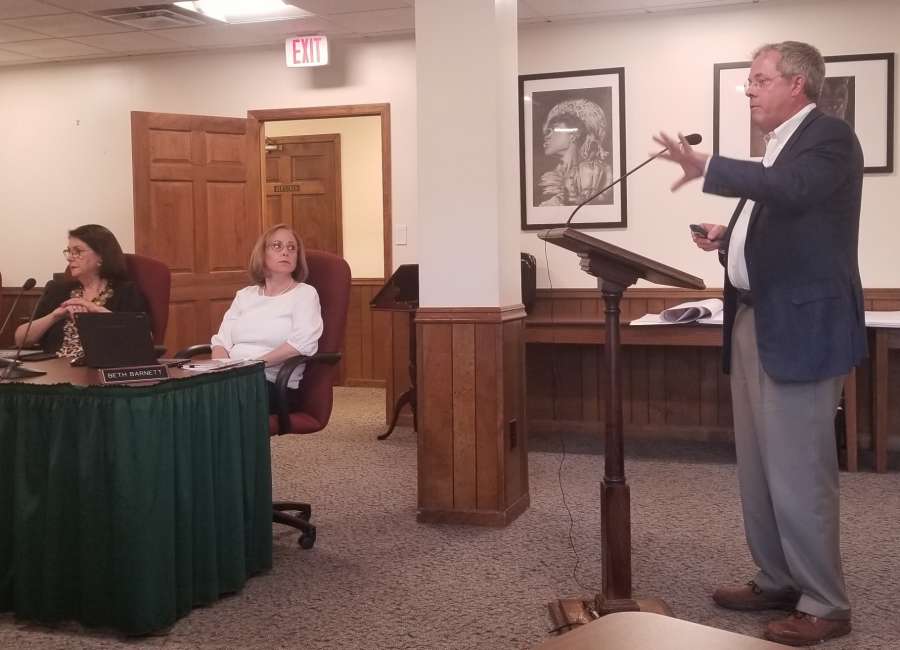 The Coweta County Board of Education approved a $5 million project to build a new middle school on Tuesday night.

The school, which will be built on a 52-acre site on Shaw Road near Canongate Elementary and Northgate High, will be constructed by J&R Construction. The total bid for the project is $5,290,650.90.
Valdon Smith of Spangler Manley Smith Architects gave an overview of the project to school board members at their monthly meeting Tuesday.
Road work will be required on Shaw Road, including a roundabout at the entrance to the school. The plans include "double stacking" for cars to allow for a flow of cars without backing up onto the road, Smith said.
The initial building will have 143,444 square feet of space with 56 classrooms and capacity for 887 students. Common areas – the media center and gymnasium – will be built larger to accommodate an eventual expansion to 68 classrooms and up to 1,200 students.
The gym will have bleachers to seat 1,300. The cafeteria, which will have 576 spaces, will be equipped with LED screens and other accoutrements to enable the room to be used for meetings.
The school will also be designed with safety and security in mind, taking into account "things we have to think about these days," Smith said.
The new school is expected to open in August 2020. "It will be a very nice complex once it's constructed," Smith said. "I think you'll find it a very inviting space. … You'll find the facility to be a really exciting design."
Board member Linda Menk asked how the use of TSPLOST money for the Shaw Road project would affect renovations at other schools.
Superintendent Steve Barker said the large middle school project could impact "the level of renovation" done at other schools. Barker said the system has often adjusted its list of renovation projects because of funding over the years.
"Some parents have been talking about some of our older schools," Menk said. Those parents feel "their projects just keep getting moved out farther and father and farther."
Menk specifically said she received calls that Thomas Crossroads Elementary School has problems with mold and mildew in the media center, a leaky roof and an HVAC system that is not dependable.
Barker said scheduled renovations for other schools will be reassessed, and some projects may be postponed until next year.
Schools built prior to the 1990s have seen major renovations in recent years.
Board Chairman Amy Dees represents the area that includes Thomas Crossroads Elementary. "I've not had a complaint from that school," Dees said. "I have not had a call or an email from a parent at that school."
Barker also said the attendance district for the new school may feed into Northgate High, freeing some space at East Coweta High, which is the largest school in the county. Some renovation at Northgate is set to take place in the future.
Barker said there will be discussions about when to implement the new districting and about grandfathering students already in high school in their existing districts. Barker said the goal is to make the change "as pleasing as it can be for everyone."