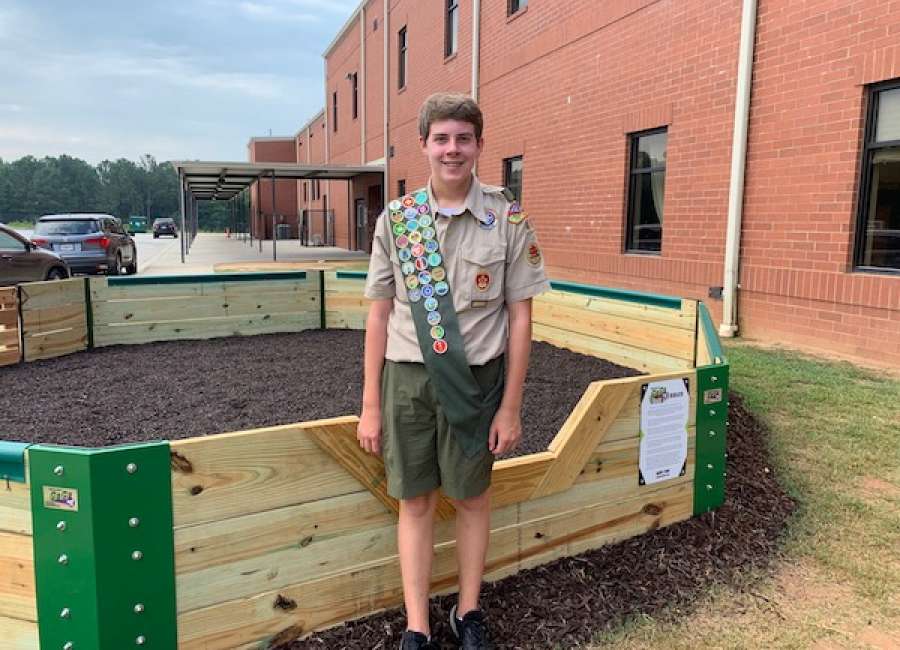 A local Scout recently built a ga-ga ball pit for Brooks Elementary School as his Eagle Scout Project. 
Jack Terrell, a ninth-grader at Newnan High School, has been in Scouts since he was in the first grade. He is a member of Troop 41, which was chartered by First United Methodist Church of Newnan in the 1920s, according to their website. 
Terrell came up with the idea of building a ga-ga ball pit because it was something he enjoyed playing while at Camp Thunder, an annual summer Boy Scout camp in Molena, Ga. 
"I loved playing it, and we would play it for hours on end," Terrell said. 
Ga-ga ball is similar to dodgeball, but it is played in an enclosed octagonal pit. Instead of players throwing the ball, they hit it so it rolls. The game is played until one person is left who hasn't been hit by the ball, according to Terrell. 
The pit will be used for recess during the school day. Terrell said he wanted to build it at Brooks because his mom teaches there and he also went to school there. 
Terrell said he thought it would be a good addition to the playground and Jillian Andrew, the principal of Brooks, agreed. 
He said it took him about two or three months to make plans to build the pit. Then he constructed it over a weekend in July. 
Terrell said he had about 28 volunteers, many of them members of Troop 41, who helped with the building project.
"Overall, we were extremely pleased with how well the project turned out. So many boys from Troop 41 as well as their parents, siblings, even grandparents put forth such effort in the heat of July to bring the project to fruition, and his father and I are so grateful," said Elizabeth Terrell, Jack's mother. 
To construct the pit, he raised $2,600 from writing letters to people for donations. Clubs and parent organizations at Brooks also donated money for the project. 
Terrell purchased the lumber for the outside of the pit. He then ordered a kit that had a gate to attach to the pit for easy access. 
Terrell said he and his volunteers put rubber mulch on the inside so the kids would have a safe surface to play on. 
"Jack truly had a hand in all stages of the project from planning, to ordering, budgeting, preparing and building to provide an exciting addition to Brooks Elementary's playground," Elizabeth said. 
Terrell is almost done with his Eagle Scout requirements, and he will be submitting the paperwork to receive the award soon.