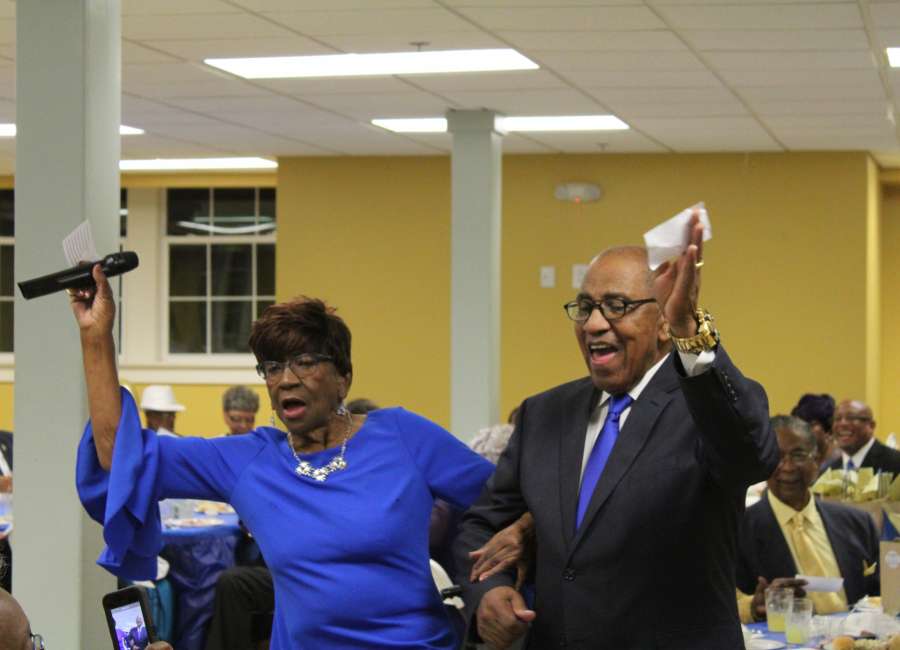 Members of the Howard Warner High School class of 1954 reunited on Saturday for their 65 year reunion.
The high school – which is now the location for the Howard Warner Boys & Girls Club – served as an all-black high school for students in Coweta County. The reunion was held in the building's basement which used to be the space for the school's home economics and biology classes.
The class of 1954 was the first alumni class of HWHS to hold a class reunion, which was celebrated in 1974 – the class's 20th anniversary.
The members of the class, who are now in their early 80s, reminisced and shared stories of their high school experience while they were together.
"We grew like a family," said Helen Berry, a member of the class. "All of us are 83 or better."
A total of 15 members of the class attended the reunion. According to Berry, about 80 percent of the class's members are deceased.
Berry described the experience at HWHS as "okay." She said many of the books available to the students were hand-me-downs from white students.
"I was never pleased with the books and things we had to work with. We used left over books and had to nurse them like a baby to take care of them," she said. "We didn't have a gym. We played basketball on the dirt."
Mary Virginia Meechum King travelled from her home in Los Angeles to attend the reunion. She attends every reunion, she said.
"It's home," she said. "I really enjoy it and like keeping the connections."
"This was home for us. It was the best place we could go," Berry said. "We had home, school and church."
Bennie Towns, a member of the class and former member of the school's football team, fondly reflected on his time at HWHS. His classmates were always friendly and the teachers were dedicated in their jobs of educating students, he said.
"We had the best team we ever had in 1954," he said. "My time playing sports were my best years."
Towns said he played the position of wide receiver on the team.
"We called him Crazylegs Towns," said Aycock Ike, an alum of HWHS and former member of the football team, of Towns.
According to Ike, the school's football coach, Henry Seldon, helped him receive a scholarship to Fort Valley State University.
"He said 'I'm going to take you down to Fort Valley and see if I can get you a scholarship. Meet me down at the corner,'" Ike said.
Towns said the team played football on a dirt field at a nearby park. The team would run three-quarters of a mile to the park each day for practice.
Berry said students often walked to school from their homes on Poplar Road, Belk Road and Mary Freeman Road.
Beatrice Dukes Neeley, an alum, said she and her family lived in Senoia while she went to HWHS. Her father would drop her off in Turin and she would then walk for six miles to reach a bus to get to school.
"It was a struggle," she said.
Berry said in the winter some students had frozen hands after their walk to school. The teacher would have to heat water before classes started to warm the students' hands.
Two of the members of the HWHS class of 1954, Willie and Ollie Moore, met each other while in school and have been married for 57 years.
"We became friends and got married in 1962," said Willie Moore. "We're the only high school sweethearts out of our class."
After high school, Willie Moore had 40-year career as a communications specialist in the Air Force and Army. Willie said during his time in the military, he had the highest security clearance.
Ollie said she worked as a teacher before becoming a counselor for pre-K through 6th grade students. 
The students at HWHS were limited by the learning facilities they had access and were exposed to, said Ollie, such as chemistry and biology labs.
"As far as what the white kids had, we didn't have it," she said.
Despite the disadvantage, Ollie said the students learned to be responsible for the materials that were available to them, how to get along and to be disciplined in their studies.
"We learned values and we were motivated," she said. "As far back as I can remember, I studied by kerosene lamp."