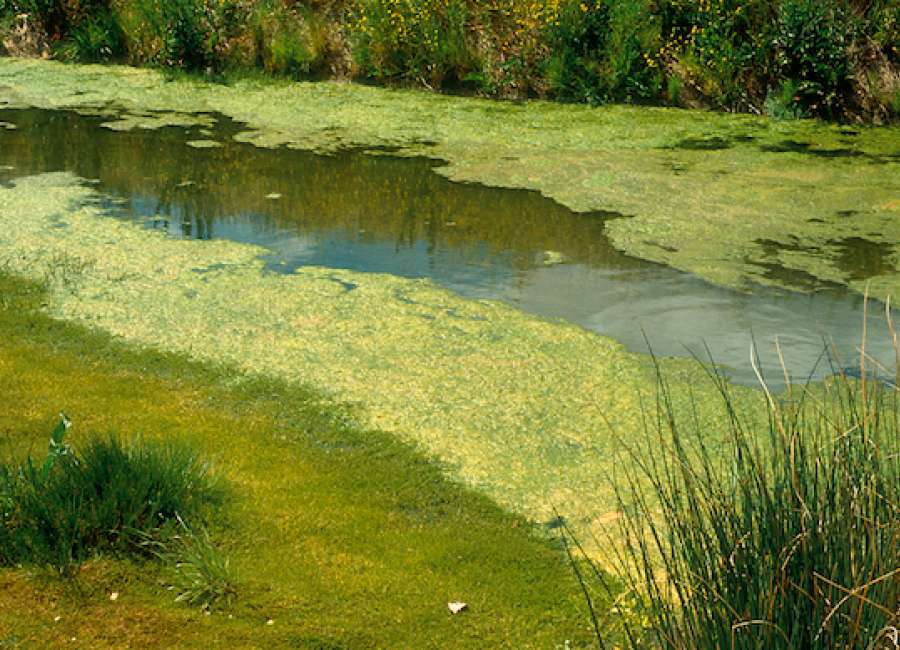 While swimming in a lake or a river with your favorite furry friend may seem like the best way to cool off in the August heat, it could be fatal to your dog. 
This past weekend, an Atlanta area family's dog died after a swim in Lake Allatoona, most likely because of toxic blue-green algae, according to a story from 11alive.com. 
Morgan Fleming, the dog's owner, in a Facebook post, said the dog started presenting symptoms about 30 minutes after swimming in the lake. 
They called their vet, who suggested they take her to the emergency room. The dog was brain dead by the time they got there, according to Fleming's Facebook post. 
This isn't the only case this summer. Last week, three dogs died after playing in a pond in Wilmington, N.C., according to an article from The Washington Post. 
The best way to protect your pet from falling ill due to toxic algae is to know what to look for in the water. 
Cyanobacteria is another name for blue-green algae, which are common algae found in ponds. Toxic algae is the name for a small number of species, including cyanobacteria, responsible for most cases of algal toxins, according to Stephanie Butcher, county extension coordinator for the Coweta County University of Georgia Extension office. 
A toxin-producing alga has to present in high density and producing toxins for it to be dangerous, according to Butcher. 
Butcher said the reason it seems to be more present now is because the weather conditions are right for it to bloom. When it is extremely hot and dry, algae can grow at a faster rate. 
She added that there needs to be a nutrient source for toxic algae to grow, as well. In an area where there's runoff from livestock or fertilizers that can pollute the pond, toxic algae have a better chance of growing. 
However, Butcher said that to know whether the algae is toxic, it has to be tested. Just looking at the algae can't determine whether it is toxic or not. 
If you're worried about your pet falling ill from the algae, don't let your dog drink or swim in the water if it is slimy or the surface of the water looks like foam, scum or mats, according to the United States Environmental Protection Agency. 
Also, if the color of the water looks strange, you may want to reconsider swimming. Harmful algal blooms can be blue, bright green, brown or red. It may look like paint floating on the water, according to the EPA. 
The University of Georgia Extension Office can test pond water for toxic algae. 
If you think your dog has gotten into a toxic algae bloom, rinse your dog off immediately. Make sure to wear gloves to protect yourself, as well. 
Keep a close eye on your dog for symptoms. Symptoms can present themselves from 15 minutes after exposure to several days, according to the EPA. 
Take your pet to the vet immediately if the animal has diarrhea or vomiting, weakness or staggering, drooling, difficulty breathing or convulsions, according to pestpoisonhelpline.com . 
If you think your pond water needs to be tested, contact the Coweta County University of Georgia Extension Office at 770-254-2620.