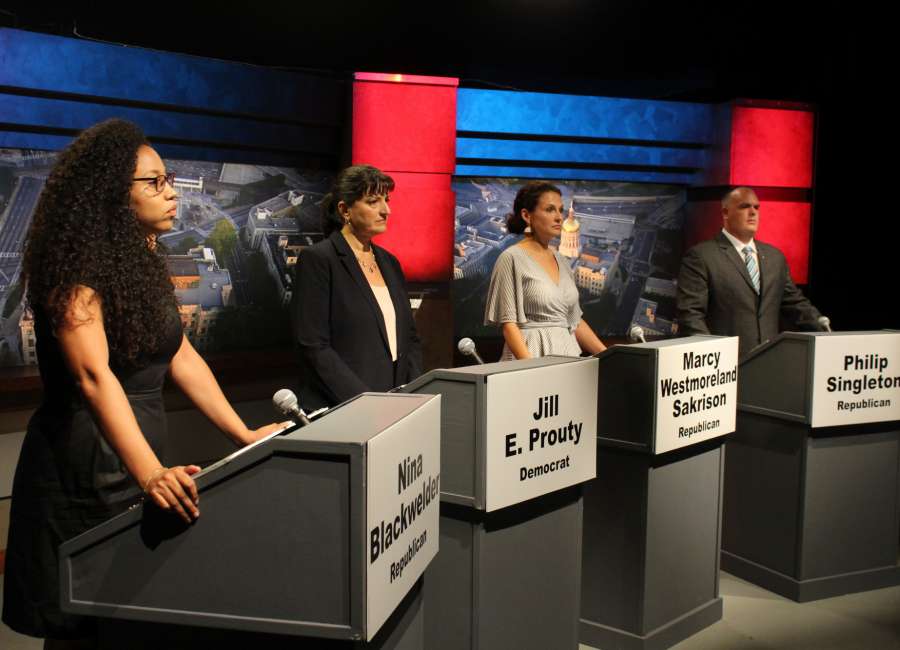 The Heartbeat Bill and education were among the top issues discussed by the four candidates for Georgia House District 71 at Wednesday's candidate forum. 
Dean Jackson moderated the forum at the Central Educational Center, asking Nina Blackwelder, Jill Prouty, Marcy Sakrison and Philip Singleton questions about policies affecting the state. 
One of the first questions Jackson asked the candidates was their stance on House Bill 481 – known as the Heartbeat Bill – which prohibits abortion after a fetal heartbeat can be detected, with certain exceptions. Lawsuits have already been filed to prevent the law from taking effect on Jan. 1, 2020. 
Blackwelder, a Republican, said she thinks the bill is a step in the right direction. 
"Now we can take initiatives that are very pro-family, pro-adoption, pro-foster. These families are going to need our assistance now more than ever," she said. "The rate of children that are going to be born that are unwanted pregnancies are going to fall to community, and it's important for the community to step up." 
Prouty, the only Democratic candidate, argued that the bill is an invasion of privacy and that women who have miscarriages could be subject to an investigation. She added that there are many reasons women choose to have abortions.
"Think about your wives, your daughters and your granddaughters," she said. 
Sakrison, a Republican, said she is "110 percent in support of the bill." She said abortions should not be an option for women, and that they have nothing to do with health care. 
"The liberals want you to think that women are going to get charged with crimes if they have a miscarriage. That is a misconception. It's a way for you to think you shouldn't like this bill," she said.
Singleton, a Republican, said he "stands firmly for life," and added that he is endorsed by Georgia Right to Life, a pro-life advocacy organization.
Jackson also asked candidates about their priorities for the state's budget.
Sakrison and Blackwelder both said the state budget should be balanced and taxes should be lowered. Singleton added that taxes should be lowered to support small businesses. 
Prouty said she thinks health care and expanding Medicaid should be the main priority, followed by education. She said she doesn't think taxes on small businesses are the problem, but she is concerned about the rising costs of health care. 
Sakrison said health care isn't just the government's problem. Many factors contribute to poor health care, she said. Blackwelder said deregulation options could bring down the cost of health care without increasing taxes. 
Prouty said she doesn't think expanding Medicaid would increase taxes. She argued that Georgia has the money for it, but it's not a priority for the state. 
Jackson questioned candidates specifically about educational spending in Georgia. 
Prouty said she thinks the state should be working to attract the best teachers and administrators, and to do so would require an increase in educators' pay. She said Common Core shouldn't be abolished, but Georgia's current testing system and goals don't line up. 
Sakrison said she believes education spending should be controlled on a local level, and that school boards and school employees will know how to spend it best. She added that "something needs to be done" with standardized testing and Common Core.
Singleton said Common Core needs to be abolished and schools should continue to offer workforce training. 
"Parents are the ones who need to be making the decisions about their children," he said. 
Blackwelder said she believes Common Core needs to go away as well. She said that every family should have the opportunity to make the best educational decision for their family. 
Candidates also had the opportunity to talk about the platform's they have chosen to run on. 
Prouty is running on a platform of mental health, Sakrison is focusing on illegal immigration, Singleton supports small businesses and Blackwelder supports the abolishment of state income taxes. 
The HD 71 seat has been vacant since the June resignation of Rep. David Stover. The election to fill Stover's unexpired term will be held Sept. 3. The seat will be up for election again in 2020, with qualifying for that race in March. 
Early voting for the race will begin Aug. 12. Early voting will be Monday through Friday from 8:30 a.m. to 4:30 p.m., through Aug. 30. Early voting is also available Saturday, Aug. 24 from 9 a.m. to 4 p.m. There are two early voting locations: the Coweta Voter Registration Office at 22 East Broad St., Newnan, and the Central Community Center, 65 Literary Lane, Newnan.