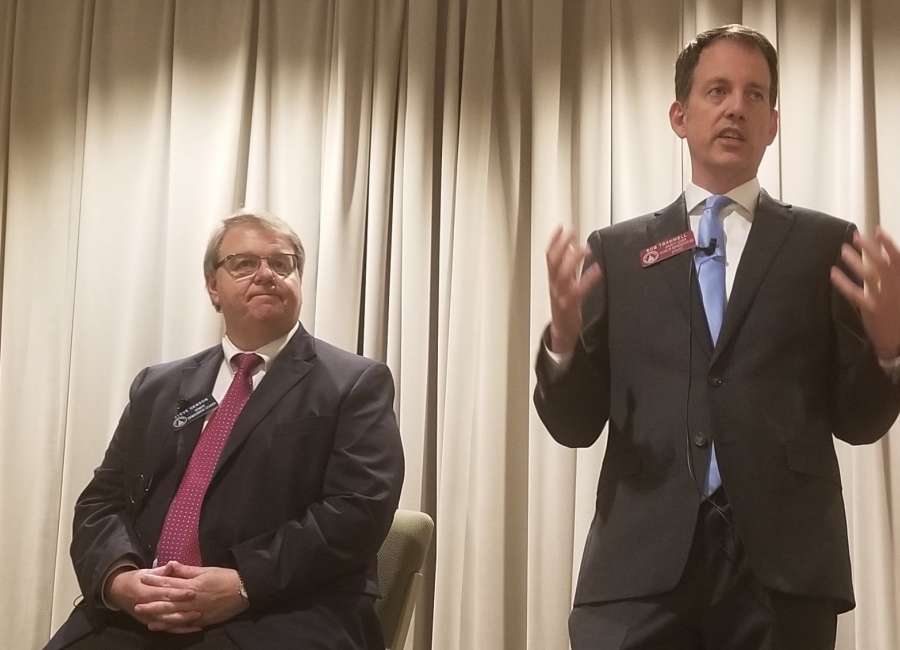 Schools, medical care – and upcoming elections – were on the minds of Democratic politicians at the Atkinson-Arnall Tribute Dinner.

State Sen. Steve Henson, State Rep. Bob Trammell and County Commissioner Al Smith were the three elected officials who spoke at the annual fundraiser for the Coweta Democratic Party. Henson and Trammell are the minority leaders in their respective chambers.
Also on the program were Kimberly Burroughs Debrow, a Cowetan who is running for an open Georgia Court of Appeals seat, and Jill Prouty, a candidate in the special election next month for Georgia House District 71.
Henson-Trammell
Henson and Trammell answered written questions from the audience of 220 at the Newnan Centre on Lower Fayetteville Road on Thursday evening.
Henson, who is completing his last term in the Georgia Senate, talked about the difficulty of being a legislator in the minority party. Many Democratic bills never get a hearing.
"We have a good legislative agenda, but we have to spend most of our time dealing with the agenda of the majority party," he said.
"Sometimes it's like running into a brick wall over and over again," Trammell said.
"We have to continue to fight for our public schools," Trammell said. "The legislature is a body that can have great hostility to what our educators are trying to do."
Repeated voucher bills seek to take money from public schools, he said. Trammell said the attacks on public education, however, are not just in Atlanta.
"There are people in this county whose mission it is to blow up public education," he said. "We cannot allow that fringe element to come in and destroy education in our county and in our state." 
Henson said Trammell has become something of an expert on Medicaid expansion, but Trammell ruefully added that is because the expansion never takes place.
"My expertise comes from having to talk about it year after year after year after year," he said.
When the Affordable Care Act was passed, it was envisioned that its provisions would work in tandem with an expansion of Medicaid. Georgia is one of 14 states that has not taken the federal dollars to expand Medicaid.
Trammell said hospitals in the 32 states where Medicaid was expanded are less likely to close than hospitals in Georgia. In addition, Georgia continues to have 15 percent of its population uninsured.
From a state budget of $27 billion, it would take $200 million to cover health care with a Medicaid expansion. A federal match would cover 90 percent of the cost, according to Trammell.
Henson said Medicaid expansion would have a multiplier effect economically. "That money's going to come back and enhance our economy," he said.
Trammell said the availability of assault weapons puts law enforcement officers and the general public in danger. He pointed to a recent shooting in Ohio where the shooter killed 26 people in 32 seconds.
"I grew up in a rural part of Georgia where hunting is a big part of life and guns are certainly a big part of what people grow up with in our culture, but I'm sorry, being able to shoot 26 people in 32 seconds isn't right," he said
He said 11 common sense gun safety measures were stuck in committee in the legislature and never got heard.
Trammell also talked about the controversial "heartbeat bill," which bans abortions after fetal cardiac activity can be detected, usually around six to eight weeks gestation. He said the bill is almost certainly going to be struck down in court.
"That is a conversation that was very divisive, deliberately so," he said, recalling the discussion around the bill in the legislature.
"It also is terrible for Georgia's brand," Trammell added. He said there are lots of financial opportunities in the state.
"To sustain that kind of growth, you have to have talent who want to work in Georgia," Trammell said. He said many bright young people across the country are striking Georgia off their list of potential places to work.
Trammell also referred briefly to Gov. Brian Kemp's asking each state department to reduce its budget by 4-6 percent. "When it comes to tightening belts, it's the people with the leanest waists and who can least afford to get squeezed who get squeezed the hardest and the most," he said.
Trammell praised Henson for his many years of service in the Senate. Henson said of Trammell, "He is a great legislator and a great public servant."
Smith-Prouty-Debrow
Smith said Democrats must win in Georgia to effect positive change, and he said getting people to the polls is paramount. "We need to get more people than just us, the people in this room, voting," he said.
"If we can turn Georgia blue, there is no path for Donald Trump to be re-elected. We need a turnout of the highest level ever seen in Georgia," Smith said.
"We have a moral crisis in the White House," Smith said. "There is a border crisis on the Texas border, and there is an ethical crisis on Pennsylvania Avenue."
Prouty said she wants to see the state's Certificate of Need law changed so Coweta County can get a behavioral health hospital.
Prouty also talked about the high cost of medical insurance for both employers and employees. "No one should have to choose between putting food on the table and having health care," she said.
Prouty, a librarian, said that support for good public schools and library services is important. "Learning should take place from birth to death," she said.
Debrow, a senior assistant district attorney in the Dekalb County District Attorney's office, talked about her courtroom experience. She said judges should make decisions based on the law and not insert their political preferences into their rulings.
"Decisions those judges are making are going to last for years, decades," Debrow said.
The Atkinson-Arnall Tribute is named for William Yates Atkinson and Ellis Gibbs Arnall, the two Georgia governors who were from Coweta County. Both were progressive Democrats with interests in education, legislative reform and economic development.