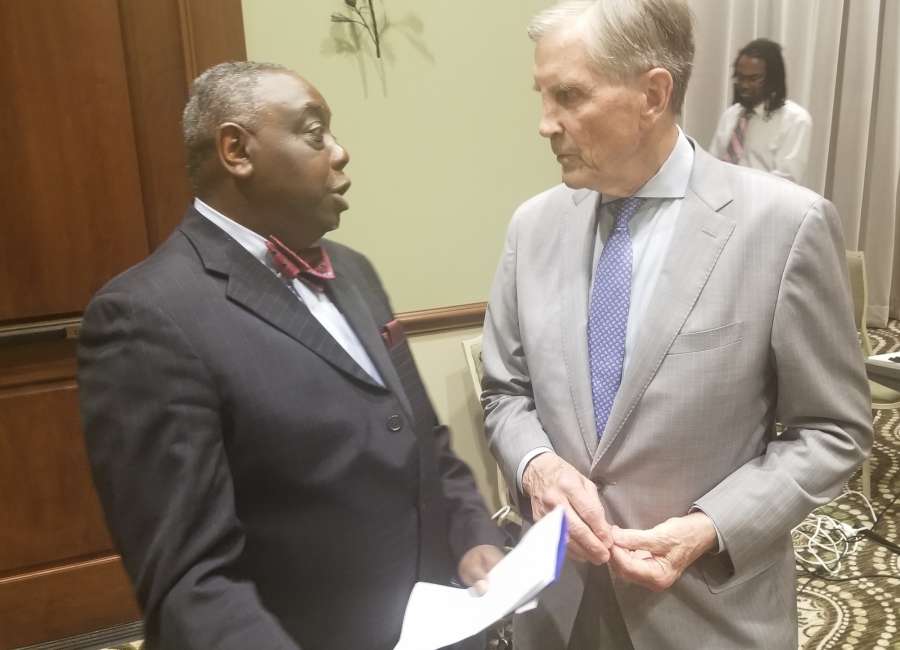 Racism is foolishness, and everyone needs to be respected and to offer their unique gifts to make the world a better place.

That was the message Coach William Alexander "Bill" Curry brought to the Atkinson-Arnall Tribute Dinner on Thursday evening at the Newnan Centre on Lower Fayetteville Road. Curry, 76, a former NFL player and college football coach, was the keynote speaker for the fundraiser sponsored by the Coweta County Democratic Party.
This year's Atkinson-Arnall brought in 220 people – by far the largest ever at the annual event. The previous record was 150 people in 2017.
Curry was introduced by Coweta Democratic activist Dennis Thompson, who got to know Curry when they both played football for Coach Bill Badgett at College Park High School in the 1950s.
"What sets Bill apart is his heart. That's the Bill I know," Thompson said.
Curry peppered his remarks with humor and with sports stories from his high school days – when he was a chubby kid who got drafted by Badgett into the College Park High football program – through his years in the NFL. 
Curry played college ball at the Georgia Institute of Technology and then played for the Green Bay Packers, the Baltimore Colts, the Houston Oilers and the Los Angeles Rams before becoming a college coach at Georgia Tech, the University of Alabama, the University of Kentucky and Georgia State University.
"My job was to hike the ball and be run over slowly. What a privilege to be part of some of the greatest teams of all time," Curry said. 
Curry also talked about the power of one encouraging friend. He named two in his sports life – Thompson when was in high school and Willie Davis during his early days at Green Bay.
Bill Badgett "was the most intimidating presence in the history of the world," Curry said. "We had this incredibly nasty locker room. The CDC could have done cultures and done studies. In the midst of that horror, there was that one caring presence."
When Curry was discouraged and felt like quitting, Thompson was there with an encouraging word – and to help him get his jersey over his pads. 
Curry recalled his joining the Green Bay Packers at the height of the Civil Rights movement. He remembered the cooler temperatures – and some differences in social interactions from what he had known growing up in the Jim Crow South.
"I had never been in a huddle with a black person," he said.
Coach Vince Lombardi set the standard for equality.
"He would not tolerate racism," Curry said. While Lombardi's stance encouraged team unity and cooperation, Curry it went beyond pragmatism.
"He didn't do it for competitive reasons," Curry said. "He did it because it was the right thing to do."
Willie Davis was a massive black man who was a defensive end for the Packers. While playing football, Davis was also studying for his MBA at the University of Chicago.
"How is that for shattering racist stereotypes?"Curry asked.
Curry remembered Davis approaching him, saying he had seen Curry on the field and offering his support and encouragement.
"What did this great man do for the terrified white kid? He didn't just help me get a bunch of Super Bowl rings. He transformed my life," Curry said.
Football, Curry said, is a sport where every team member needs every other teammate to survive. Life – and politics – are also like that.
"Every one of us needs every one of us all day everyday," he said. Along with that is a need to see and love people regardless of their skin color or background.
"I began to learn what is possible in a football environment," Curry said. "You don't ever forget the people who are by your side when there's nothing in it for them."
Curry recited James Patrick Kenney's poem, "The Cold Within," which ends with a group of stranded people dying as their campfire goes out – refusing to give a piece of wood because others around the fire were of a different race, religion or social class.
"What would happen if Dr. Martin Luther King had been seated at the dying fire? What would have happened if Nelson Mandela has been seated at the dying fire? What would have happened if Bart Starr had been seated at the dying fire? What would have happened if Mother Teresa had been seated at the dying fire?" Curry asked.
"Everybody would have lived. Everybody would have prospered," he said. 
"We've lost our way. We all need to have the capacity to throw our resources onto the drying fire, no matter who it might benefit," Curry said.
"We have stopped functioning as a team. We haven't forgotten. It's intentional," Curry said. He spoke of efforts from the top level of government to divide Americans, rather than bring them together.
"Each of us is endowed with a greatness of spirit, to develop it and to give to something bigger than ourselves," he said.
It is vital, Curry said, for Americans to transcend their weaknesses and hatreds, to go beyond the differences between people. "That's when the spirit of greatness triumphs," he said.
Curry had the crowd of 220 stand and join hands. He said when people transcend hatred together, the world changes – not arithmetically or even geometrically – but exponentially.
"It happens in an instant," Curry said, "and you change the world."