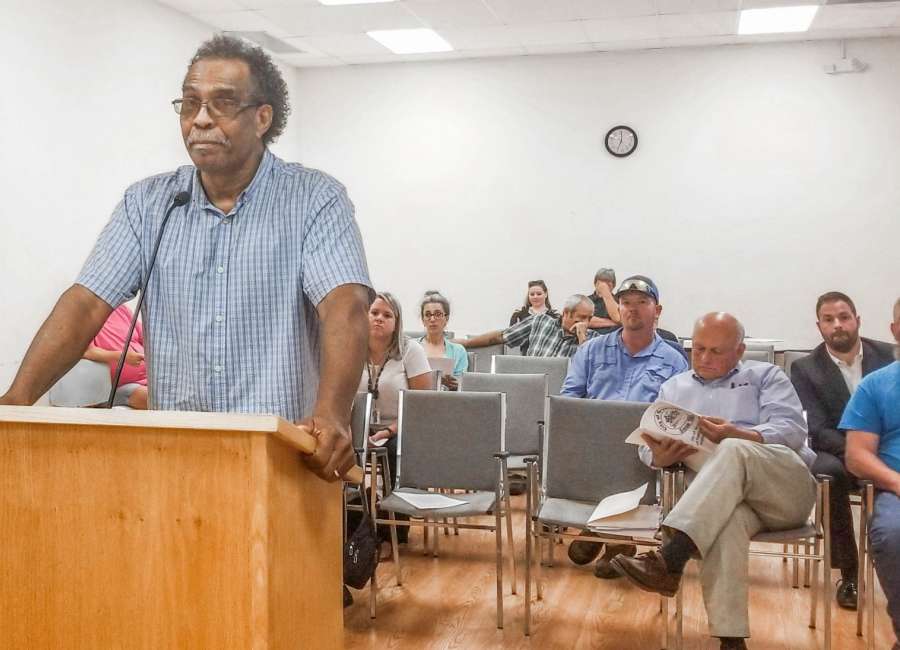 The second millage rate hearing in Grantville was not as quiet as the first – with more questions and suggestions from local citizens.
The hearing was held during the council's work session Monday night. 
Grantville is the only government entity in Coweta County proposing a significant tax increase this year – approximately 40 percent. The city is proposing raising taxes by two mills. A mill is one dollar in taxes for each $1,000 of assessed property values.
According to Stuart Mills, the city's financial analyst, the proposed tax increase will bring in an additional $108,000 in property tax revenue. A one-mill increase would bring in $54,000.
Councilmember Ruby Hines said she had received emails from citizens asking the city not to raise the property taxes. 
Johnny Cooks, a former city council member, said Georgia was a Republican state. "We don't raise taxes, we cut budgets," Cooks said.
The former council member also asked the council if they had the budget in front of them, which they did not.
"You guys don't even have the budget. That doesn't make any sense," he said. 
Cooks said in order to make up for the $108,000 the city would bring in from increased property taxes, there needed to be a five percent decrease in some budget items.
"It's very easy," Cooks said. "Go to your department heads and tell them you want five percent. Have you done that?"
Each citizen who speaks at a council meeting in Grantville is given three minutes to address the council. When Cook's time was up, he asked if another citizen could relinquish their three minutes to him, which one citizen then offered to do, but Mayor Doug Jewell did not allow it.
According to City Attorney Mark Mitchell, the mayor presides over the meeting and is able to make that decision.
Councilman Jim Sells, as well as some citizens, asked the mayor to reconsider. Others then complained about the three-minute rule.
"We have to have rules," Jewell said. "It has been enforced in the past."
Jewell said if he allowed Cooks extra time, he would have to do it for others, which could be time-consuming. 
Jewell invited Cooks to come to the final public hearing Monday evening.
Resident Connie Warren suggested cutting the travel budget.
"I'm a strong component for education, but I like to see a return on that investment and I don't see it in this city," Warren said.
Cali Greiner wanted to know why money was being spent on the passenger depot renovations.
Marion "Sarge" Cieslik suggested that tax hearings with pie charts and graphs would elicit more citizen involvement, so that citizens would know what funds are used for specific purposes.
Cieslik also said the budget could be cut, but the increase may not be a terrible idea and that costs are increasing across the board. 
"Let's not get too behind and have to do a three or four percent millage rate in a few years," Cieslik said. 
Councilman Alan Wacaser said he believed the city was "on the way to turning the corner."
Wacaser said he wanted to make sure the city was able to operate and offer good services to citizens. He said many of the councilmembers were suddenly against spending money.
Sells said the city's budget was a "giant, fat cow that didn't need to be fed anymore." He said the council needed to take the budget more seriously and figure out how to save money. 
Jewell agreed that the city needed to cut expenses.
"I've preached that for four years," Jewell said. 
At the first public hearing, Grieshaber said the proposed budget includes $53,800 for police department pay raises and $24,800 to cover a 10 percent increase in health benefits for city workers. Grantville also is looking at $42,600 for water monitoring and environmental services.
If the two-mill increase is approved, that rate will be reflected in tax bills due by the end of this year.
One more public hearing is set for Aug. 19 at 6:30 p.m.
Grieshaber said the millage rate must be set at the Aug. 19 meeting for it can be included on the county's tax bills. It will be the only item on the Aug. 19 meeting agenda.
In addition to the public hearing, the council also discussed forming a budget committee, comprised of three councilmembers and five citizens.
Hines said she came up with the idea at the Georgia Municipal Association conference earlier this summer.
"It has been said that when we attend the GMA meetings, we don't bring anything back for our great city," Hines said. 
Hines said she met with Grieshaber and Jewell about the idea.
Wacaser suggested Warren, a Grantville citizen who spoke during the public hearing, to serve on the committee.
Hines also suggested the formation of a youth council, which will allow youth to be involved in city government.