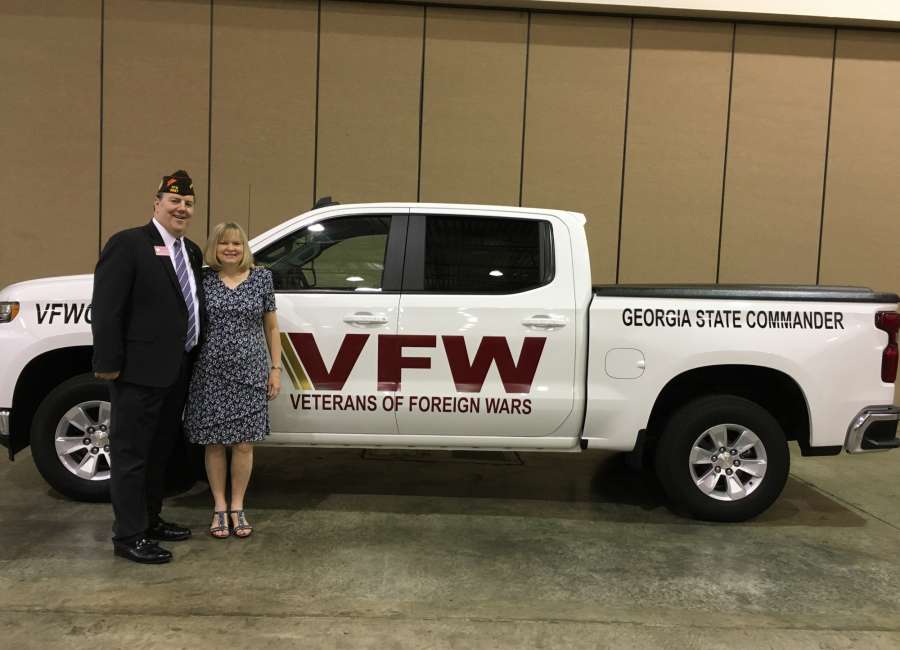 Jeff Carroll, of the local Veterans of Foreign Wars post 2667, was elected state commander of the Georgia VFW posts.
Carroll said he got involved with the VFW at the post level in 2004 after living in Newnan for a few years.
"I just have an enthusiasm and love of veterans and helping them out," he said. "I grew up in the military. I went to 18 different schools. I lived all over the place and so until I moved to Newnan I never had a place that I felt like was home. Once I'd been here a few years, I decided I wanted to get involved."
Carroll said he was stationed in South Korea and served in the Air Force for nine years as a computer programmer.
Previously, Carroll served as the commander for post 2667 and as the district commander before being encouraged to run for the state-level position by John Skinner and other members of the local VFW post.
"He's just a natural born leader," said Skinner, a past commander for VFW post 2667. "His ideas and suggestions are the ideas we need to focus on, whether its collegiate recruiting or veterans going to college after coming home from Afghanistan."
In his position as state commander, Carroll said he is encouraging VFW posts across Georgia to become more active in their communities to appeal to younger veterans.
The VFW posts are trying to hold events, such as cookouts and community service, so members will feel comfortable bringing their spouses and children with them, he said.
"The younger veterans don't want to come sit in meetings, they want to go out and do things," Carroll said.
"A lot of the perception of the VFW is you sit around and have a drink and tell war stories," Skinner said.
Carroll said he feels its easier for veterans to relate to other veterans because of similar experiences while serving. Often when veterans return home, they miss the camaraderie and fellowship they found from serving in the military.
"What we're seeing today is kids come back, soldiers come back and they get lost in Facebook, gaming or something so they lose their interactions," he said. "We really want them to come out and be around other veterans because we think that can help reduce the suicide rates. We think that can help them readjust back into society."
According to Skinner, Carroll is able to bridge the older veterans and the younger veterans together by being able to blend in with the Vietnam-era VFW members and relate to the new members through his understanding of technology. 
"He's a breath of fresh air," he said. "We have to turn it over to people like him and younger ones and he is that perfect bridge between the two. He has that ability to blend that bridge because of his age and timing and its served him so well."