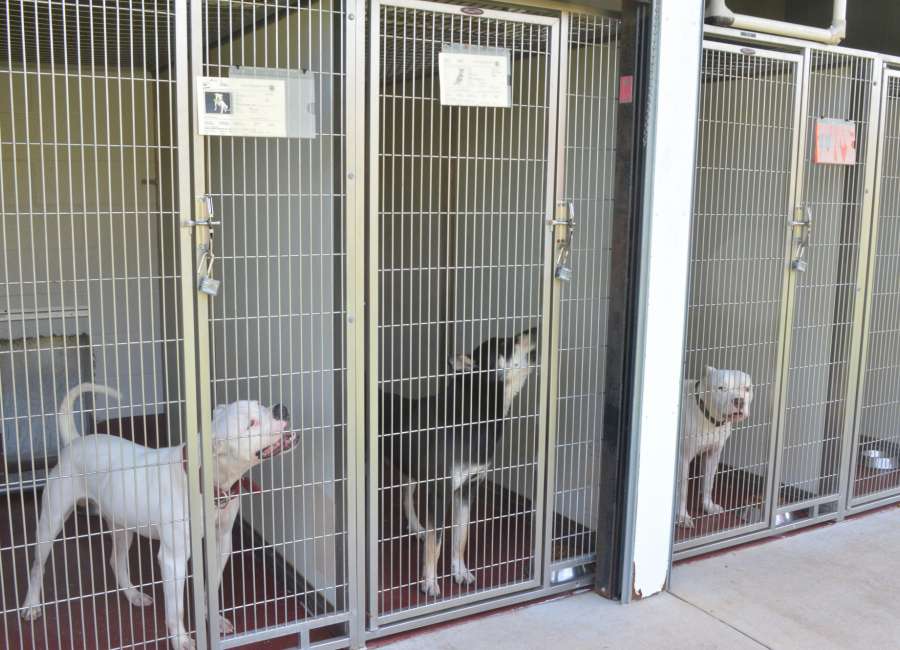 The Coweta County Animal Services shelter is currently in compliance with new state rules regarding the types of enclosures that pets can be housed in, but officials are working to reduce the number of dogs at the facility. 
The Georgia Department of Agriculture's new rules took effect June 1. One prohibits using wire crates, cat and dog carriers and similar enclosures to house pets in licensed facilities, which include animal shelters, breeding facilities and pet stores. 
Coweta County Animal Services has been using crates and carriers to provide for overflow capacity at the shelter, which has been beyond its built capacity for years, as the shelter stopped euthanizing animals deemed adoptable.
Crates can now only be used for up to 24 hours of temporary housing. The other new rule sets specific size and space requirements for pet enclosures.
Another way of increasing capacity is using runs for larger dogs, which have an inside and outside area. Doors and heaters have been installed to keep the outside dogs warm in the winter. 
Now, the shelter will take steps to keep the dogs cooler when temperatures are above 85, said Eddie Whitlock, Coweta County associate administrator. The state wants there to be fans on the dogs and for the concrete to be sprayed with water periodically, he said. 
Approval of the split runs takes the shelter's official capacity from 92 dogs to 132. 
However, the indoor/outdoor runs are meant to give larger dogs more room to move and some time outside. 
"We've talked about taking eight of those and making them available for animals that may have a special needs issues," Whitlock said. "There may be a situation where there is a dog in quarantine that shelter staff don't need to touch. Those dogs can go into the outside run while staff clean the inside run."
There may also be aggressive dogs and some dogs that have issues with being "cage bound" that need more room.
That change would take the capacity down to 124. The runs chosen would be in the isolation or intake area, not on the adoption floor, Whitlock said. 
But the shelter needs to have a little space available to handle the dogs who come in daily, Whitlock said. Operating at 90 percent capacity would be 111 dogs.
On an average week, around 25 dogs come into the shelter, according to Warden Bill McKenzie, director of Coweta Animals Services. 
Coweta officials hope to meet with Humane Society partners next week to talk about ways to get the shelter's occupancy rate down. 
"We want to talk to them… and make them understand what we're up against," Whitlock said. 
To deal with the large number of dogs, animal services will be doing some euthanasia of dogs that are unadoptable. 
"We've had some animals that we know are unadoptable," Whitlock said. Three were scheduled to be put down Friday, he said. "We've got three more to talk about next week when we talk." 
Some of the dogs at the shelter are considered "rescue only." These are dogs with issues, often aggression, that shelter staff aren't comfortable adopting out to the general public. But rescue groups may pull those animals to work on those issues or find a home that can handle them.
"We work with them (rescue groups) before we ever make the decision to put them down," McKenzie said. Some of the dogs have been at the shelter for over a year, he said. 
"We don't want to euthanize a dog that is adoptable if we can do anything else," Whitlock said. But at some point, the decision has to be made that a dog isn't adoptable, he said. Sometimes euthanasia is the more humane choice for a dog that will never be adopted.
Several members of the staff would have to look at a dog and determine it is unadoptable and should be euthanized, according to McKenzie.
"Nobody likes this," Whitlock said. "The rescue folks don't. We don't. It's a cultural problem. It's not an animal problem, it's a societal problem."
That's not to say animals aren't euthanized at the shelter. Most sick or injured animals are rescued, but some are in such bad shape that they have to be put down. Dogs that are extremely aggressive may also be put down. 
"We are slow to authorize euthanization, but I think that is for a good reason," McKenzie said. According to the Department of Agriculture, the shelter actually qualifies as a "no kill" shelter, he said. 
Though the shelter also has a lot of cats, that's not as much of an issue. Kittens are happy to be with their littermates and mothers, and cats can easily share enclosures, according to Whitlock.
Some cats in the intake area are in steel cages, which will be taken out and replaced with new cat "condos." The steel cages will be stored to be used in the future if needed for emergencies.