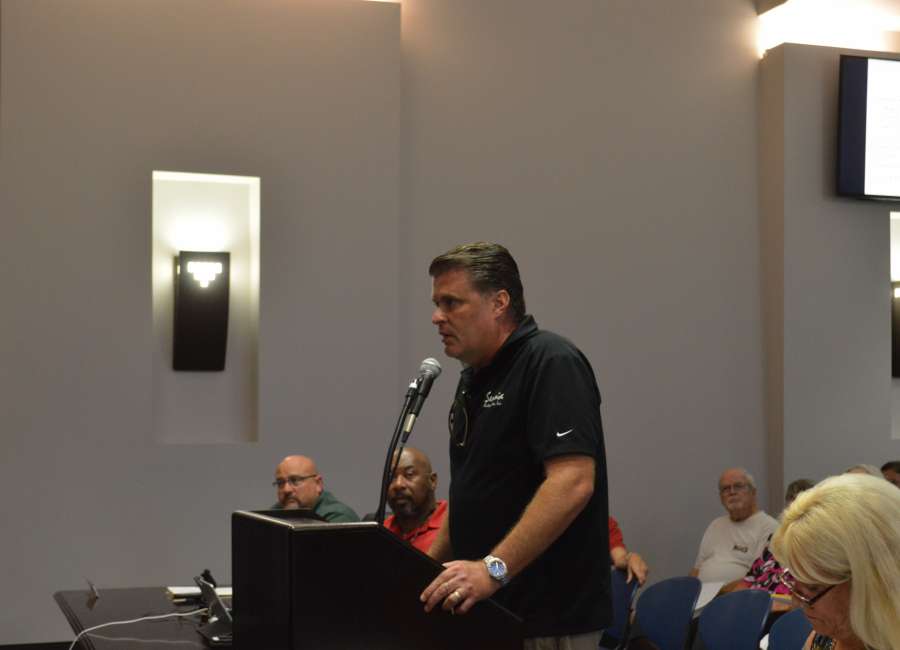 Not everyone is happy about the possibility of bringing food trucks to Senoia on Monday evenings. 
Two restaurant owners expressed concerns to the Senoia City Council Monday night, as the council prepared to approve the second and final reading of a new ordinance that would allow food trucks in certain areas, under certain circumstances. 
The new ordinance will allow food trucks on Mondays from 5 to 10 p.m. from May to October. Food trucks would only be allowed downtown in the area on Monday between Johnson and Seavy streets, and in the parking lot behind city hall. They could also be allowed in the Seavy Street and Marimac Lakes parks with a special permit, said Community Development Director Dina Rimi. There will be a $50 application fee. 
Most downtown Senoia restaurants are closed on Mondays, but some are open – including Nic and Norman's and Jimmy Pomodoro's. 
Scott Tigchelaar is part owner of Nic and Norman's. "We love food trucks," Tigchelaar said. "We've talked about them from a landlord perspective, from a tenant restaurant perspective and from a restaurant owner perspective."
Once upon a time, "there was a food truck that just showed up in town. It upset a lot of the restaurants at the time," Tigchelaar said. 
"As a restaurant owner, I don't know that we are ready in Senoia. We've got a lot of restaurants in town and they're not as busy as they could be," he said.
"We're growing as a town, that's great. I just urge some caution on the food truck thing," he said. Tigchelaar is a member of the Senoia Downtown Development Authority, which has brought in food trucks during major events.
"And usually nobody complains because everybody's got plenty of business," Tigchelaar said. But he's concerned that a food truck wouldn't have enough business on a regular Monday, and "that may sully our reputation as a town for being able to support them in the future when it's more appropriate."
Jim White is owner of Jimmy Pomodoro's and Bistro Hilary. 
"Obviously we took a real big leap of faith in Senoia because we love what we see," he said. "We're huge fans of food trucks. Obviously we believe in the restaurant business," White said. 
But there can be a conflict between food trucks and restaurants – especially on Monday, which is "probably the most difficult night of the week."
Food trucks don't have to pay rent or have to have a full-time staff. "It's a lot cheaper for them to operate, obviously. It's the complete opposite of what we do downtown," White said. 
"The restaurant industry is one of the hardest around and to add something like that, as much as we love them… I think a Monday night addition could very much hurt the restaurant business downtown," White said. 
Bringing in food trucks is something the council has been talking about for a while, said Councilman Chuck Eichorst. 
"I think the intention of this is to put this out here to see if this is going to work or not work," he said. The ordinance has a sunset provision, so it will expire unless the council renews it. 
"I think we need to do this, personally," Eichorst said. Of the 10 restaurants near downtown, only four are open Monday nights, and that's why the council choose Mondays. 
"My thought here is to see how this is going to work and know if this is something that has a demand out there from the residents."
Mayor Jeff Fisher said that section of downtown is pretty empty on Mondays, and the target demographic for the food trucks includes families with children and people on golf carts who want to grab a bite and sit outside. They are people who probably wouldn't be going to a restaurant on Monday night, he said.
"We don't know if this is going to work. That is why the sunset provision is put in there," Fisher said. "We want to try it. We want to put an age-old rumor to rest. Is this something that can be good for a city or be bad for a city? The only way you're going to prove that is to put it in action and not be fearful of it."
The council voted unanimously to approve the new ordinance.