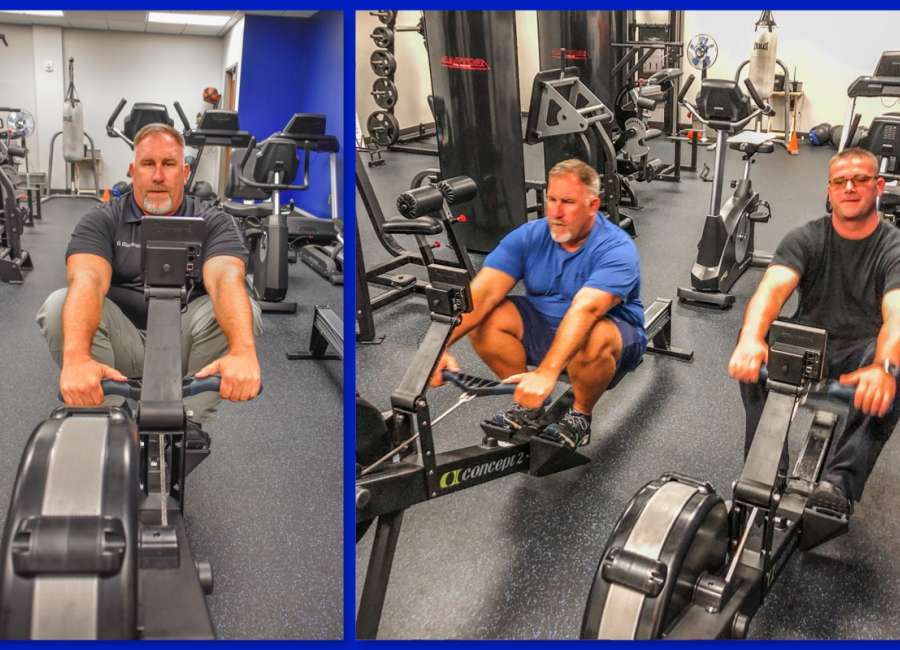 A new way of determining optimal physical fitness has the Newnan Police Department in the spotlight. 
Instead of running, sit-ups and push-ups, Newnan officers are now utilizing a rowing machine to get an accurate baseline on their fitness for street work.
Lt. Brent Blankenship is responsible for bringing the rowing program to the NPD.  
Last year, while attending the annual Georgia Police Accreditation Coalition Conference, Blankenship attended a presentation by the Texas Department of Public Safety regarding how rowing is changing the standard of physical fitness for public safety. 
"One of the main points was life expectancy," Blankenship said. "In the U.S., women are 82, men are 79, but police are 57."
The No. 1 killer for police? Cardiac issues, according to Blankenship. 
"That was a wake-up call hard to ignore," he said.
In the past, most law enforcement agencies have utilized the Cooper standard for fitness. This includes running a mile and a half in 15 minutes and 44 seconds, along with doing 30 sit-ups, 25 push-ups and having a vertical jump of at least 13 inches.
Under the proposed changes, developed by the Texas Department of Public Safety, Newnan would eliminate the Cooper standard and opt for results derived from a Concept 2 Rower.
Rowing, Blankenship said, tests both hemispheres of the body – waist up and waist down - along with both the left and right side of the brain, all working simultaneously. 
Capt. Greg Davis from the Texas Department of Public Safety worked with Blankenship to help get the program up and running. It is the first in the state of Georgia.
During Davis' visit to the NPD, several other law enforcement agencies in Georgia came to get a preview.
"We're leading the way on this," Blankenship said. 
To get a baseline, officers are required to row 2,000 meters (1.24 miles) in under 10 minutes. Another test requires a 500-meter sprint. The scoring is based on age, gender and weight. 
The fitness required to complete the rowing successfully is far more indicative of what police are required to do in the line of duty, according to Deputy Chief Mark Cooper.
"Running a mile and a half isn't something police typically do," Cooper said. "Police are typically working on short bursts of energy, similar to the results of rowing."
In Texas, officers are required to jump off the rower upon completion and handcuff a mannequin – something NPD plans on including with their training as well. 
Instituting a new physical fitness policy isn't a great way to win a popularity contest at a police department, but Blankenship said the new initiative has been met with a surprising optimism. 
Initially, the department purchased two rowers – one for daily use and one for testing. As lines began to form for the first machine, the second was put into daily use and soon, the demand for a third was clear.
"We're seeing folks in the gym I've never seen in 21 years," Blankenship said. "The younger guys like seeing the veterans in the gym."
Along with their 30-minute lunch break, officers are also given a half-hour each day to exercise. 
Not only is morale improving, but waistlines are shrinking, according to Blankenship. He and  Officer Nick White have lost a combined 100 lbs. since starting the program in February.  
Chief Douglas "Buster" Meadows had knee surgery earlier this year and said the rowing is a low-impact solution to staying active. He hopes to complete a full marathon – more than 42,000 meters – by March 2020. 
Once the baseline data has been collected, it will be sent to Texas and long-term goals will be set for the department.