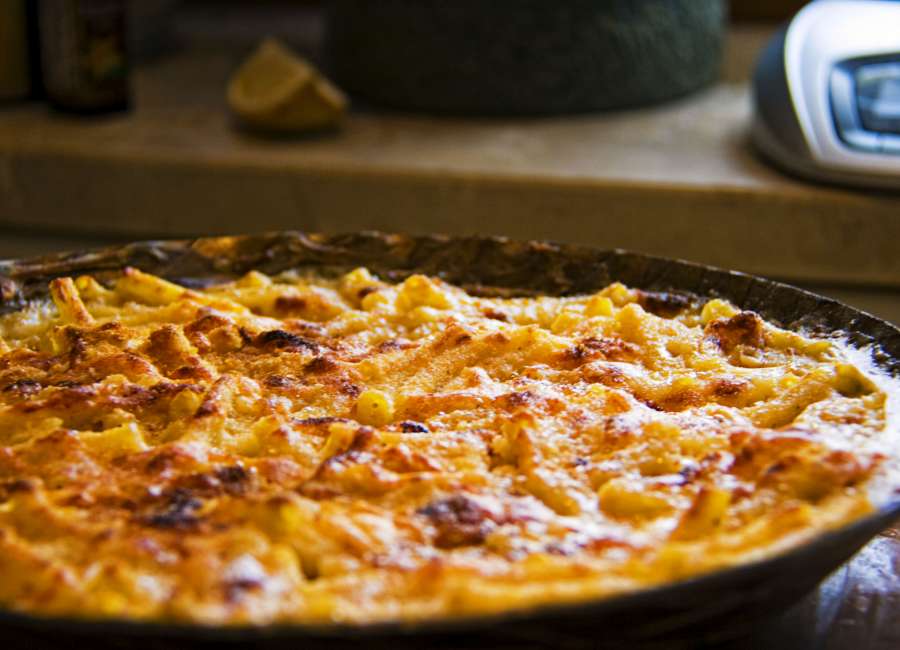 Here are some recipes to make french fries and mac and cheese at home. July 12 and 13 are national French Fry Day and Mac and Cheese Day, respectively.
Baked Mac and Cheese
Ingredients:
1/2 pound elbow macaroni
3 tablespoons butter
3 tablespoons flour
1 tablespoon powdered mustard
3 cups milk
1/2 cup yellow onion, finely diced
1 bay leaf
1/2 teaspoon paprika
1 large egg
12 ounces sharp cheddar, shredded
1 teaspoon kosher salt
Fresh black pepper
Topping:
3 tablespoons butter
1 cup panko bread crumbs
Recipe:
Preheat oven to 350 degrees F.
In a large pot of boiling, salted water cook the pasta to al dente.
While the pasta is cooking, in a separate pot, melt the butter. Whisk in the flour and mustard and keep it moving for about five minutes. Make sure it's free of lumps. Stir in the milk, onion, bay leaf, and paprika. Simmer for ten minutes and remove the bay leaf.
Temper in the egg. Stir in 3/4 of the cheese. Season with salt and pepper. Fold the macaroni into the mix and pour into a 2-quart casserole dish. Top with remaining cheese.
Melt the butter in a saute pan and toss the bread crumbs to coat. Top the macaroni with the bread crumbs. Bake for 30 minutes. Remove from oven and rest for five minutes before serving.
(Recipe courtesy: foodnetwork.com)
Creamy Mac and Cheese
Ingredients:
1 pound of bitesize pasta, such as macaroni or rotini 
1 stick of butter, cubed
1 12 ounce can of evaporated milk
2 large eggs
3 cups of shredded sharp cheddar cheese
1 cup of shredded jack cheese
Kosher salt
Ground white (or black) pepper
Recipe:
Cook pasta according to package directions, add 1 teaspoon of kosher salt to boiling water.
Drain pasta well and return to pot while still hot.
Turn heat to low and mix butter into cooked pasta. Stir until melted.
Combine eggs, milk, 1/2 teaspoon of kosher salt and a few dashes of pepper in a small bowl. Whisk together.
Add milk mixture to pasta and stir, follow with cheese. Continue stirring over low heat until cheese has melted.
Serve warm and enjoy!
(Recipe courtesy: number-2-pencil.com)
French Fries
Ingredients:
5 pounds russet potatoes
Vegetable or peanut oil, for frying
Sea salt
Recipe:
Peel and rinse the potatoes. Then cut them into sticks by cutting the potato in 4 or 5 vertical pieces, and then cutting each piece into sticks.
Place them in a large bowl and cover with cold water. Allow them to soak, 2 to 3 hours. (You can also stick them in the fridge and let them soak overnight.
When you're ready to make the fries, drain off the water and lay the potatoes on 2 baking sheets lined with paper towels. Blot with paper towels to dry them.
Heat a few inches of oil in a heavy pot to 300 degrees F. In 3 or 4 batches, cook the potatoes until soft, 4 to 5 minutes per batch. They should not be brown at this point! You just want to start the cooking process. Remove each batch and drain on new/dry paper towels.
Once all the potatoes have been fried at 300 degrees F, turn up the heat until the oil reaches 400 degrees F. When the oil's hot, start frying the potatoes in batches again, cooking until the fries are golden and crisp. Remove the potatoes from the oil and drain on paper towels.
Sprinkle with sea salt and serve.
(Recipe courtesy: foodnetwork.com)
Sweet Potato Fries
Ingredients:
6 cups peanut oil, for frying
1 teaspoon kosher salt
1/2 teaspoon garlic powder
1/2 teaspoon smoked paprika
1/8 teaspoon sugar
1 cup cornstarch
3/4 cup club soda, cold
2 pounds sweet potatoes, cut into 1/2 by 1/4-inch fries
Recipe:
Heat the oil to 375 degrees F in a heavy-bottomed Dutch oven or deep fryer. Preheat the oven to 200 degrees F.
Mix the salt, garlic powder, paprika and sugar in a bowl and set aside.
Whisk the cornstarch and club soda in a mixing bowl. In batches, dip the potatoes in the batter, allow any excess to drip off and hold on a wire rack. Repeat with rest of the potatoes.
Fry half the potatoes, stirring occasionally until golden brown and crispy, 6 to 8 minutes. Sprinkle with the seasoning and hold in the oven on a paper towel-lined baking sheet. Repeat with the last batch of potatoes.
(Recipe courtesy: foodnetwork.com)