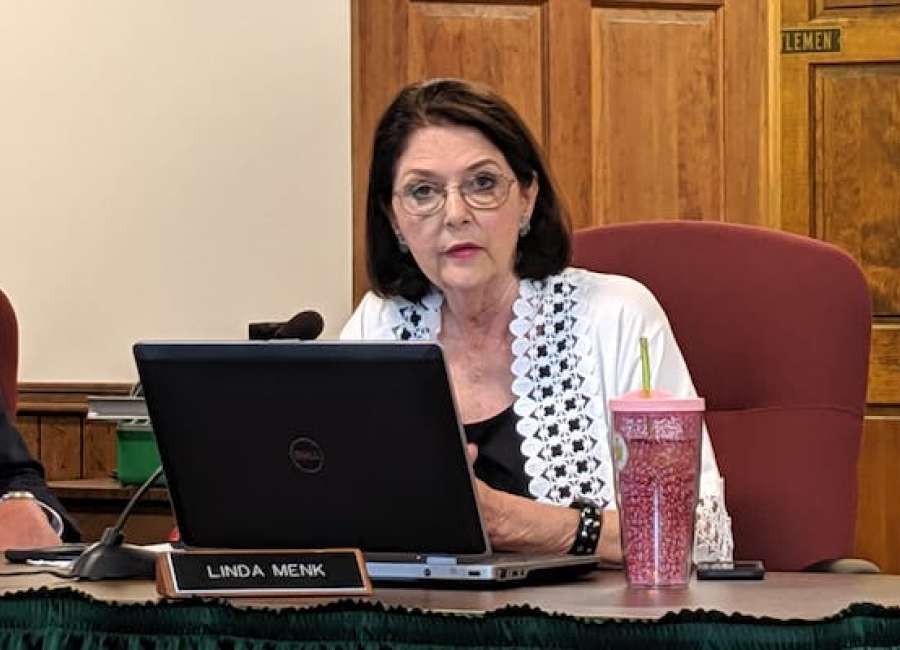 Despite calls for her resignation from the Coweta County Board of Education, Linda Menk said she has no intention of stepping down.

"I signed up for this role," Menk said at the board's July 9 meeting. "I ran for office. I threw my name in the hat, and I understood the risks associated with it if I kept my promises to the voters. I will not deviate from those promises. Not one inch. I will not give in. It's not gonna happen."
Menk, who was re-elected to the nonpartisan, unpaid board last year, drew public criticism after a 10-month independent investigation into allegations of corruption by board members and Coweta County School System staff. Investigators determined the allegations were false, and said the claims were based partly on information provided by Menk to further a political agenda.
The allegations stemmed from the bid process for a more than $5 million high school stadium improvement project, which included track renovations and installation of synthetic turf on athletic fields at East Coweta, Newnan and Northgate high schools. According to investigative findings released by Wilson, Morton & Downs, LLC in May, Menk was the only school board member who did not fully cooperate with the investigation.
In April 2018, a rival vendor provided unfavorable data to Menk about Field Turf – the product of choice for the highest-scoring bidder, Deluxe Athletics. Using that information, Menk attempted to persuade her fellow board members to delay a critically timed vote on the contract. When the board voted over her objections to award the contract to Deluxe, Menk "began actively participating in building a case against her own board to undermine their vote and create a public scandal," investigators wrote.
Ben Parsons spoke to the board in support of Menk, first sharply criticizing the Newnan-Coweta Chamber of Commerce and its president and CEO, Candace Boothby.
The chamber issued a letter formally requesting that the board publicly censure Menk, bring in law enforcement to determine whether any crimes have been committed, and attempt to recover the nearly $200,000 in public funds spent on the investigation. (See chamber letter, page 4A.)
"Amidst all the calls to resign, recall and perhaps a public censure of Linda Menk, I see we now have the Newnan-Coweta Chamber of Commerce desiring the filing of criminal charges," Parsons said. "Apparently, Candace Boothby believes the Newnan-Coweta Chamber should be an extension of the district attorney's office, and she wishes to take on the role of assistant DA."
Parsons said those who say they want Menk to resign are wrong.
"You want her on this board," he said. "Now, you may be telling yourself and your constituents otherwise. In reality, you want her and you need her presence, because she is the only one who is willing to say no or at least stop and take a second look at a matter up for a vote. She is your safety valve when you lack the ability to say no."
A "no" vote or a delay is the correct vote sometimes, Parsons said. To oppose the turf project took courage on Menk's part, he said, especially when the Sports Turf product has a questionable safety rating and a decades-long history of legal trouble.
"Do we not want to remember that this is for the children, and maybe you should slow down and take a second look?" Parsons said.
Speaker Ken Bennett took issue with Menk's behavior toward the other members of the board, addressing her directly as he referred to personal emails obtained by The Newnan Times-Herald under Georgia's Open Records Act. In the emails, Menk discussed secretly reaching out to the FBI in May 2018 to initiate an investigation and referred to her fellow board members as "culprits" and "the other side."
"Do you mean your fellow school board members, who you work with?" Bennett said.
Bennett also took issue with Menk writing that the public did not need to know that the FBI was involved.
"You are a public, elected official," Bennett said. "Who are you to decide what the public you serve is entitled to? Who led you to believe you had this power?"
The emails revealed Menk arranged to have comments that "put her on the spot" edited out of a video.
"This is manipulation of public information," Bennett said.
The emails indicate Menk does not have the best interests of Coweta students as her goal, he said.
"Linda Menk is your interest and goal," Bennett said. "Please do not tell us these emails are fake, miswritten, taken out of context…that's a tired statement. These are your written thoughts. At some point, you need to take responsibility for what you have written and created.
As a voter in your district, I ask you to tender your resignation and stop this bleeding of this community," Bennett added.
Menk responded, referring to "the witch hunt that has ensued by certain members of the public."
"I can respect that," she said. "The one thing that I would ask is that if you want to attack me, continue to attack me and go on this witch hunt, come after me and my family, we're big enough to take it," she said. "It's what we do. We understand."
Criticism is part of public service, Menk said.
"So I hope that if you want to continue the witch hunt and the public bashing, come on," she said. "I'm ready for it. I'm a big girl. I understood what I was risking when I ran for this office."
"And sir, I will not change," Menk added, addressing Bennett directly.
"Well, that's unfortunate," Bennett said.
"No, that's very fortunate," Menk said.
"Very unfortunate," Bennett said. "I'm sorry you feel that way."
"That's all I'm going to comment to you, sir," Menk said.