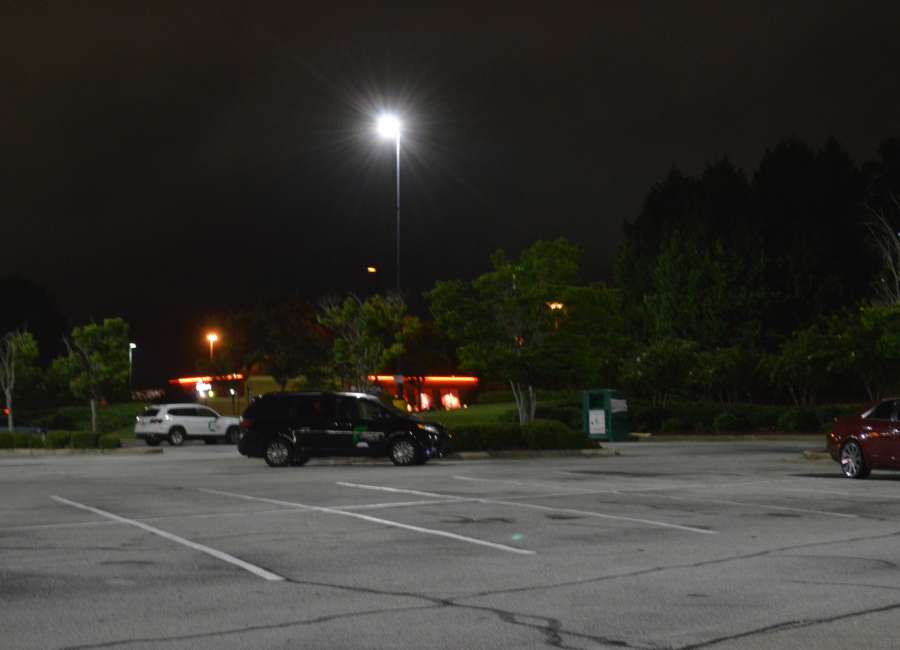 A significant portion of Coweta's homeless population sleeps in their cars, and a group of nonprofits working on the homelessness and housing situation recently invited local law enforcement to discuss the issue in light of a recent shooting involving a man who was sleeping in a vehicle in Newnan. 
Coweta Sheriff Lenn Wood, Newnan Police Chief Douglas "Buster" Meadows and CCSO Major Mark Fenninger attended the meeting of the Sustainable Housing Working Group.
On June 30, a deputy knocked on the window of a vehicle where a man was sleeping behind the T-Mobile store at the Newnan Pavilion. The man spoke with the deputy but would not roll down the window or produce his identification, then drove away while the deputy was trying to talk to him, ramming several police cruisers in the process. The deputy pursued the man, identified at Nicholas Bolton, and the incident ended when the deputy shot Bolton through the windshield, critically injuring him. 
"We'd like to understand, so we can share with people, if there is a protocol around approaching somebody who is sleeping in a car," said Pam Gable, founder of the working group.
She said she'd like to know how nonprofits can help prepare people who are living in their cars how to deal with law enforcement successfully. 
When the housing group did a count of homeless people in January, they relied on the sheriff's department and police department to tell them where the homeless were. 
Law enforcement interacts with homeless people in Coweta on a regular basis, and the overwhelming number of those interactions are positive. There are even a few deputies who have taken it on themselves to reach out to and look out for the homeless population, according to Fenninger and Wood. 
Those deputies know which people are causing problems and which ones are not, Fenninger said, and they've built a rapport with the people in the homeless community.
"They can tell you every one of their names," he said. "When a new one shows up, they immediately know about it."
Choices, and safe sleep spaces
Some homeless people are trying to get jobs and get back on their feet, and some have jobs. Others prefer their way of life. 
One man has been living in his van behind a local store for several years.
"We know where he lives, where he works," Fenninger said. "He said, 'I don't want to live in a house, I want to live in my van.'"
"He doesn't cause a problem, and it's not an issue to us," Wood said. 
Normally, when officers talk to someone who is sleeping in a car, all they need is for people to identify themselves. If the person is somewhere a property owner doesn't allow it, then deputies will tell the person they need to move somewhere else, according to Wood.
"We tell them all the time that you can't sleep right there," Wood said, then they'll suggest better places for them to go. 
Wood said parking in the middle of a parking lot is one thing, but cars parked behind buildings can raise suspicion. 
The sheriff's office got a call about Bolton's vehicle because it was behind a cell phone store, and those types of establishments often are targets of robbery, according to Wood. 
"Our protocol is wake up, we need to see your ID," Wood said – if the deputies aren't already familiar with them. 
Officers offer help
When deputies notice someone isn't where he or she usually is, often they will try to find out why.
About a year ago, Deputy Josh Joyner noticed a woman he usually saw in a particular place was no longer there. He started asking around and found out she was in the hospital. He then set out to find what happened to the woman's car and belongings, and found out the car had been towed.
Joyner worked with the towing company to get the women's vehicle out of impound so she would still have her vehicle and her possessions when she got out of the hospital, Fenninger said. 
One place known to allow sleeping in vehicles – including campers – is Walmart, as long as people don't litter or interfere with customers. But people need to be aware that only applies to the section of the parking lot directly in front of Walmart, Meadows said.
The shopping center parking lot has three different owners, Meadows said. The owners of the parking lot between Hobby Lobby and the service road between Walmart and Lowe's have problems with people parking there overnight – and will boot vehicles, he said. Overnight parking also isn't allowed in front of Lowe's. 
None of the truck stops or gas stations at Exit 41 or 51 will allow car sleeping, Fenninger said. 
"Walmart is well-lit. There's food access, bathrooms and cameras," said Fenninger. 
A homeless family with children wouldn't want to be sleeping in the Kohl's parking lot, for instance, he said.
"The first thing is, Kohl's is not going to allow it. And you don't want them where they are by themselves – you want them in an area with visibility," he said. 
Nonprofits could contact local businesses to find out whether they would allow someone to sleep in a car in their parking lots, Meadows said. 
"If a business says, 'I don't want them here,' then they've got to leave," Meadows said.
If a person comes back after being told to leave, he or she can be arrested for criminal trespass. 
Depending on where someone is sleeping, officers might give them suggestions for a better place to park, he said. And if there is a complaint about someone, the department would investigate it and the results of that investigation would determine if any action is taken.
Meadows was asked about the protocol of people sleeping in cars on public property, such as downtown parking spaces. 
"If they're not trashing the area and not causing any issues, we let them stay," Meadows said.