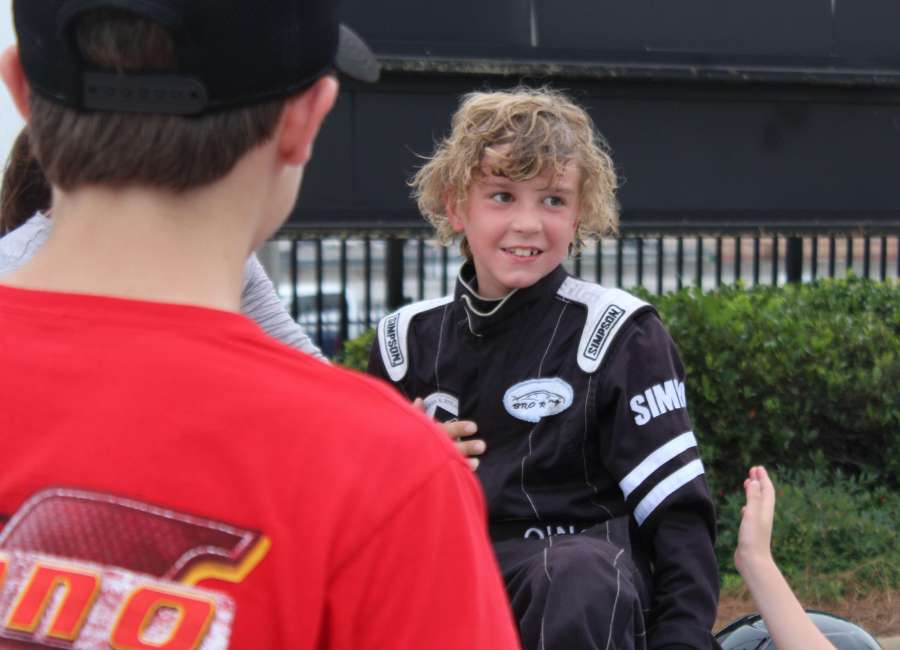 Good things come to those who wait.
After a showing consistency throughout the season, the hard work finally paid off for Grantville's Baylor O'Neil held off 11 other drivers in the crowded field to win for the first time in the Rookie  Bandoleros Division.
He wasn't the only driver from Coweta County to have a solid run.
After three straight victories in the Pro Division, Joshua Hicks settled for second place.
The season finale for Thursday Thunder pre- sented By Papa John's is primed to have a show- down for the premier division championship after Thursday night's Round 9 action.
For the second night in a row, Jensen Jor- gensen found victory lane in the VP Racing Fuels Pro Division fea- ture, outrunning divi- sion leader Joshua Hicks from the pole position to take his third victory of the season. Jorgensen's victories this week have allowed him to narrow the gap between himself and Hicks to just three points with one race remaining.
"That's as much as you can ask for, especially with some of the races that didn't shake out the
way I wanted them to this year," Jorgensen said in victory lane. "We're here at the end just three points back and I know what I need to do next week and that's what I'm gonna do."
While Jorgensen took the victory, Hicks was running just a fraction of a second behind after the 25-lap run to the fin- ish. After Thursday's runner-up effort, the Senoia driver predicted he and Jorgensen would run close together again on championship night.
"We're running almost identical right now; he seems to get a jump on the initial start and then we balance out after that," Hicks said. "I'm very thankful to have the opportunity - I'm just trying to make the mostofitandseeifwe can pull it off."
"It's going to be intense," Jorgensen added regarding the July 18 finale. "We made huge gains going into this week and the car is finally handling the way I want it, so I'm going into next week with confidence."
The championship pic- ture in the CMS Group Environmental Ser- vices Semi-Pro division also narrowed Thursday night as Nick Woodall took his fourth victory of the season. With points leader DJ Canipe finish-
ing 4th, the win brings Woodall to within 10 points of Canipe for the title next week.
"I just gotta try my hardest get another win next week and make up 10 more points," Wood- all said. "I have a good crew chief and a good car so hopefully we can get it done."
In the Racing Radios Bandits division fea- ture Lucas Vera drove away from some scrappy racing behind him to grab his fourth victory of the season. Divi- sion point leader Car- son Ruark finished 3rd while his closest chal- lenger for the title Gar- rett Gumm finished 5th. Carson's brother Lucas Ruark won The Associ- ates Group Young Lions feature, extending his healthy championship advantage over Ashton Whitener, who finished 3rd.
In the Wallace Elec- tric Masters division feature Doug Stevens started 2nd but powered his way around Bill Ple- mons Jr. with 7 laps to go to grab his first vic- tory of the 2019 Thurs- day Thunder season. Plemons, who has seven victories this season, is in control of the champi- onship heading into the finale.
One day after battling for a victory only to get caught up in a last-lap
incident, Parker Eatmon rebounded Thursday night to take the check- ered flag in the Racing Radios Outlaws division feature.
"I just had to hit my marks, not overdrive the corner or mirror drive and focus on getting it done," Eatmon said after
the victory. He sits sec- ond in the division standings, but leader Carson Ramsay carries a comfortable 30 point advantage into the final race.
The Racing Radios Rookie Bandolero fea- ture produced a first- time Thursday Thun-
der winner as 9-year-old Baylor O'Neil piloted his No. 99 to victory from the 5th starting position. The Chargers feature also ended with a new winner; Graham Campbell took his first checkered flag in just his third start in a Legends car.