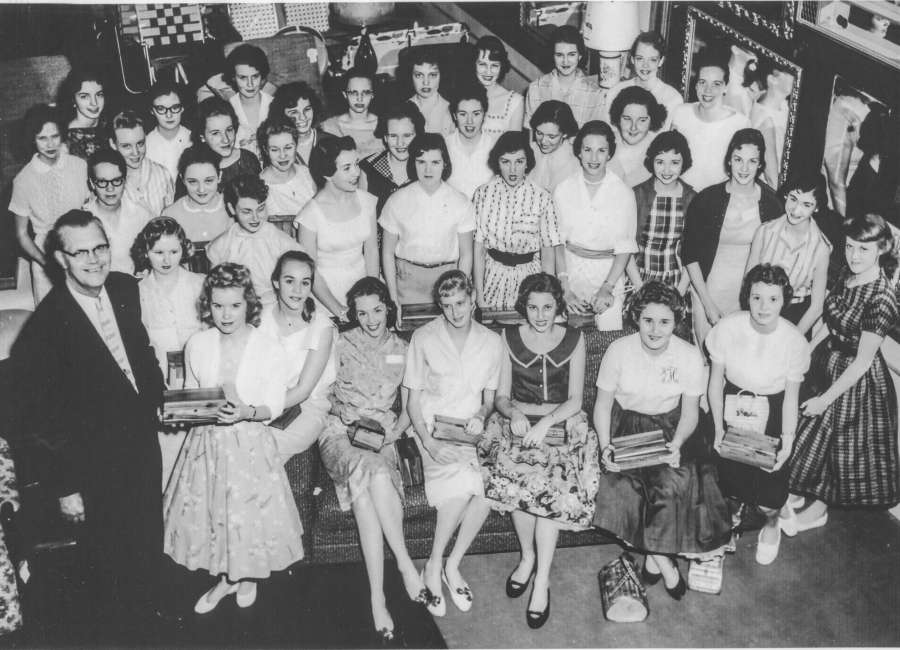 Senior girls of Newnan High School were presented with miniature Lane Cedar Chests by the Henson Furniture Company as a graduation gift. 

This is an annual custom of the Henson Company and the presentation was made last week by Morris Fincher, manager of the Newnan store. 
Pictured above with Mr. Fincher are Chloe Adeline Alexander, Sandra Elizabeth Alexander, Juanita Carolyn Beckom, Evelyn Patricia Bolling, Janice Mae Cash, Annette Francine Chandler, Mary Jeane Cline, Susan Jane Cole, Felicia Ann Collins, Mildred Elise Cook, Sharon Ann Craddock, Beulah Delphine Dykes, Charlotte Rebecca Eidson, Sara Ann Evans, Ann Irvin Forbus, Sonia Mayner Guillespie, Harriet Trepnell Glover, Ruth Cole Hammett, Janet Ruby Hardy, Melissa Ann Hayes, Linda Lee Hight, Julie Ruth Hood, Ann Marie Jackson, Eva Elizabeth Jackson, HJariette Janelle Jones, Louise Stapleton Jones, Eleanor Ann Loftin, LaRealia Dean Lovvorn, Bessie Zellars Miller, Judith Lee Nixon, Sally Holle O'Kelley, Emma Brenda Owensby, Brenda Sue Phillips, Mable Janet Pitts, Bonnie LaNelle Robards, Letitia Leigh Sanders, Joan Kathlees Sewell, Jane Elizabeth Shell, Patricia Lee Shelnutt, Barbare J. Otwell Slauton, Janie Marie Stapler, Peggy Jo Starnes, Susis Jane Stevems Sarah Kathryn Strickland, Virginia Elaine Turner, Mary Alice Upshaw, Nancy Patrice Wiles, Helen Virginia Wilkinson, Margaret Linda Joyce Whittmaler, Donna Aillene Wood and Gwendolyn Pauline Young. Photo courtesy of Bill Huey. 
Want to share a local picture from the past? We'd love to see it! You can email a copy to clay@newnan.com or stop by our office on 16 Jefferson Street, Newnan, any time between 8 a.m. and 5 p.m.