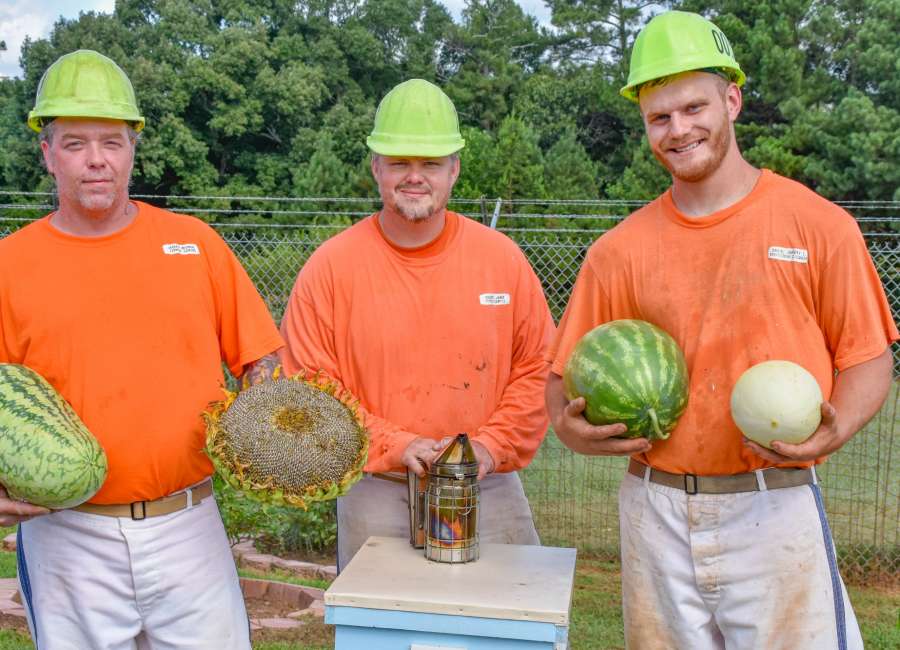 Creating a prison that inmates want to go to isn't usually on the top of any warden's to-do list. 

But in Coweta County, Warden Bill McKenzie says he typically fields daily inquiries from other prisoners wanting to transfer to his facility.
"They have to get through my pit bull first," he says, jokingly referring to LaKina Gay, his office manager working in the adjoining room. 
McKenzie acknowledges the daily influx of calls from other inmates and their loved ones attempting to transfer to Coweta County. The prison currently houses 214 inmates and has the capacity to hold 216.
It can't be for the food, can it?
"Inmates talk and they try to shop around to get to the best camp they can, usually the one with the least problems," he said. "We don't have issues with violence, I feed good and we respect the inmates. As long as they show they're trying, we can work with them."
Several years ago, McKenzie decided to try to save a bit of money on food costs by starting a small vegetable garden at the prison.
Chickens came next, and this year saw the introduction of honeybees with the goal of helping the garden produce 30 percent more vegetables.
A former inmate – a transfer – led the beekeeping program and taught other inmates the skills, which included the construction of bee boxes. The Coweta Beekeepers Association donated two beekeeping suits and other supplies to the prison. 
The plans were to eventually produce and package honey, but bee season got off to a late start this spring and the sudden departure of a queen bee affected the initial crop of honey. 
Ultimately, 12 pounds of honey was harvested from the five hives – a little less than hoped. However, if all goes well, McKenzie expects 48 pounds by the next harvest.
"We also need a name for the honey," McKenzie said, laughing. "Got any ideas?"
The bees have already made the vegetable harvest the best one yet – helping yield 1,600 pounds of squash, 525 pounds of watermelons and more than 1,000 pounds of peppers and tomatoes, which keeps the prison kitchen stocked with fresh vegetables.
McKenzie said some of the best advice came from former prison warden, "Cap'n" Wendell Whitlock, who told him, "If you're going to work 'em, and expect them to work hard, you gotta feed 'em."
"That's really the only pay we can offer them – a good meal," McKenzie said. "It might not be exactly what they want, but it's good, and I haven't seen many losing a lot of weight while they're here."
All inmates at the Coweta County prison are required to work full time. Some work inside, cooking, cleaning or doing laundry. They also work in the county body shop, doing vehicle and heavy equipment repairs, plus road and rights-of-way maintenance.
Inmates also staff the animal shelter, taking care of animals and keeping the facility clean. 
"I let them know that if they're willing to do the work, they're going to see the benefits," McKenzie said. "I feed good and show respect. As long as they show they're trying, we can work with them."
The work provides valuable job experience for inmates, who often can get jobs on road crews or in body shops after they are released. 
"I think our attitude is to try to rehabilitate and make them the best we possibly can before they go back to their loved ones," McKenzie said. 
The prison has just started an on-the-job training certificate program, in partnership with Central Georgia Technical College. Through the program, inmates earn certificates they can use to get jobs once they are released. 
Last year, the prison started a welding program with West Georgia Technical College, and welding classes are held twice a week.
For several inmates, working with bees has taught them lessons in teamwork, patience, and seeing another way of being connected to nature. By working outside their comfort zone, confidence is built, and will hopefully stick with them.
They've also learned not to eat bananas before tending the hives. "The bees can smell the bananas and will pop you," McKenzie said.
While McKenzie and his staff have worked to create a culture of success, it's a roll of the dice for many upon returning home. McKenzie said the state needs to work harder on aftercare.
"I get letters from former inmates who did great, but got back in trouble and ask to come back – sometimes I do, sometimes I don't," McKenzie said. "When you work and give someone as much freedom and respect as possible, but then they screw up because they keep running with the same crowd… we shouldn't reward that. But I also believe people will make mistakes and we have to work through it."
The sole mission, McKenzie said, is building up the self-worth of inmates and sending them back home a better person. 
"To me, that's what it's all about," he said. "People make mistakes, but people can change, and everyone deserves the opportunity to do better."