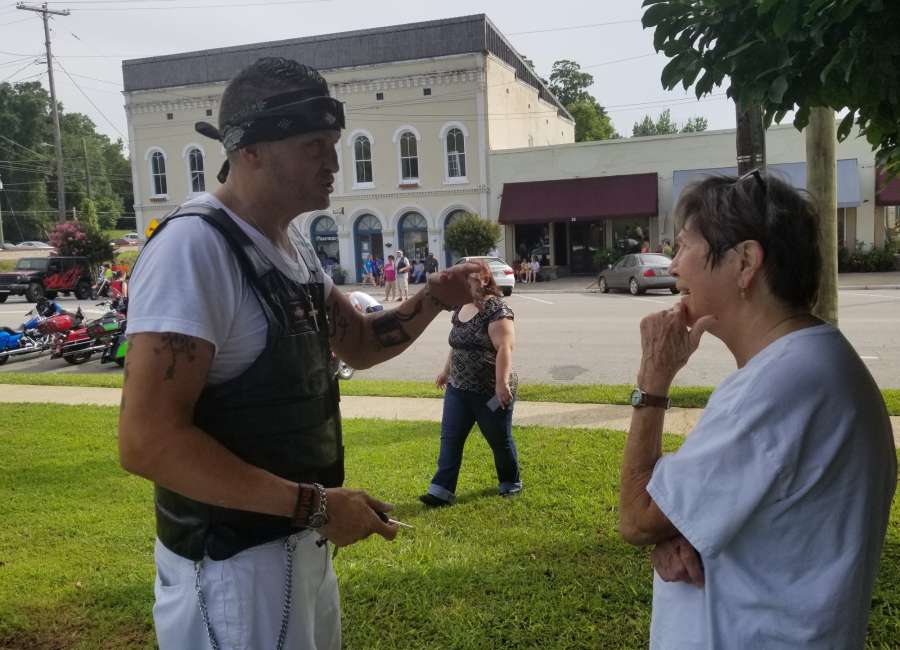 Coweta County is a patriotic place, and local churches celebrated America's 243rd  birthday is a variety of ways.

Patriotic services with large attendance were held at First Baptist Church in downtown Newnan and at East Newnan Baptist Church. Lt. General Robert Walsh of the U.S. Marine Corps was the speaker for the annual Freedom Celebration at First Baptist.
That service included music by a choir and orchestra, as well as by Rhon Carter, vocalist. Carter grew up in Hoboken, studied at Brewton-Parker College and is an ordained minister who has served several churches a minister of music. 
The Honor Guard from the Coweta Sheriff's Department presented the colors in the flag bedecked sanctuary for the June 23 service at First Baptist.
John Glosson, a former American Idol contestant and runner-up on the ABC show "Duets," took part in the Singing Flag celebration at East Newnan Baptist Church on June 30. The outdoor event began with food – burgers, hotdogs and drinks, followed by dessert. 
Volunteers crafted the massive flag stage with several thousand lights placed on it. The choir stood on the stage for the musical presentation.
Other churches had patriotic music, as well. Carol Glover, Merry Todd and Cathy Wright sang a patriotic medley at the 10:55 a.m. service on June 30 at Central Baptist, when trumpeters Paul Lisborg and Rick Walker also shared in music.
A solo rendition of "My Country 'Tis of Thee" was part of the July 7 at New Hope Church on Callaway Road near Greenville.
Grantville's July 3 fireworks program included a motorcycle show sponsored by Change Church. The church's pastor, TJ Boyd, presented awards to winning cycle owners just before the evening's fireworks.
July 4 also offered a time for some churches to make money for projects. Members of Bethlehem Baptist Church, First Baptist Church of Moreland and Moreland United Methodist Church sold barbecue in Moreland on July 4 – continuing a tradition dating to 1947. People got in line early to purchase plates of succulent pork and Brunswick stew.
Members of Allen-Lee Memorial United Methodist Church in Lone Oak are raising money – with a matching challenge – to make their building handicapped accessible. Church members sold baked goods, handmade looper clip potholders and commemorative items at the Grantville celebration and at the Puckett Station Festival on the Fourth in Moreland.