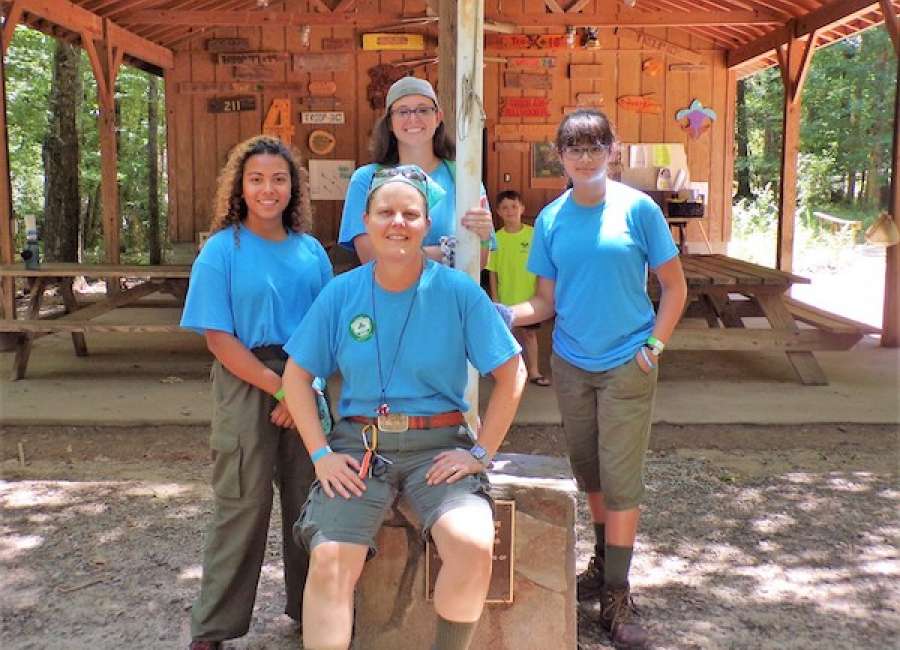 An all-female Boy Scout troop based in Coweta County recently attended Camp Thunder at the Lawhorn Scouting Base in Molena, Ga., for the first time. 
Troop 219 Scoutmaster Tricia Bethel-Sookhoo said that on Feb. 1, girls were officially allowed into the Boy Scouts of America program, now known as Scouts BSA. 
Three girls from Troop 219 spent a week at Camp Thunder with another all-female scout troop from Albany and Scouts BSA troops from around the state, according to Bethel-Sookhoo.
Bethel-Sookhoo said that the three girls who attended each received five merit badges – in swimming, first aid, fingerprinting, archery and astronomy. 
"My favorite part of camp was earning the merit badges. The swimming one was cool because there were certain ways we had to swim and we had to learn about life saving," said Patrol Leader MacKenzie Sookhoo. 
The scouts participated in other activities as well, including ziplining and hatchet-throwing. 
Troop member Emily Wheeler, a rising junior at Newnan High School, is also spending two months working as a lifeguard at Camp Thunder this summer. 
Wheeler plans on working toward her Eagle Scout, which is the highest rank in the Scouts BSA program. She is currently the senior patrol leader in troop 219. 
"I am looking forward to building relationships with the girls in my troop and building them up," Wheeler said. 
This is the first opportunity the troop has had to attend Camp Thunder as part of the scouting program. 
Troop 219 received its charter on Feb. 18 with six girls as members, Bethel-Sookhoo said. 
Among the members of the troop is Bethel-Sookhoo's own daughter, MacKenzie Sookhoo. 
"It is prevalent in our family that we come from a long line of scouting history. So, for her to continue that legacy is just amazing to me," Bethel-Sookhoo said. 
Since its founding in February, the troop has had four campouts and attended its first Camporee, an event where members competed against six other troops. Troop 219 came in third place overall at the event. 
Bethel-Sookhoo said their plans for the fall include recruiting more girls to join the troop. 
"You need to find the program that fits your family and your child best," she said. 
Members also plan on doing some outdoor community service projects and scheduling more campouts. 
The troop adopted a campsite at the Lawhorn Scouting Base to assist with the maintenance and upkeep of the site, according to Bethel-Sookhoo.
The troop meets at Cornerstone United Methodist Church, 2956 Sharpsburg McCollum Road, on Monday nights at 7 p.m. 
For more information,  call Tricia Bethel-Sookhoo at 404-886-9624 or email tricia.bethelsookhoo@gmail.com.