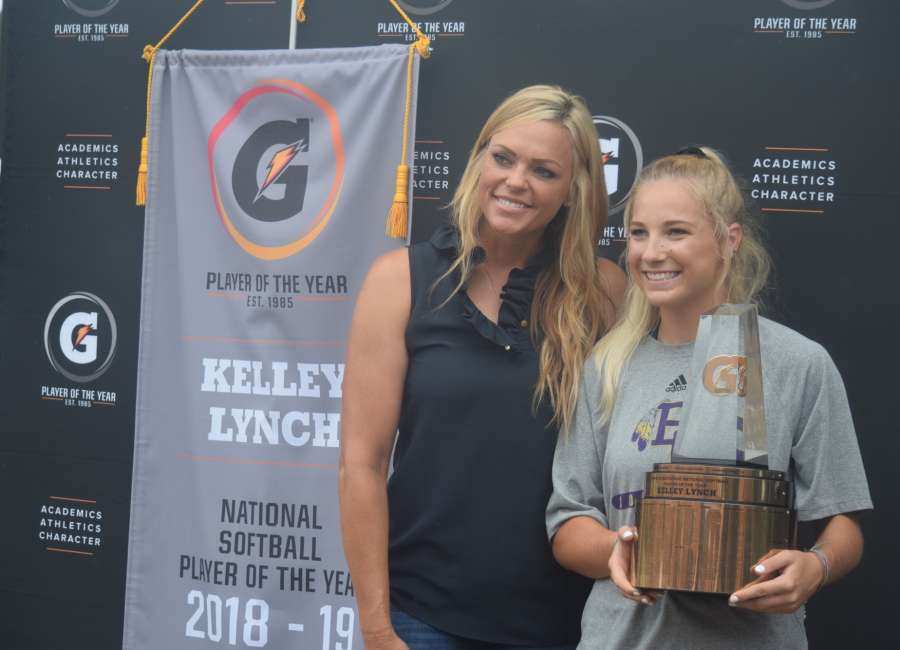 Awards and accolades are nothing new for East Coweta graduate Kelley Lynch.

They come with the territory when you are the No. 1high school softball player in the country.
Thursday afternoon Lynch, who will travel out west to play college softball at powerhouse the University of Washington, was named the National Gatorade Player of the Year.
"This is definitely the biggest award I have ever received,"Lynch said.
The awards presentation came with a huge surprise for Lynch.
On hand to present Lynch the trophy was softball legend Jennie Finch.
Lynch earned the honor after leading the Lady Indians to a second-straight Class 7A softball title in the fall.
The former Lady Indians was a major force against opponents whether pitching or hitting.
From the pitching circle, she finished her senior year with a 17-0 record and a 0.27 ERA.
With the bat, she was  just as dangerous, hitting .436 with 25 RBIs and three homers.
"Winning the state championship twice is a memory I am going to be able to hold on to for life," Lynch said.
One of the biggest challenges for the East Coweta community was to keep Finch's visit a secret from Lynch, but they managed to pull it off.
Lynch was handed the trophy at the end of the annual East Coweta baseball camp despite a slight drizzle.
Lynch has idolized the former University of Arizona All-American and two-time Olympian since she first picked up a softball.
"It's really special to be able to come out here and share this day with Kelley," Finch said. "She is very talented and has a bright future. I hear she can really bring it and she can hit too, that is a pretty awesome. I know this is just the beginning of a really bright career."
Lynch attended Finch's camp back in middle school and has idolized the former All-American and Olympian since then including placing cardboard cutout posters of her favorite softball player in her room as an inspiration.
She will even wear Finch's No. 27 jersey during the international competition.
"To be able to wear her number and represent the United States is just crazy to me," Lynch said.
Lynch never gets too far away from the memory of her Dad when she is on the softball field or when the awards start pouring in.
Steve Lynch died after a courageous battle with cancer nearly seven years ago when Kelley was only 12.
He has been her inspiration throughout her career.
"A lot of people know I have his death date tattooed on my pitching arm," she said. "It kind of a remembrance of every time I step on the field, I am playing for him. It is just a really cool thing to know that I am making him proud."
For the last nine years, East Coweta softball coach Franklin DeLoach has been able to pencil in the name Lynch on his lineup card, starting with sister  Katey, who went on to play at Kennesaw State.
He admits it will be hard to look down the dugout and not see one of the sisters ready to take the field for the Lady Indians.
"There are so many memories flooding back today from coaching the Lynch family for the last nine years," DeLoach said. "
One of Steve Lynch's last request was that DeLoach look after and coach Katey and Kelley.
"He made that request of me and I didn't want to let him down," DeLoach said. "I am just very humbled and honored that I got to coach both girls."
Lynch has a busy summer ahead of her. Starting next week she will begin playing with the 19-and-under U.S. National Team.
She will also be a teammate with her friend and former Northgate standout Charla Echols, who recently transferred from Michigan State to the University of Florida.
The 19-and-under National Team will be coached by Lynch's college coach at Washington Heather Tarr.
"I am just looking forward to learning from Coach Tarr and representing the United States," Lynch said.
The 19-and-under team will also travel to Europe where the game is still growing.
"Our goal is to win the World Cup," she said. "We also will have a chance to spread the game of softball in Europe.
Lynch knows she will be traveling far away from home to play college softball, but she is comfortable with her decision after a long recruiting battle that put her on the top of most Division I wishlist.
"I just fell in love with Washington, she said. "I really am excited to see where the next chapter takes me."