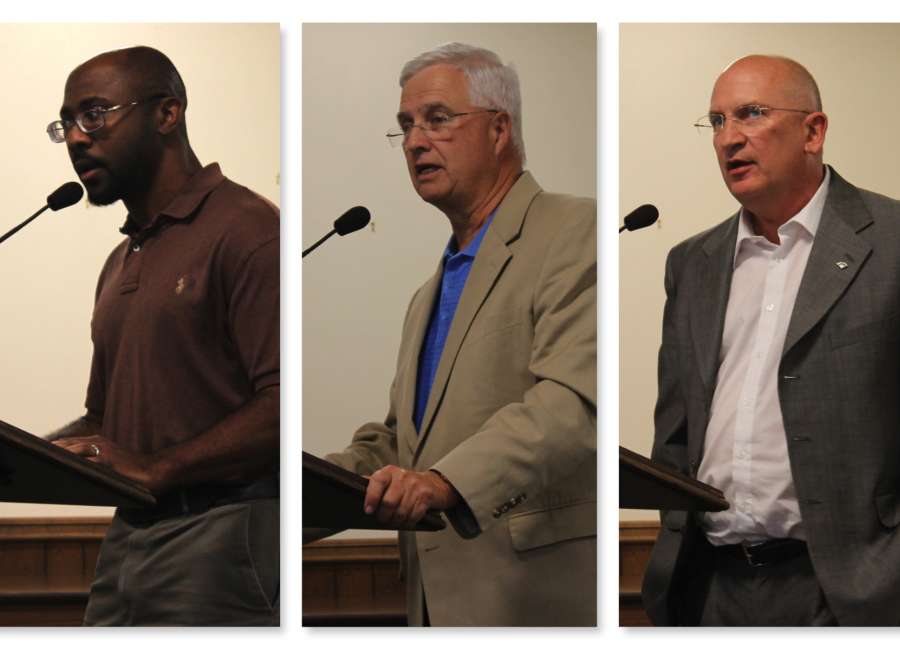 Several speakers stepped up to the microphone Tuesday to voice their support for those exonerated in an independent investigation into allegations of corruption.

Christopher Craft, parent of a rising sixth-grader at Madras Middle School and two children at Canongate Elementary School, served as Canongate's school council president last year. He thanked board members for their work and said he's thankful to have his children attend Coweta schools.
"Your time, talent, efforts, transparency, honesty, fiscal responsibility and integrity make this a first-rate school system," Craft said during the public speaker portion of the Coweta County Board of Education meeting.
He addressed some remarks directly to Superintendent Steve Barker.
"Dr. Barker, my family continues to trust you, your leadership team, the teachers and the various employees of the Coweta County School System," Craft said, thanking Barker and the board members who "sacrifice a great deal to provide the best for our children and our school system."
Craft also expressed his ongoing support.
"Please know that there are parents, children, stakeholders and businesspeople throughout this community who admire, believe in and support each of you who have repeatedly demonstrated that you truly care for children and the school system at large," he said.
Speaker David Keller, CEO of EGO North America – a local manufacturing partner in the Coweta County School System's German-style apprenticeship program – serves on the board of directors for the school system's Central Educational Center.
Keller, whose children graduated from Coweta schools, expressed both his appreciation and his sympathy for those who were falsely accused of corruption. 
"You guys do a fantastic job," he said. "It's really appreciated, and I'm really sorry you've had to go through this."
Both of Don Phillips's sons graduated from Newnan High School. Phillips said his 38-year-old son, David, still refers to class notes he keeps on his phone from Barbara Landreth, who has taught English at Newnan High for nearly 60 years.
Phillips said he has been "very disturbed" by what he's seen.
"I can't imagine what y'all have been through regarding this," said Phillips, who has lived in Coweta County for 30 years.
Phillips is a volunteer in the Coweta County School System, working with Reach Scholars, and he said Barker treats students like they're his own children.
"His heart is in this," Phillips said of Barker. "He's been maligned, and I quite frankly think it's childish."
It was the first regular monthly meeting of the board since the investigation findings were released. During board comments, Chairman Amy Dees said she stands behind the results of the independent probe, which was conducted by attorneys Bob Wilson and Keri Ware.
"I believe the report of Mr. Wilson and Mrs. Ware holds the ultimate truth," Dees said.
The board voted 6-0 in August of last year to launch the investigation after public allegations of corruption were made against board members and school system staff. The only board member not voting was Larry Robertson, who missed the meeting because of a death in his family.
"My decision on August 14, 2018 to investigate these allegations was based on policy, the seriousness of these criminal accusations and in my opinion, as part of the very oath of office I took as a school board member, which is to uphold the integrity of this district," Dees said.
Dees said students will remain the focus of her attention and that she is committed to her responsibilities as a board member.
"I will seek the advice of our attorney, Nathan Lee, and continue to pursue all avenues in an effort to remain transparent and responsible to the taxpayers of this district," Dees said.