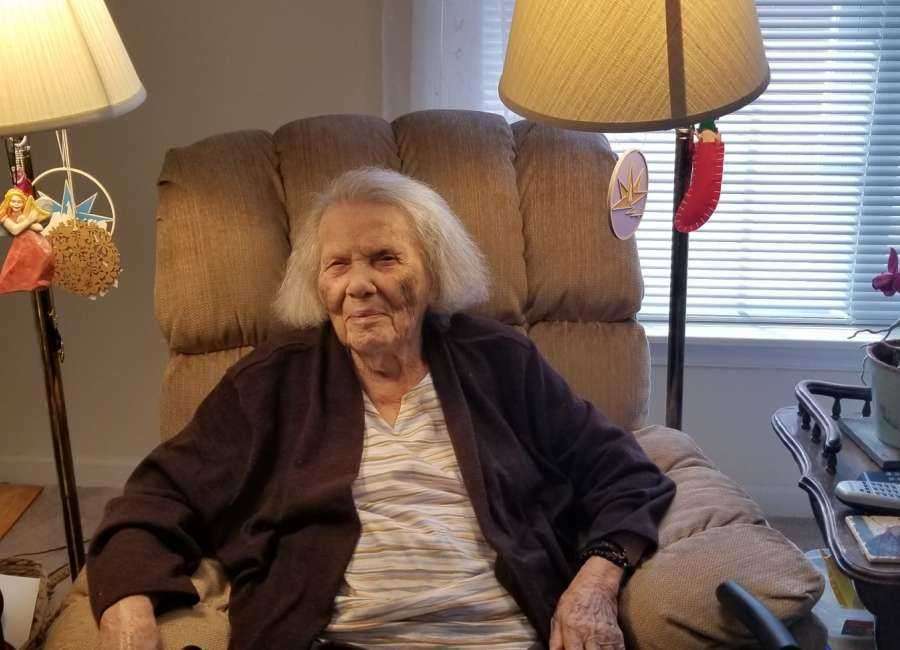 A man reaching age 65 today can expect to live, on average, until age 84 and a woman turning age 65 today can expect to live, on average, until age 86, according to the Social Security Administration.

And those are just averages, according to the SSA. About one out of every three 65-year-olds today will live past age 90, and about one out of seven will live past age 95.
The secret to living past 100 years old is exercising, according to 104-year-old Neva Peacock, who continues to lead an exercise class at her senior living community, Baptist Manor of Palmetto Park Senior Living Community in Palmetto.
Since the opening of the Palmetto location, Peacock has led the class every morning, except Sundays, for the past 15 years.
Peacock was previously interviewed by the NTH earlier this year.
"It keeps me moving," Peacock said. "I enjoy the people who come. We do mainly foot and arm exercises while sitting down."
Some of the community employees said, "She really gives them a workout."
Peacock said the classes last between 20 and 30 minutes.
Peacock was born on August 28, 1914, in Sylvester, Ga. She is no stranger to leading and teaching. She was an elementary school teacher for 20 years. She never imagined she would marry a preacher, but she married Rev. Carl Peacock and they shared 57 years together before he passed away.
She will be in 105 years old in August.
"At almost 105 years old, she is as mentally sharp and active as ever," Matthew Galyon, the executive director of the senior living community, said. "Neva arises early to welcome her large group of fellow seniors to their 9 a.m. exercise class. Neva truly has a servant's heart and is always ready to be the hands and feet of Jesus in her community. She frequently leads Bible studies and prayer groups. Neva is always equipped with a smile, word of encouragement, bug hug and a kiss on the cheek. She is a huge asset to the senior community at Palmetto Park as well as the kingdom of God."
And although Reynolds is past 100, she is not the only woman in Georgia who has lived past or seen her centennial.
Late last year, when Maggie Katie Brown Kidd of Clayton County celebrated her 114th birthday, news reports described her as the oldest living Georgian, the oldest living African-American and the 10th-oldest person in the world.
She's been moving up since then. A recent check of online resources about supercentenarians – people 110 and older – indicates Kidd is now No. 5 in the world.
Some supercentenarian lists differ slightly, depending on which records a particular organization recognizes.
Kidd is the latest in a long line of Georgia women who have reached extraordinary ages. Sometimes it seems that such longevity is almost becoming routine. The Macon Telegraph recently an article about Virginia Pair Witherington, who celebrated her 106th birthday by dining out. (Why settle for delivery?) And the article noted that it's not clear Witherington is even the oldest person in Bibb County.
In recent years, two sets of Georgia siblings made the headlines for their combined longevity. Such joint achievements are probably signs of good genes and healthy environments, but some individual supercentenarians had nothing in their backgrounds to explain why they made it to extreme old age. The only unusual thing about them was that they kept on living.
In 2012, Georgia lost two women who had made demographic history. Besse Cooper was the world's oldest person when she died at 116 and Dr. Leila Denmark was the world's oldest physician when she died at 114. They were among the last survivors of the generation born in the 1800s – no such people are left today – and both women lived in three different centuries.
Otherwise, the two Georgians were a study in contrasts. Cooper spent most of her life as a schoolteacher in the small town of Between, and never attracted much public attention until she gradually began to outlive all her peers.
Denmark gained national prominence early, as a trailblazing female pediatrician and author, and she continued to practice medicine until she was 103.
One thing that Cooper and Denmark did have in common was that they were both widows in their later years. The ranks of supercentenarians contain very few males. The oldest man in the world is not even in the top 10 of the longest-lived people. The longevity sweepstakes is a woman's game.
That's as true in Georgia as anywhere else. The nation and the Peach State recently paid tribute to Jimmy Carter when he reached the greatest age of any president in U.S. history. But he's still only 94.
By the age of 85, women outnumber men in the U.S. 2:1 and  this rises to 3 to 1 if women reach their 90s, according to www.webmd.com .
Kandice Bell, Newnan Times-Herald reporter, contributed to this story.